Top Applications for IoT Power and Utilities
Monday, December 5, 2022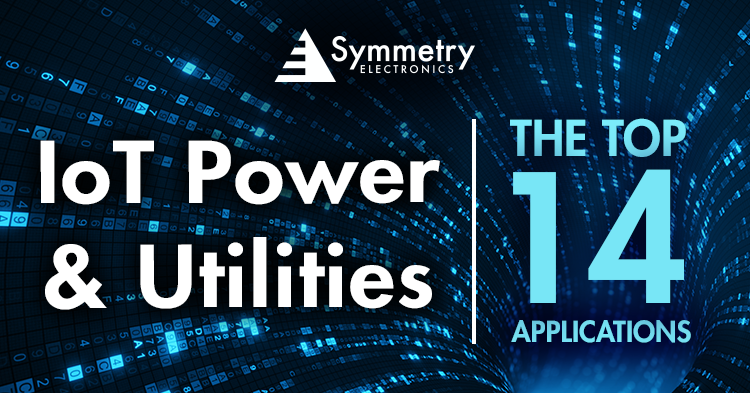 On Average, the planet uses about 100 million barrels of oils per day. However, the type of energy used depends on geographic location (and politics). For example, the United States is the world's top consumer of oil, but China uses the most electricity. As global initiatives like the Paris Agreement seek to lower our planet's greenhouse gas emissions, more pressure is added to generate eco-friendly power and utilities technology. BusinessWire reports that the global utilities market is set to reach $8,105.48 billion by 2026 and the increased demand for power has prompted expanded investments in renewable power generation. Internet of things (IoT) technology can provide the necessary efficiency optimization that power and utilities organizations require to meet worldwide consumption.
Microsoft's recently released paper, IoT Signals, has outlined the top 14 applications for IoT technology in the power and utilities sector. Let's examine them below.
The Top 14 IoT Power and Utilities Applications
Smart Grid Automation – Smart grids, or grid ecosystems, refer to the bi-directional transmission of data and electricity. Integrating data, electrical flow, and digital communications, grid ecosystems are enabled by IoT technology to provide transparent communication between electrical flow and data.
Grid Asset Maintenance – Part of the allure of smart grids (and smart technology as a whole) is their inherent self-healing and anticipatory capabilities. Grid ecosystems provide utility companies with predictive maintenance notifications for any part of the ecosystem, including physical assets.
Remote Infrastructure Maintenance – While smart grids provide comprehensive asset maintenance, IoT technology also provides thorough remote monitoring of infrastructure for utility companies in general. IoT sensors and components can instantly notify headquarters of remote infrastructure updates.
Smart Metering – Smart meters track utility energy consumption through IoT technology. The most significant advantages of smart meter integration are their remote monitoring capabilities and that smart meters provide businesses with a means of tracking, monitoring, and adjusting their utilities usage.
Workplace Safety – According to Microsoft, 37% of power and utilities organizations adopt IoT for its workplace safety benefits. For example, IoT technology can be implemented in workplace equipment for increased safety. For utility workers, this might surround including proximity sensors in cherry pickers to let workers know when they're too close to live power lines or similar hazards.
Generation Optimization & Load Balancing – Electrical load balancing refers to how power stations can store excess power during down times to allocate as demand increases. IoT technology can not only assist utilities organizations with load balancing as well as how they generate power through increased insights and data.
Distributed Energy Resources (DER) Management – DERs, or microgrids, exist as subsets of larger power plants. DERs are capable of generating energy for their localities and can rely upon renewable energy resources. IoT implementation in DERs provide ideal methods of management.
Employee Safety – In addition to workplace safety, IoT technology can provide an essential means of increased employee safety. For example, IoT components can ensure that equipment is only run by authorized users.
Emissions Monitoring & Reduction – In the power sector, 85% of emissions come from just 100 companies and public agencies. IoT technology is a game changer for companies looking to minimize their carbon footprint with emissions monitoring.
Predictive Load Forecasting – Similar to load balancing, the increased data that IoT equipment offers utilities organizations can analyzed to provide predictive actionable insights that can be used to forecast when demand is at its highest.
Home or Building Energy Management – Power and utilities companies can use IoT to monitor, manage, and adjust where energy is being allocated in consumer homes and businesses.
Digital Twin of Energy Infrastructure – Digital twin technology is revolutionizing smart cities everywhere. In the energy sector, digital twins can assist companies in planning, efficiency, and optimizing physical grid systems.
E Mobility (Electric Vehicle) Charging Optimization & Vehicle-to-Grid – In order for electric vehicles to be fully adopted in America, the nation needs to meet the infrastructure required for large-scale operation. IoT technology provides the answers to support the vehicle-to-grid infrastructure required for full EV integration.
New Business Opportunity through E Mobility (Electric Vehicle) – Perhaps the most intriguing application of IoT in the power and utilities sector are ones that haven't yet been identified. As EV adoption increases, there are new business opportunities on the horizon for E mobility. According to Microsoft, 17% of power and utilities organizations are adopting IoT in search of these new opportunities.
If you're interested in adopting IoT technology for your power and utilities application, consult with one of our knowledgeable Applications Engineers. Our Applications Engineers are experts in IoT, IIoT, and wireless solutions. Consultation is free and available throughout your design cycle. Contact Symmetry Electronics today!