Nordic Semiconductor
Nordic Semiconductor ASA (OSE:NOD) is a fabless semiconductor company specializing in ultra-low power short-range wireless communication. The company's range of 2.4GHz transceiver and transmitter devices are employed by some of the world's leading brands in a wide variety of applications like wireless keyboard and mouse, game controllers, and intelligent sports equipment. The company is located in Oslo and Trondheim, Norway, Turku and Oulu, Finland, Poland, Hong Kong, Japan, Korea, the Philippines, USA and Taiwan.
Nordic Semiconductor is playing a key role in the future of wireless with it's solid portfolio of 2.4GHZ. Bluetooth Low Energy, SOC, Beacon, and MBED products.
Symmetry Electronics is proud to be an authorized Nordic Semiconductor distributor.
For more Nordic Semiconductor resources, check out:
Nordic Semiconductor YouTube Channel
View the latest videos featuring Nordic products and demos

Nordic Semiconductor Developer Zone
Nordic's official online community. Ask questions, share info, and be inspired!
Read More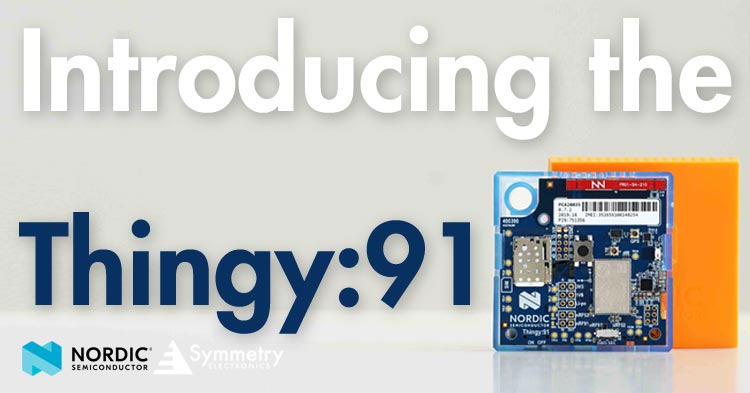 Nordic Semiconductor Resources
Antenova Antennas - Telit, Janus, Nordic, NimbeLink, Antenova...

Drones / UAV : Tech Teardown

Nordic nRF51 nRF51 IoT SDK Product Brief

Nordic nRF51 nRF51 IoT SDK Zip File

Nordic nRF51 Raspbian kernel for Raspberry Pi

Nordic ULP Wireless Connectivity Solutions Product Selector Guide

Nordic Quarterly newsletter featuring Nordic wireless connectivity...

A selection of Nordic white papers

A Guide to Nordic Semiconductor's Support of Hardware and Software...

nRF91 Series sneak peek presentation slides

Product Change Notification
My Recently Viewed Products