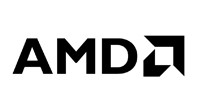 AMD
AMD's mission is to be the leading designer and integrator of innovative, tailored technology solutions that empower people to push the boundaries of what is possible.
AMD delivers unique and unmatched computational capabilities in order to create natural, intelligent and innovative ways for people to interact with the devices they love. They design and manufacture graphics cards and microprocessors that power millions of the world's personal computers, tablets, gaming consoles, embedded devices and cloud servers.
Accelerated Processors for Embedded Applications
Accelerated Processing Units (APU) combine high performance serial and parallel processing cores enabling breakthroughs in visual computing, security, performance-per-watt and device form factor.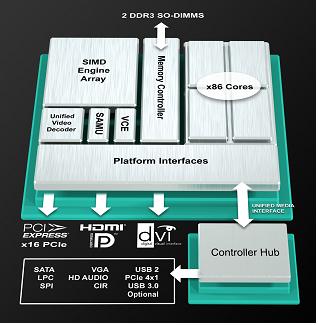 Embedded G-Series Platform
Exceptional multi-media capability with hardware decode support for H.264, VC-1, MPEG2, WMV, DivX and Adobe® Flash
Supports single or dual-independent high resolution displays
Enables very small form factor, fan-less and portable applications
Scalable choices for level of CPU performance, power efficiency, and visual experience
Embedded R-Series Platform
Drive up to 4 displays from a single highly integrated processor
Discrete-class AMD Radeon™ HD 7000G Series graphics
APU Thermal Design Power (TDP) ranging from 17 to 35 Watts and average power below 13 Watts
AMD Turbo CORE 3 Technology automatically delivers an optimized balance between performance and power consumption
Embedded Processors
A rich mix of high-performance, low-power processors to meet the fast time-to-market demands of today's embedded systems. AMD embedded processors include Opteron, Athlon, Turion, Sempron, ASB2, ASB1, Geode.
Opteron Processor Family
Embedded Chipsets
AMD's embedded chipsets are designed to meet the variety of needs, whether it's superior graphics and enhanced video performance or embedded display applications.
SR5690 | SP5100 Chipset
Operating System Support for Windows Vista®, Windows® XP and XPe, Windows 7 and Windows 7 Embedded, Linux®, Windows Server 2003, Windows Server 2008
Support both low power and high Tcase, allowing them to be used in compact designsTwo I/O bridges can be used in the same system in any combination (SR5690/SR5690, SR5690/SR5670, etc)
Compatible with all AMD embedded processors including high performance AMD
Opteron™ processors, socketed AM2 low power single and dual-core AMD Athlon™ processors and very low power AMD Athlon, AMD Sempron™ and AMD Turion™ ASB1 (BGA) processors
Embedded Graphics Processors
ATI Radeon™ Embedded Graphics processors -Delivering exceptional 3D graphics and multimedia performance.
Radeon™ E6760 Discrete GPU
AMD Accelerated Parallel Processing (APP)2 technology for supercomputing capabilities
Up to 6 displays with AMD Eyefinity1 technology
Dual HD decode, Blu-ray & stereo 3D
GPU and memory in one MCM BGA package
5 year supply with dedicated support
Read More
AMD Resources
AMD Media Servers Application Brief

AMD Set Top Box Application Brief

AMD Industrial Control Application Brief

AMD Point of Sale Application Brief

AMD In Vehicle Signage Application Brief

Smart Cameras Getting Smarter-XIMEA CURRERA-G

Richly-Interactive Casino Slot Machines using AMD R-Series APUs

AMD Embedded Partner Product Selection Guide

A long history of high-performance low-power solutions for embedded...

AMD Embedded Product Selection Guide

AMD Digital Signage Application Brief

HD Digital Signage Goes Mobile

AMD Migrating to G-Series White Paper

Migrating X86-Based Designs to Next-Gen Technology

AMD Surround Computing Era Presentation
My Recently Viewed Products