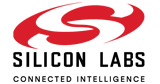 Silicon Labs
Silicon Labs is a leading provider of silicon, software and solutions for a smarter, more connected world. Our award-winning technologies are shaping the future of the Internet of Things, Internet infrastructure, industrial automation, consumer and automotive markets. Our world-class engineering team creates products focused on performance, energy savings, connectivity and simplicity.
Read More
My Recently Viewed Products
Technical Engineering Support
We're standing by to help you with any questions you may have.
866-506-8829
Contact Us