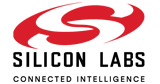 Silicon Labs
Silicon Labs is a leading provider of silicon, software and solutions for a smarter, more connected world. Our award-winning technologies are shaping the future of the Internet of Things, Internet infrastructure, industrial automation, consumer and automotive markets. Because we work with a broad range of ecosystems and protocols, you can get to market quickly with integrated devices for almost any application. Our world-class engineering team creates products focused on performance, energy savings, connectivity, and simplicity.

Read More
Silicon Labs Resources
This application note discusses the Bluetooth Health Device Profile...

Bluegiga eHealth product listings and descriptions including...

Bluegiga eHealth Products

iWRAP is an embedded Bluetooth stack firmware for Bluegiga's...

Bluegiga iWRAP Software Comparison Chart

How to integrate a Bluetooth module into a Device

This presentation discusses the Bluetooth Health Device Profile...

Silicon Labs Bluetooth® Software for Apple HomeKit

The Advantages of Pre-programmed Bluetooth & Wi-Fi® Modules for...
My Recently Viewed Products