Semtech's LR1120: An Industry First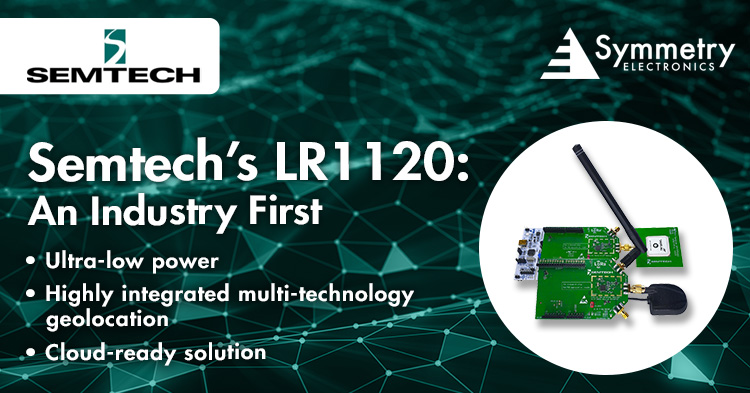 Integrating a LoRa® Edge transceiver, Semtech's LR1120 is the industry's first ultra-low power, highly integrated multi-technology geolocation, Cloud-ready solution. Based on Semtech's LR1110, the LR1120 features enhanced connectivity with 2.4 GHz LoRa modulation. Optimal for geolocation applications, the LR1120 enables affordable and simplified asset management.
The LR1120 supports multi-band and long-range Frequency Hopping Spectrum (LR-FHSS) communication over sub-GHz, 2.4 GHz for Industrial, Scientific, and Medical (ISM) bands, and licensed S-Band for satellites. Integrating a multi-constellation global navigation satellite (GNSS) scanner and passive Wi-Fi Access Point address scanner, the LR1120 complies with the physical layer requirements of LoRaWAN® standard specifications and provides flexibility to meet a wide range of applications.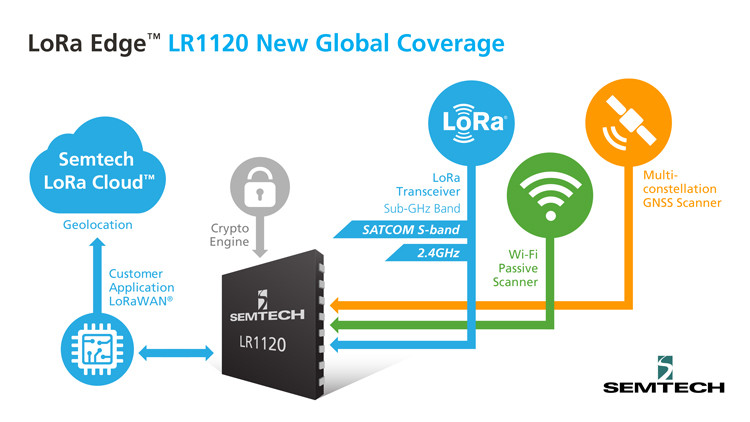 Figure 1: LR1120 architecture
Source: Semtech
Develop with the LR1120
Available in three formats (LR1120DVK1TCKS, LR1120DVK1TBKS, & LR1120DVK1TGKS), LR1120 development kits include two types of RF modules for active and passive GNSS antennas. LR1120 development kits are composed of two LR1120 Mbed shields, an STM32L476RG Nucleo board, a GNSS active antenna with SMA connection, a GNSS passive patch antenna with SMA connection, a 2.4 GHz antenna with SMA connection, and a region-specific Sub-GHz antenna with SMA connection.
LR1120 Development Kit Features:
Based on Semtech's LR1120
4 PCB layers
TCXO 32 MHz reference clock
Region-specific availability (North America, Europe, and Asia)
915MHz and 2.4GHz, 868MHz and 2.4GHz, 490MHz and 2.4GHz frequency bands
LR1120 Development Kit Applications:
Multi regional asset location, recovery and traceability
Multi regional inventory management
Multi regional asset loss and theft prevention
Intercontinental logistics (LR1120DVK1TBKS)
Semtech, LoRa and the LoRa logo are registered trademarks or service marks, and LoRa Basics, LoRa Cloud and LoRa Edge are trademarks of service marks, of Semtech Corporation or its affiliates.