Semtech LoRa Edge™ LR1110 Asset Management Solution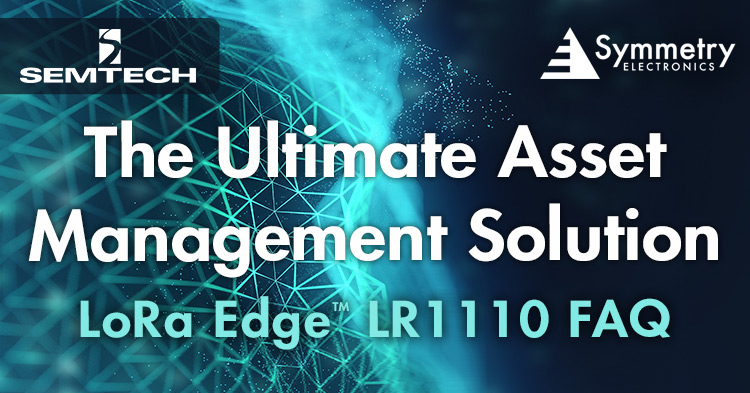 Which technologies are utilized as part of LoRa Edge™?
LoRa Edge is referred to as a "platform" because it's the first Semtech LoRa SoC, which is comprised of a chip and Cloud services, to offer customers a solution. The chip is the LoRa Edge LR1110 which connects to LoRa Cloud™ services to offer security, geolocation and modem management services.

Which technologies are supported by LoRa Edge LR1110 and how are they utilized?
LoRa Edge LR1110 is the first platform of Semtech's LoRa Edge portfolio. LoRa Edge LR1110 integrates a long range LoRa® transceiver, GNSS multi-constellation scanner and a passive Wi-Fi MAC address scanner targeting asset management applications.

The LoRa Edge LR1110 uses a Wi-Fi and GNSS scanner to receive the information required to calculate the position of the device. This information is sent by the LoRa Edge LR1110 to a geolocation solver which analyzes the information and calculates the position of the device.

LoRa Edge LR1110 also incorporates security by pre-provisioning a hardware root-of-trust into the chip at time of manufacture, avoiding the need for OEMs and customers to engage their manufacturers to provision keys at the factory, reducing cost and increasing security.


What is the position accuracy for the LoRa Edge platform?
The accuracy is dependent on several factors such as the number of satellite vehicles that are in view. LoRa Edge LR1110 uses different methods for calculating geolocation position for indoor and outdoor scenarios. For outdoor applications, accuracy will depend on the number of satellites that are visible at that time. In Semtech's internal field testing with the LoRa Edge Tracker Reference Design, we have observed GNSS accuracy ranging anywhere from 5m in perfect sky view conditions up to 50m in typical real world conditions.

For indoor and near-indoor applications, Wi-Fi scanning is used for positioning. The level of accuracy using Wi-Fi can range from 5-20 meters depending upon a few factors. See Semtech's Indoor Wi-Fi Geolocation With LoRa Edge blog for more information on accuracy calculations. Please also refer to the application note for detailed performance testing results: LoRa Edge Asset Management System Location Performance Overview.


Are drivers available for the LoRa Edge LR1110?
An implementation (in C) of the driver for the LoRa Edge LR1110 radio component is available on GitHub. Access the LoRa Edge LR1110 modem application example for a demo.


What is LoRa Cloud™ and how does it work with LoRa Edge LR1110?
LoRa Cloud services play an integral part in offering a solution to complement LoRa Edge LR1110. The target users for LoRa Cloud would be OEMs who offer end to end solutions with their hardware, Solution Providers & System Integrators who offer LoRa Edge LR1110-based hardware with their trackers part of the solution.

LoRa Cloud join server enables customers to claim their devices in the Cloud and automate connection of their devices to their network server/operator. In the event customers want to change their network server or operator, LoRa Cloud join server enables seamless transition to a new provider, without relying on the network provider to provide root keys.

LoRa Cloud Geolocation provides a geolocation solver, which takes as input the GNSS and Wi-Fi scans from the LoRa Edge LR1110 and returns the corresponding latitude and longitude. Historically this computation was done on the tracker device, reducing battery life to weeks or months at best. By migrating this computation to the Cloud, end devices based on LoRa Edge can deliver months to years of battery life.

With the LoRa Cloud Device & Application Services, you can manage common device functionality at the application layer for LoRaWAN® end devices and manage geolocation for modem-based devices. The LoRa Cloud Device & Application Services offer all the services necessary to make efficient use of the LoRa Edge LR1110 geolocation feature. It provides a GNSS geolocation solver, clock synchronization and an efficient almanac update for the LoRa Edge LR1110.


How to start development with LoRa Edge LR1110?
Semtech has many options available to get your development started with the LoRa Edge LR1110. Semtech's LoRa Edge LoRa Edge LR1110 is configured for the frequency bands for North America, Europe, China, and Asia. The kits contain PCBs based on passive and active antenna GNSS modules.

The LoRa Edge Tracker Reference Design features Semtech's LoRa Edge LoRa Edge LR1110, is pre-programmed with LoRa Basics™ Modem-E, and is ready to connect to Semtech's LoRa Cloud Geolocation and Device & Application Services. It is configured for the 915MHz frequency band for North America, or the 868MHz frequency band for Europe. The LoRa Edge Tracker Reference Design is LoRaWAN CertifiedCM, a certification offered by the LoRa Alliance®.

The LoRa Edge Asset Tracking Evaluation Kit enables solution providers and system integrators with a complete solution to quickly evaluate the Semtech LoRa Edge LR1110 and LoRa Cloud services for their asset management solutions.


Is the LoRa Edge LR1110 suitable for real-time tracking?
The LoRa Edge LR1110 and LoRa Cloud is best utilized for identifying an asset at a particular point in time or at infrequent scan intervals. It is not an optimal solution for continuous position tracking with higher resolution (high performance standalone GPS module).


Are there certified solutions available based on Semtech's LoRa Edge LR1110?
One of Symmetry's partners, Signetik, is working on an end node module based on Semtech's LoRa Edge LR1110. In addition to supporting a LoRa transceiver, GNSS and Wi-Fi scanner, it also integrates a BLE processor. The device interacts with LoRa Cloud Device & Application Services to provide location tracking. Location accuracy is greatly enhanced by using several targeting signals such as Wi-Fi 802.11b/g/n and GNSS. A single point of contact and a low-profile design allows for simplified module implementation with minimal changes.
For additional FAQs please visit the LoRa Developer Portal and learn more in the Tech Journal.
Semtech, LoRa and the LoRa logo are registered trademarks or service marks, and LoRa Basics, LoRa Cloud and LoRa Edge are trademarks of service marks, of Semtech Corporation or its affiliates.
Subscribe
Stay up to date with industry and supplier news!
Browse