The Industry's First SDI/HDMI Bridge ASIC | Symmetry Blog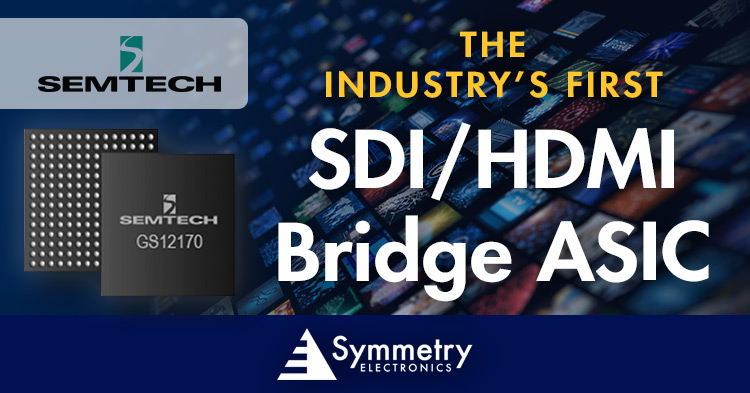 Symmetry Electronics, a leading global distributor of wireless, IoT, and video technologies announces distribution of Semtech Corporation's GS12170 SDI/HDMI Bridge ASIC. An industry first, the GS12170 enables low power, seamlessly connected, uncompressed 4K video, multi-channel audio, and large amounts of meta data to cross the barrier between HDMI and SDI without the need for an FPGA.
GS12170 Offers Three Conversion Modes
A compact (12mm x 12mm), single-chip signal conversion solution–the GS12170 can be configured to operate in one of three modes:
SDI to HDMI Bridge Mode
HDMI to SDI Bridge Mode
SDI Gearbox Mode
Key Features of the GS12170
Conversion of HDMI to SDI, SDI to HDMI, or SDI to SDI (gearbox) in a single chip
Full support for video formats compatible with SDI from HD-SDI to 12G UHD-SDI, including both single-link and multi-link connections
Support for formats up to 4Kp60 4:2:2 YCbCr 10-bit (UHDTV-1)
Support for RGB, 4:4:4, and 12-bit interfaces
Automatic HDMI and SDI audio embedding and de-embedding
Dedicated I2S audio pins for up to 16-channels of audio at 48 kHz sampling frequency;
8-channels of audio at 96 kHz sampling frequency
Automatic handling and conversion between SMPTE ST 352 Stream ID and CTA 861 Infoframes
Dedicated high-speed ancillary data interface for handing large meta-data payloads
Dedicated SMPTE Timecode generation and insertion
Optimal GS12170 Product Pairings
When paired with Semtech's 12G UHD-SDI reclocking cable equalizers and cable drivers, an otherwise HDMI-centric Integrated Signal Processor (ISP) can now convert to a far-reaching, high-performance, and low-power SDI connection that can reduce design complexity and accelerate time-to-market. Additionally, when combined with Semtech's GS12341 reclocking SDI adaptive UHD-SDI equalizer and GS12281 reclocking UHD-SDI cable driver, the GS12170 can reach over 100m over a UHD-rated coaxial cable, all while offering lower power consumption than ever before.
GS12170 Frequently Asked Questions
1. Why is the GS12170 compelling for my SDI application?
The GS12170 is the industry's first ASSP bridge IC to cross connect the HDMI 2.0 and 12G UHD-SDI interfaces without requiring an FPGA.
2. Why is the GS12170 superior to FPGA-based solutions?
It greatly reduces cost and complexity of cross-interface designs in the latest 4K/8K video applications. FPGAs with high speed SerDes that meet 6Gbps per channel of HDMI 2.0 or single channel 12G UHD-SDI requirements are very costly and require a significant amount of peripheral components. FPGA-based solutions also require an additional IP integration invesment to support video protocols, which increases design efforts and time-to-market.
3. Can the GS12170 perform Multiplexing, Demultiplexing or Bypass?
The GS12170 supports SDI-to-SDI full gearbox function in a single chip that facilitates rate conversion between Quad-3G-SDI and single 12G UHD-SDI. It is also backward compatible with the existing GS12070, a UHD-SDI Gearbox.
4. What video format can the GS12170 support?
It supports all SMPTE defined video formats that can be carried over SDI; either single-link or multi-link configuration.
5. What are possible applications for the GS12170?
4K monitor, camcorder, HDMI extender/converter, or any system/equipment that require an internal video interface connection between components that feature an HDMI or SDI interface.
Get Started with Semtech's GS12170 SDI/HDMI Bridge ASIC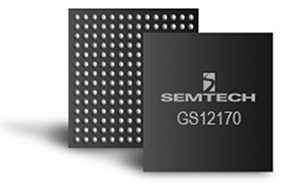 ---


GS12170 Chip Resources
Subscribe
Stay up to date with industry and supplier news!
Browse