How is Industry 4.0 Driving Digital Transformation in Manufacturing?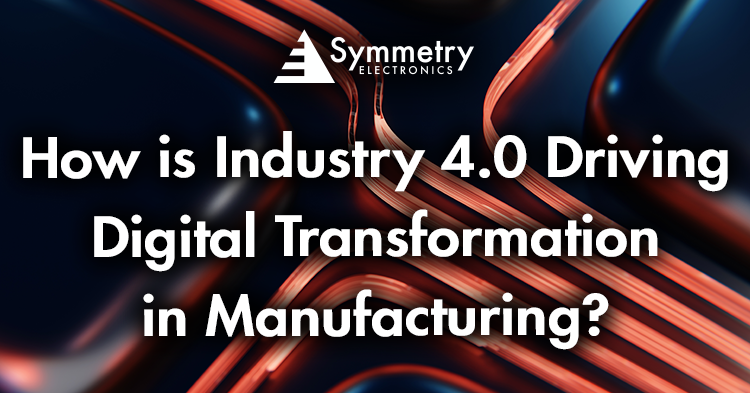 What is Industry 4.0?
Industry 4.0, also known as the Fourth Industrial Revolution, is a term used to describe the ongoing transformation of manufacturing and industrial processes through the use of advanced technologies. Characterized by the integration of technologies like the Internet of Things (IoT), artificial intelligence (AI), cloud computing, and robotics, industry 4.0 seeks to create environments that are more connected, efficient, and flexible.
In manufacturing environments, Industry 4.0 aims to create a more agile and responsive production system by digitally transforming design, production, logistics, and customer service. By using data analytics and real-time monitoring, Industry 4.0 enables manufacturers to optimize their operations, reduce costs, and improve quality and productivity.
What is Digital Transformation?
Digital transformation (DT or DX) is the process of using digital technologies to fundamentally change how businesses operate and deliver value to their customers. DX involves the integration of digital technologies into all areas of a business, from operations and customer service to marketing and product development. However, DT requires a shift in mindset and culture, as well as a willingness to embrace new technologies and ways of working.
How Digital Transformation Elevates Manufacturing Processes into Industry 4.0
According to Statista, global digital transformation spending is forecast to reach 3.4 trillion U.S. dollars by 2026. In manufacturing, the rapid adoption of DT is fueled by the continuing integration of industry 4.0. Industry 4.0 stands to digitally transform the following manufacturing processes:
Smart Manufacturing
Industry 4.0 is fueling the development of smart factories that can optimize manufacturing processes using data analytics, IoT sensors, and real-time monitoring. Smart manufacturing allows businesses to identify and resolve issues in real-time, leading to improved production efficiency and reduced downtime.
Predictive Maintenance
Industry 4.0 is enabling manufacturers to use predictive maintenance to detect and diagnose equipment issues before they occur. By combining data analytics and AI, manufacturers can identify patterns and anomalies that may indicate a potential equipment failure, allowing them to take preventive action before the failure occurs.
Robotics and Automation
The integration of advanced robotics and automation technologies that are capable of performing repetitive, dangerous, and extraneous tasks increases workplace safety. Additionally, these technologies are enhancing productivity as they can also be integrated with IoT sensors and AI to create more intelligent, flexible, and efficient production lines.
Supply Chain Optimization
Industry 4.0 is also enabling manufacturers to optimize their supply chains using data analytics and IoT solutions. By collecting data on inventory levels, shipping times, and supplier performance, manufacturers can make better-informed decisions about their supply chain operations. Supply chain optimization leads to improved efficiency and reduced costs.
Digital Twins
Industry 4.0 is driving the implementation of digital twin technology. Digital twins create virtual replicas of physical assets or systems. Digital twin technology allows manufacturers to simulate and test different scenarios in a virtual environment, enabling them to optimize their operations and reduce the risk of downtime or other issues.
What Does the Future Hold for Manufacturing?
Overall, Industry 4.0 is driving digital transformation in manufacturing by using advanced technologies to create smarter, more connected, and more efficient factories. Digital transformation in manufacturing is enabling increased competitiveness, cost reduction, and a more informed decision-making process throughout fluctuating market conditions.
In a fully integrated industry 4.0 manufacturing environment, production systems will be interconnected and communicate with each other through IoT technology. Machines, sensors, and other devices will share data and make decisions without human intervention. Machines will self-diagnose, self-repair, and self-optimize. Manufacturers will analyze data in real-time to identify potential issues and optimize production processes.
Interested in receiving the benefits of industry 4.0 integration in your manufacturing processes? As experts in IoT, IIoT, and connected systems, our team of Applications Engineers are uniquely positioned to guide you through your digital transformation. Consultation is free and available throughout your design cycle. Contact Symmetry Electronics today!
Subscribe
Stay up to date with industry and supplier news!
Browse