What are the 11 Pillars of Industry 4.0?
Did you know that you're living through a revolution? The fourth industrial revolution, commonly referred to as industry 4.0, is upon us. Unlike its historical predecessors, industry 4.0 is not driven by steam or gas – it's much more space-age than that. Industry 4.0 revolves around the infusion of artificial intelligence (AI) in manufacturing. While the characteristics of the fourth revolution center around smart factories, technically, there are 11 pillars that provide industry 4.0 scaffolding (Figure 1).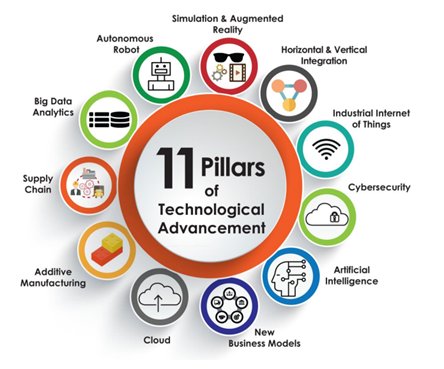 Figure 1: 11 Pillars of Industry 4.0
Source: PSDC
Additive Manufacturing
Technology like 3D printers has provided companies with the ability to rapidly prototype and produce high-performance, customized products. Additive manufacturing reduces build times and creates a more durable product. Additionally, additive manufacturing allows developers to incorporate complex designs and features without increasing cost.
Artificial Intelligence (AI)
IBM's paper, AI Effect on Industrial Products, cited that "1 TB of production data is created daily by the average factory, but less than 1% of that data is actually being analyzed by manufacturers." AI integration is the game-changer manufacturers need to optimize production, save resources, and improve services. With an ability to build knowledge, AI systems can analyze data all the way from raw materials to customer reviews.
Autonomous Robots
The integration of flexible and cooperative autonomous robots (Figure 2) provide manufacturers with a broadened range of services to accomplish complex tasks. Also referred to as 'cobots,' autonomous robots in smart factory situations work alongside humans and interact with other factory technology. In the not-too-distant future, cobots will retain the ability to learn from humans.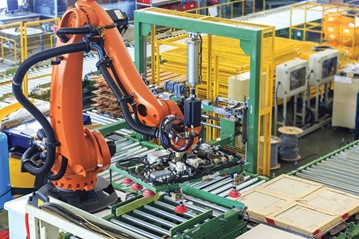 Figure 2: An autonomous robot in a smart factory setting
Source: PneumaticTips
Big Data Analytics
Big data analytics are an essential pillar of industry 4.0 by providing companies with the ability to find valuable patterns and trends. Data can be harnessed from the cloud, sensors, industrial IoT (IIoT) platforms, and more. With the findings of big data analytics, companies are more informed than ever in decision-making.
Cloud Computing
Using hardware and software, cloud computing sends and delivers messages over a network. Cloud computing in industry 4.0 has security advantages by centralizing data storage, bandwidth, and processing. Cloud computing's application programming interface (API) also allows users and computers to interact through software.
Cybersecurity
The need for secure, reliable connections is of utmost importance to prevent smart factory information and manufacturing lines from cyber threats.
Horizontal and Vertical System Integration
Vertically integrated companies aim to keep as much of their value chain in-house. Horizontally integrated companies seek to build out their value chain through building partnerships outside their organizations. In industry 4.0, horizontal and vertical integration enables interconnection throughout entire organizations. Through integrated information systems, there is no disconnect between departments or suppliers.
Industrial Internet of Things (IIoT)
Industry 4.0 relies heavily on IIoT. Without IoT, smart systems and smart factories would not exist. IoT technology interconnects machines, computers, and sensor that enable real-time communication within a system.
New Business Models
With industry 4.0, technological advancements provide a wide breadth of new opportunities for businesses. New business developments that industry 4.0 can provide are similar to expectations surrounding 6G in that the possibilities are limitless and unforeseen. There's no predicting the potential advancements that will be seen in fleet telematics, asset tracking, retail environments, and more.
Simulated and Augmented Reality
Immersive technology is a large component of industry 4.0. Augmented reality (AR) differs from other types of VR in that it interacts with real-world environments. AR is capable of viewing the space around a user to project a virtual entity into it. AR and simulations are modernizing how companies are able to design and prototype products (Figure 3).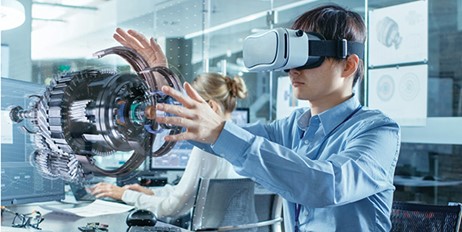 Supply Chain
Industry 4.0 marks the digitization of production flows. With industry 4.0, transparency will create integrated ecosystems of supply chains. There will be no barrier between product development, marketing, sales, or distribution.
How Can Businesses Begin Their Journey into Industry 4.0?
Businesses will benefit from adopting industry 4.0 into their infrastructure. Autonomous robots will provide critical information on equipment failure and reduce idle times in smart factories. With more transparent data, analytics, and information, factory workers will be better prepared to make decisions. Industry 4.0 will enable optimized cost savings, performance, productivity, and quality. Interested in propelling your business into the fourth revolution? Contact Symmetry Electronics today!