Democratizing Antenna Design Via Artificial Intelligence & Machine learning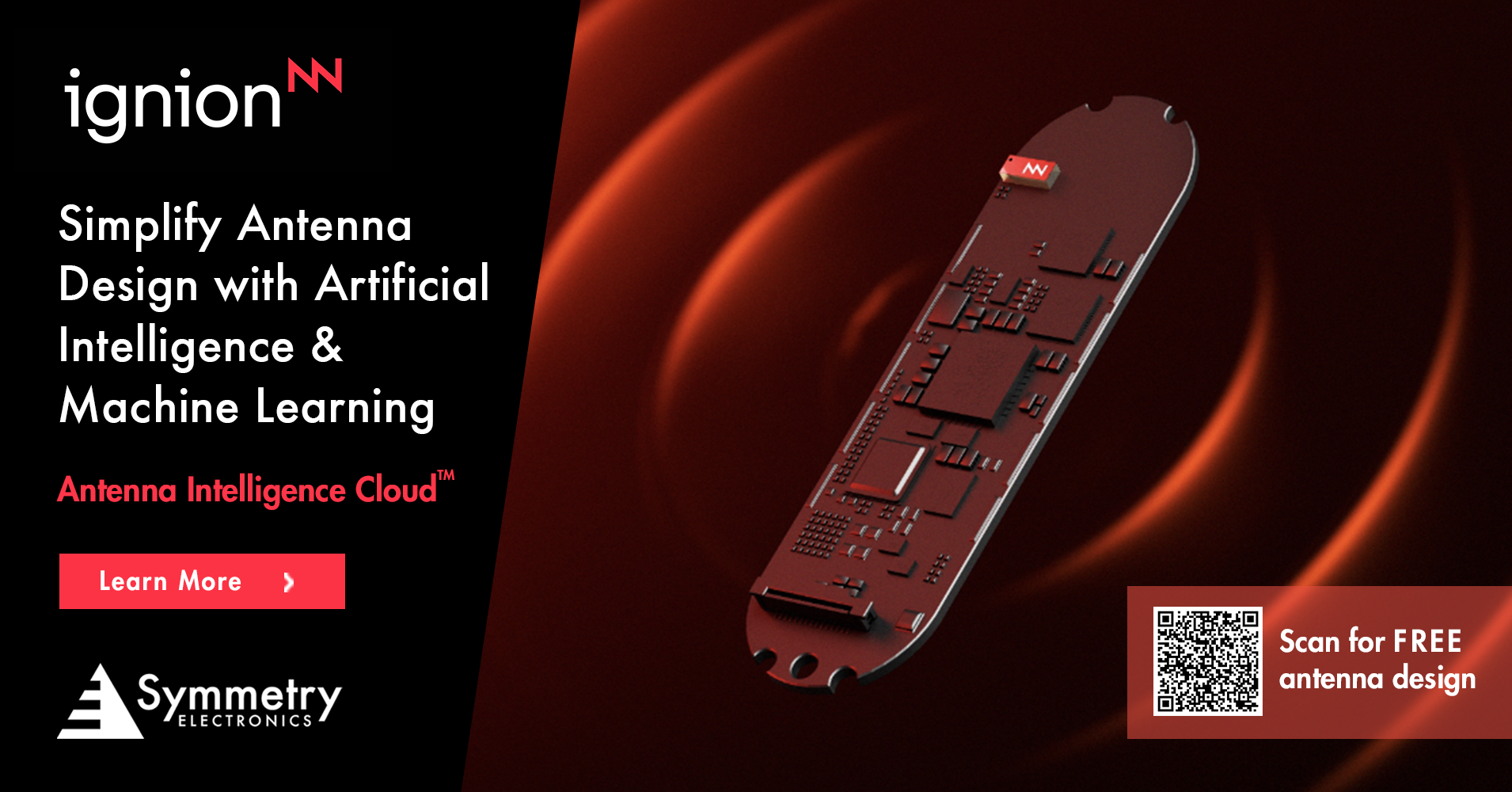 Byline Aitor Moreno
The exponential growth of Internet of Things (IoT) devices has put more pressure than ever on antenna design resources. There's no shortage of opportunities to innovate with new antenna-boasting devices, but there is a dearth of both RF expertise and the budget necessary in many organizations to respond to those opportunities.
Until recently, conventional RF antenna design posed serious barriers to entry—it required highly trained professionals and specialized electromagnetic (EM) simulation software. Just like any technical engineering endeavor, RF antenna design has historically come with a high level of capital expenditures (CAPEX) and non-recurring engineering (NRE) costs. However, since the debut of Ignion's Virtual Antenna® technology, this need not be the case—even when building an IoT device from the ground up.
In tandem with the hardware, by exploiting the ubiquity of artificial intelligence, cloud computing and machine learning (ML), Ignion is further democratizing RF antenna design to not only tremendously lower the barriers to entry but also accelerate antenna design via its Amazon Web Services (AWS) hosted Antenna Intelligence Cloud™ platform.
Challenges in RF Antenna Design
Antennas have come a long way. Depending on your age, you might associate them with a long rod on a car to bring signals to AM/FM radios. Early cell phones, such as the first clunky Motorola flip phones, required that you pull up an antenna to make or take a call.
With the advent of the Blackberry and into the iPhone era, antennas are now small internal devices that are as diverse as the IoT devices on the market today. Whether it's for consumer devices or industrial use cases, you can't have a connected device without an antenna.
That doesn't mean they immediately became less expensive or less complex to design, however. Given the many sizes and shapes and the reliability requirements, antenna design is a specialized field requiring a great deal of theory and experimentation.
One of the biggest challenges with antenna design today is that the growth of RF antenna opportunities has reduced the average size down to a few millimeters. While this makes on-chip implementations possible, it adds complexity to the design process and requires that engineers understand all the trade-offs. Like all electronic components, antennas must balance size, power consumption, performance, reliability, and thermal characteristics cost-effectively.
One antenna component for all frequency bands. Welcome to the Virtual Antenna® era!
Ignion introduced its versatile Virtual Antenna® technology, now available at Symmetry Electronics, to help customers deploy their miniature antennas more easily—no matter the number of frequency bands or protocols being used. This versatility enables implementation in any singular or multi-protocol IoT device.
Ignion's Virtual Antenna® components are the culmination of many years of research and expertise in RF technology and antenna design. It's yielded a compact, non-resonant antenna that sits on a printed circuit board (PCB) along with a matching network—igniting the ground plane to become the resonant surface for the device, hence the name: Ignion. With a resonant antenna, you're using the largest piece of metal in your design to become your antenna, which dramatically improves response because it uses that ground plane as the resonant surface.
You're also able to save space with a Virtual Antenna® component. With many IoT devices, such as with sensors needing to become increasingly smaller for use cases such as asset trackers, space is at a premium. Ignion's Virtual Antenna® components can be up to ten times smaller in size—a booster could be as small as 4.8 mm3, for example, without compromising horsepower. Customers building IoT devices want to be able to deliver 100 percent reliability in the field—especially when it's a literal field for applications such as asset tracking or irrigation systems.
A single Ignion Virtual Antenna® component can provide connectivity via Bluetooth, Wi-Fi, GNSS, 3G to 5G, or ISM, among others, which is why it's so versatile; a device can be designed with several architectures yet still use the same component. This also allows for scalability because the "heart" of the design can be reused across multiple device models.
The variety of use cases for IoT is what makes antenna design challenging today; invariably, our customers tell us that the hardware is the biggest challenge, not the software. Ignion's Virtual Antenna® technology addressed that reality because of its versatility, but that's just the start. Despite the proliferation of IoT devices, RF and antenna expertise can be hard to find. Without an in-house RF engineer, choices are limited. You can incur a lot of costs using third-party expertise, make substantial internal investments to try to figure it out on your own or outsource the whole enterprise to another company to build it for you.
None of these are ideal, which is why Ignion is leveraging the ubiquity of the cloud to democratize antenna design.
Simplifying the Antenna Design Journey with Digital Twin Technology, Cloud Computing & Machine Learning
Ignion's antenna design services have always focused on predictability to simplify the customer journey. We start by establishing the feasibility of the customer design, move them through the actual design and fine-tuning, and, finally, to certification. Now this journey can be taken via the cloud: a virtual antenna can be conceived via Ignion's Antenna Intelligence Cloud™ (Figure 1) that works in tandem with its Virtual Antenna® hardware.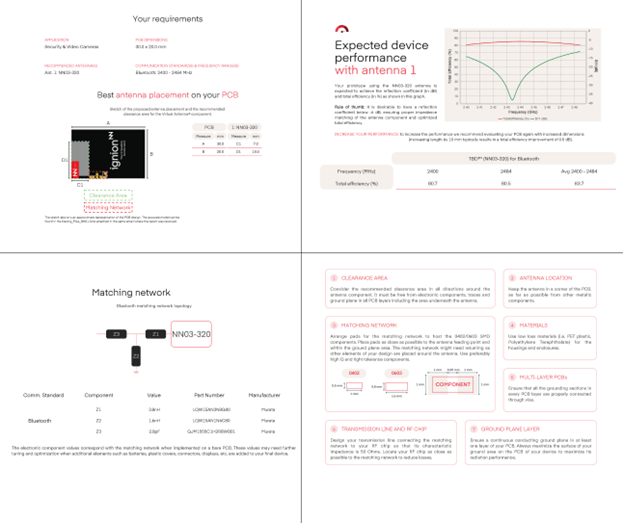 Figure 1:
Sample reports produced by Ignion's Antenna Intelligence Cloud™ platform that offers a free antenna design-in report within24 hours.
By hosting a digital twin based on data from hundreds of real-world designs, the Antenna Intelligence Cloud™ enabled by AWS eliminates the need for physical prototyping and dramatically reduces risk in the design process. Most importantly, it lowers the barriers to entry for antenna design because the process requires little to no RF expertise, granting access to latest cutting-edge technologies. It only takes five minutes to fill out the online form that will deliver a full computer-modeled performance report guaranteed in 24 hours, but usually in just minutes. Questions are as simple as what PCB size you are designing your device on and what frequencies you want to use—up to as many as five.
Add in the context of what the device will be—an asset tracker or smart meter, for example—and the AWS-hosted digital twin that's empowered by machine learning in combination with Ignion's 20-year history of RF project success will provide you with key recommendations to build your antenna design on your desired PCB:
An Ignion Virtual Antenna® component that has been specifically selected for your device and application
A location recommendation in a bare PCB that will achieve the maximum antenna performance in a device like yours
A performance estimate that includes average antenna efficiency, reflection coefficient, and the recommended matching network components and topology
Antenna and PCB design tips to ensure success
Ignion's digital twin can emulate many aspects of the previous physical feasibility and design steps, including important bare PCB considerations, such as the feeding line, the clearance area, the matching network, and the bill of materials (BOM). It also estimates the full design requirements, such as batteries and casings, while providing guidance for antenna performance improvement.
The final leg of the journey is the certification process, but prior to the availability of the Antenna Intelligence Cloud™, device designers may have had to start over several times because they have added the antenna only to find out they're not getting the performance they need and it's not going to pass certification.
Antenna First. The Antenna Intelligence Cloud™ Way
Antenna Intelligence Cloud™ is just about changing mindsets—Ignion's process gets device designers to think about connectivity and antenna considerations at the beginning of the design process. By sorting out your Virtual Antenna® requirements from the get-go, you can load everything else on the board to get to market quickly and efficiently—including certification the first time around—with a design that actually works.
With Ignion's Antenna Intelligence Cloud™, you don't have the expense of having a physical prototype to iterate on—you only start spending money with us once you're ready to build the physical product and are ready for certification. That's an enormous amount of savings, not just in terms of time and money but also exasperation and frustration. Ignion can also facilitate pre-certification with some service providers.
With so many great ideas out there, a lack of an in-house RF engineer or overall antenna expertise should—and need—not be a barrier for device designers who want to get to market quickly and successfully. Ignion's Antenna Intelligence Cloud™ democratizes antenna design through versatility and accessibility so more ideas can come to market that benefit everyone, regardless of RF expertise.
Fill out the form on Ignion's Antenna Intelligence Cloud™ platform to receive a free antenna analysis report within 24 hours!
Subscribe
Stay up to date with industry and supplier news!
Browse