Addressing Antenna Design Complexities
Directional Antenna vs Omnidirectional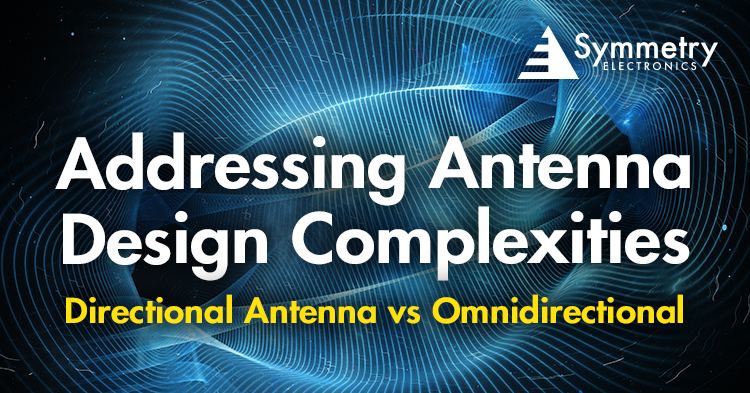 In simplified terms, Moore's Law states that as technology evolves, it becomes smaller and provides increased efficiency. Such as the case with antenna technology. Developers are continuously working to improve design elements like ground plane size, enclosure materials, and component placement within internal antennas and external antennas in order to keep up with the demand for a variety of compact antenna solutions. According to a Verified Market Research report, the global antenna market is projected to reach 37.96 billion by 2028.
What is the Difference Between Directional and Omnidirectional Antennas?
When developers are considering what type of antenna to include in their product design, use case and application are the ultimate determining factors. However, developers should also consider:
The bandwidth of the selected antenna. Bandwidth refers to the range of frequencies in which an antenna can effectively receive and transmit signals. Defined by Voltage Standing Wave Radio (VSWR) ratings, bandwidth parameters of an antenna are an essential consideration to ensure optimal efficiency of a device.
The desired gain of an antenna solution. Defined by an antenna's radiation pattern, an antenna's gain refers to the signal strength in the direction of its peak radiation when compared to an isotropic source.
The radiation pattern of an antenna selection. Represented in graphical terms, the radiation pattern of an antenna provides a visualization of energy distribution around an antenna. A radiation pattern is key in determining how omnidirectional or directional an antenna is (Figure 1).
An omnidirectional antenna distributes its energy in a 360° radius surrounding its source. While a torus of energy distribution may seem advantageous, omnidirectional antennas are commonly less powerful in range than their directional counterparts. Directional antennas focus all of their energy in one direction. While this provides powerful signal strength, the antenna must be pointed in the direction of the signal. However, directional antennas seem to be more resistant to noise and multipath distortion.
Cellular omnidirectional antennas provide optimal performance with a clear line of site, meaning there are no physical obstacles to interfere, and where cellular signal is abundant. Traditional directional antennas commonly provide a beamwidth of 45-90 degrees and are useful in areas with a weak signal source.
Figure 1: Radiation pattern comparison of an omnidirectional antenna and directional antenna.
Source: Research Gate
Types of Omnidirectional Antennas
Terminal-Mount
Whip
Rubber Duck
Dipole
Puck Style
Magnetic-Mount
Screw-Mount
Omnidirectional Antenna Applications
Applications seeking point-to-multipoint communications like computers, phones, and end-node modules would benefit from a terminal-mount, rubber duck, or outdoor dipole antenna as they are ground plane dependent. Omnidirectional antennas are optimal for applications surrounding broadcast transmissions, wireless networks, GPS, and other IoT applications.
Types of Directional Antennas
Yagi
Grid
Parabolic
Panel
Dish
Directional Antenna Applications
While directional antennas can be used across multiple industries, a directional antenna's application is dependent on the particular setup of the device. Generally, directional antennas are optimal for long range point-to-point and point-to-multipoint communication as they provide high gain. Cellular networks, land mobile radio (LMR) applications, GPS systems, and emergency response communication systems all benefit from directional antenna integration.
In Conclusion:
It's important to note that an antenna's radiation pattern is not dependent on whether the technology is an internal or external component. There are internal and external omnidirectional antennas, just as there are external and internal directional antennas. The type of antenna technology you choose to incorporate into your design should be determined by the use case and set up of your device.
Unsure of what type of antenna technology to integrate in your design? View Symmetry Electronics' comprehensive antenna selector guide.