u-blox's Ultimate Guidebook to Developing Industrial Asset Monitoring Solutions
Industrial asset tracking is one of the fastest growing markets in the world of industrial Internet of Things (IIoT). With the industrial asset management market expected to reach $14.4 billion by 2029, there is huge market potential for developing solutions in this space. Some key industrial asset tracking segments include: energy and power, manufacturing, pharmaceuticals, food and beverage, construction, and more.
u-blox stands out as a reliable development resource to assist engineers in deploying successful industrial asset tracking solutions. Offering ultra-precise, long-term compatible, and globally certified modules like their MIA-M10 Series, SARA-R5 Series, SARA-R5AWS module, and LEXI-R422 module–u-blox offers an extensive line of highly-reliable GNSS modules to set developers up for success.
Additionally, u-blox's line of Nordic Semiconductor-based Bluetooth Low Energy modules including their BMD-series, NINA-series, ANNA-series, and NORA-series, are the optimal solution for short-range asset tracking applications. Pair u-blox's award-winning technologies with their MQTT Anywhere IoT communication service and CloudLocate cloud positioning and you have a one-stop-shop to deploy your next successful industrial asset tracking solution. Gain access to all of these cutting-edge resources in u-blox's The Ultimate Guidebook to Developing Industrial Asset Monitoring Solutions e-book.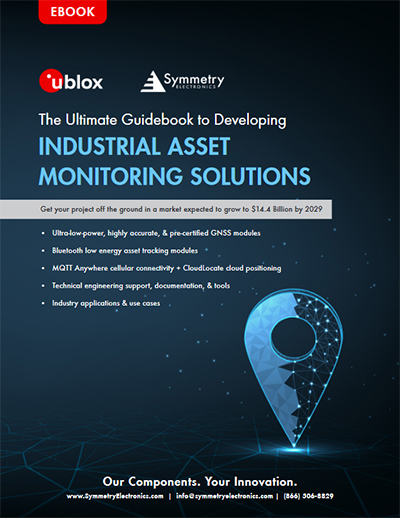 What's Inside?
Ultra-low-power, highly accurate, & pre-certified GNSS modules
Bluetooth low energy asset tracking modules
MQTT Anywhere cellular connectivity + CloudLocate cloud positioning
Technical engineering support, documentation, & tools
Industry applications & use cases