ZigBee vs Z-Wave: What's the Difference? Everything You Need To Know | Symmetry Blog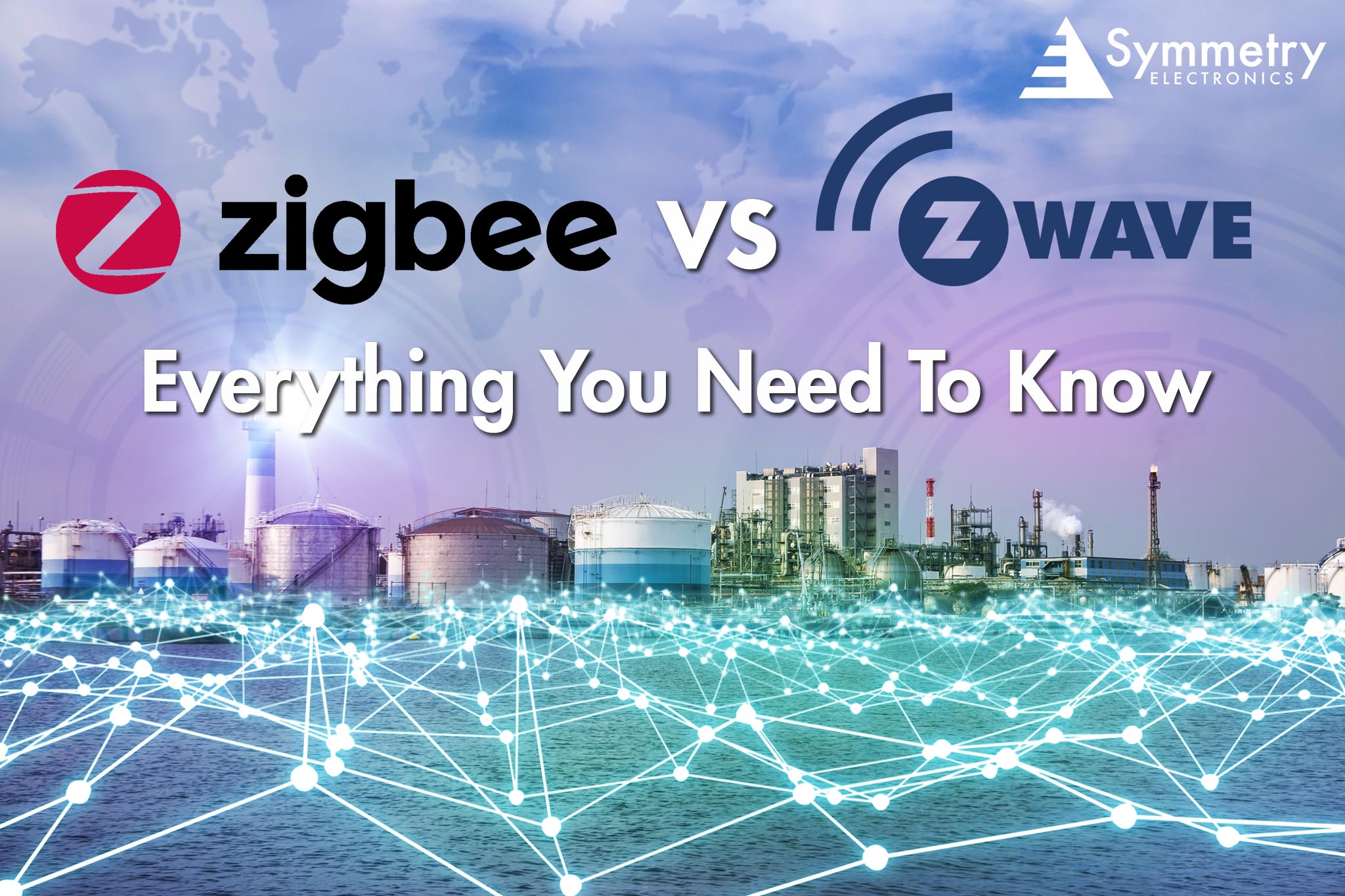 Knowing the differences between ZigBee and Z-Wave can be tricky. We break down the comparison between these two technologies and help you decide which technology fits your design needs.
The market for the Internet of Things is exploding, and various IoT ecosystems have cropped up to claim superiority on all things IoT. Consumers and engineers alike are left feeling overwhelmed with the large variety of options available to them.
If you have done any research on what ecosystem to follow, it's likely you've heard of ZigBee and Z-Wave. Some of the most popular technologies available for IoT, both Zigbee and Z-Wave offer an alternative to the massively popular Bluetooth. There are reasons why you may decide to choose ZigBee or Z-Wave, as they differ in their specifications and applications.
Continue reading to learn everything you need to know about ZigBee and Z-Wave.

ZigBee
The more popular of the two, ZigBee is a low-power wireless mesh network standard for battery-powered devices. As a low-cost solution for wireless control and monitoring applications, ZigBee has become very popular in the industries of home automation, data monitoring, management systems, and industrial equipment.
ZigBee's technology was designed so that custom profiles could be developed and deployed, making it faster and easier for manufacturers to create wireless products for common applications. This lowered the bar for many OEMs to create ZigBee products, contributing to ZigBee's popularity today.
ZigBee devices operate in the unlicensed industrial, scientific, and medical (ISM) bands; for most regions in the world, ISM bands are at 2.4GHz, although specific countries may use additional bands as well.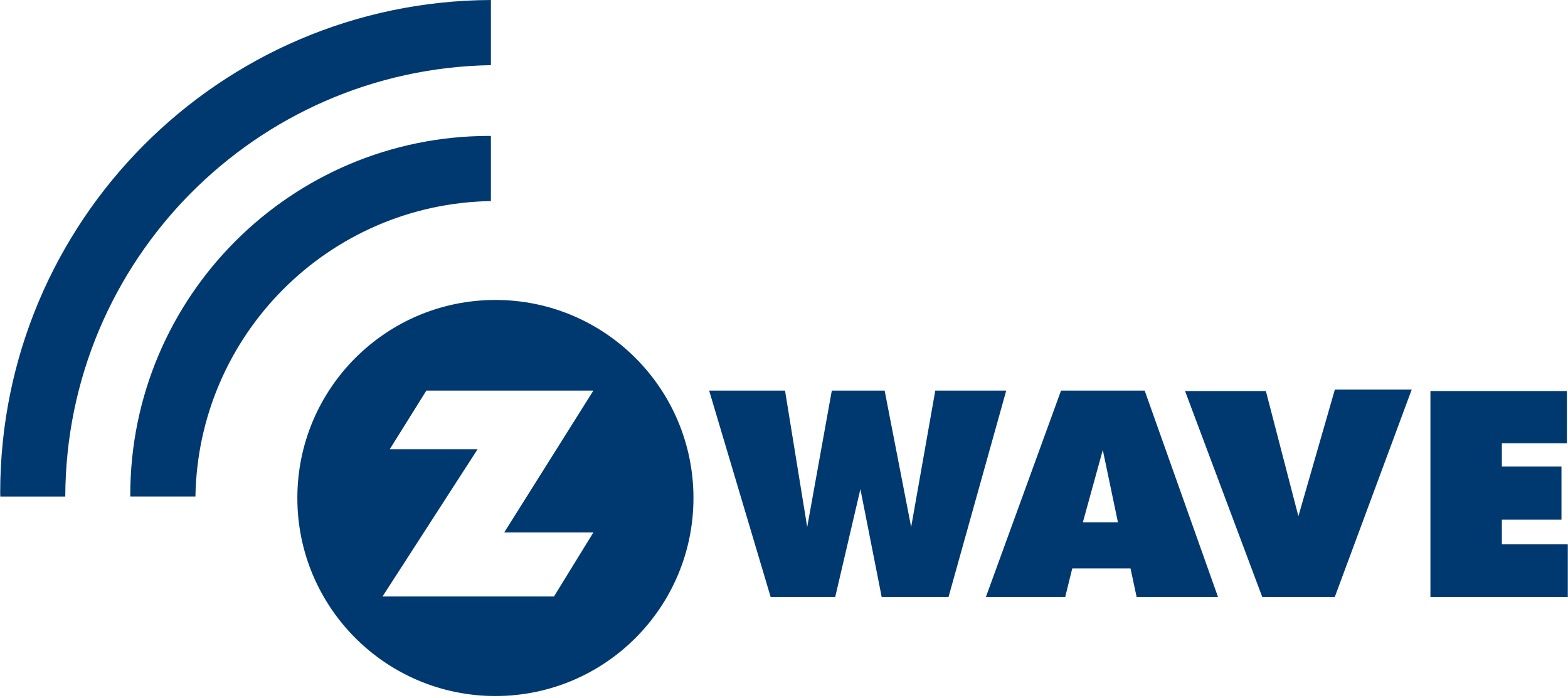 Z-Wave
Unlike ZigBee, Z-Wave was originally developed as a proprietary SoC home automation protocol by Zensys and then by Sigma Designs after Zensys was acquired in 2008. Silicon Labs recently acquired the Z-Wave protocol and now controls all Z-Wave chip manufacturing. As such, the Z-Wave standard is not open to the public.
Z-Wave uses the unlicensed frequency band in the 908MHz range, which helps avoid interference with ZigBee, as well as other popular wireless technologies like Bluetooth and WiFi.
While Z-Wave lacks the flexibility that is offered by ZigBee, it does avoid certification issues that other protocols may face by maintaining a strict certification process.
This process ensures every Z-Wave device provides interoperability with each other. This may not always be the case for ZigBee, as explained later.
Z-Wave is not as ubiquitous as ZigBee, but recently OEMs have started to take notice of Z-Wave. This could soon change with the recent acquisition of Sigma Designs by Silicon Labs, which may indicate future Z-Wave support from products offered by Silicon Labs. Together, Silicon Labs and Z-Wave open the door to millions of potential users of smart home technologies by expanding access to a large and varied network of ecosystems enabled by partners such as Amazon, Alarm.com, ADT, Samsung SmartThings, Yale, Google Home and Comcast
How do ZigBee and Z-Wave compare?
Here is a quick look at the differences between ZigBee and Z-Wave
ZigBee

Z-Wave

Data Rate: 250kb/s

Data Rate: 40kb/s

Power Consumption: ~40mA

Power Consumption: ~2.5mA

Shorter range: 10-20 Meters

Longer Range: 30-65 Meters

Operates at 2.4 GHz

Operates at 908 MHz

More flexible profile development

Closed profile development

Chips & Modules available from multiple manufacturers

Chips only sold by Silicon Labs, originally a proprietary standard developed by Zensys

Variable certification process

Strict certification process

Supports over 65,000 devices on the mesh network

Supports over 232 devices on the mesh network

More difficult to configure and get up and running

More user-friendly, easier to set up

Cheaper

A little more expensive compared to Zigbee

ZigBee has more connected devices in the market and thus more resources and community support for the application that you are building.

Not as wide-spread as ZigBee and may be more limited in community resources

Both ZigBee and Z-Wave can last years on a coin cell battery but only when used in sleep mode. Constantly transmitting a signal would only last a couple months.
Both run on the mesh networks
Why would one choose ZigBee?
ZigBee provides more flexibility in its profile development, which has led to its popularity among OEMs. ZigBee's open portfolios make it a highly versatile wireless solution, but the protocol is also fairly complex. This is compared to Z-Wave's limiting but simple protocol that makes it easier for manufacturers to build their application.
As previously mentioned, Z-Wave chips are only sold by one manufacturer, while ZigBee chips and modules are available from numerous sources. Therefore, ZigBee provides OEMs with more options when choosing a supplier.
ZigBee supports over 65,000 devices on the mesh network, while Z-Wave only supports up to 232 devices.
ZigBee has more connected devices in the market and thus more resources and community support for the application that you are building.
Why would one choose Z-Wave?
Z-Wave has a longer range than ZigBee. Z-Wave range is 100m line-of-sight whereas ZigBee is only 20m
Z-Wave also operates at 908 MHz, avoiding interference with other wireless signals commonly operating at 2.4 GHz, including WiFi, Bluetooth, and ZigBee.
ZigBee potentially suffers from unreliability, since an interference can result in lost or unreliable signal. However, because Z-Wave operates at a lower frequency, it transmits less data compared to ZigBee.
Z-Wave uses less power than ZigBee - depending on the application and configuration, a set of AA batteries could keep the module going for >5 years. This only applies if the module is placed in sleep mode - constantly transmitting a signal without sleep mode use up a battery more quickly.
One of the biggest draws for Z-Wave is its interoperability.
The Z-Wave Alliance ensures that every Z-Wave device complies to a strict set of standards. Compare this with ZigBee's confusing certification program, which has separate certifications for hardware and software. It is possible for a product to get their hardware certified but not their software, and when put on the market, the incompatible software would prevent the product from working with other ZigBee devices. To combat this, ZigBee developers must make sure they are correctly certified and are in full compliance with ZigBee standards.
Z-Wave is more user-friendly and simpler to set up than ZigBee. In contrast, ZigBee is more difficult to configure and get up and running. Someone without previous experience with embedded programming would find it very difficult to reach a finished product using ZigBee
What are some brands supporting ZigBee and Z-Wave?
According to ZigBee's website, some of the major brands using ZigBee technology include:
Philips Hue
Samsung SmartThings
Amazon Echo Plus (with Alexa for voice controls)
Hive Active Heating and accessories
Honeywell thermostats
Ikea Tradfri
Belkin WeMo Link
Yale smart locks
Sengled smart lights
ADT Security Hub
Wink hub
Somfy blinds and drapery motors
GE Appliances
LG SmartThinq
According to Z-Wave's website, some of the major brands using Z-Wave technology include:
Samsung SmartThings
Wink hub
Honeywell thermostats
Hogar Milo (with Google Assistant for voice controls)
ADT Security Hub
August smart locks
Yale smart locks
Logitech Home Harmony Hub Extender
Somfy
GE Appliances
LG SmartThinq
Kwikset smart locks
Some brands support both, although this could be cost inefficient depending on your application.
So which one should you use?
Like any answer, it always depends on your application.
Between the two, ZigBee has had the bigger market share, but Z-Wave has been making large strides to match ZigBee these past few years.
ZigBee is open to the public but certification rules can be confusing to uninitiated. Z-Wave is propriety technology available only to customers and limits the options available for Z-Wave components, but this helps ensure that certification is strictly enforced and provides more reliable interoperability between Z-Wave devices from different manufacturers.
"Customers can go and purchase products with Z-Wave in them, but they can't create or tinker their own stuff with Z-Wave," says Tyler Wojciechowicz. "To join the Z-Wave ecosystem, there's stringent certification process and can take up to 6 months. All companies/design engineers looking to use Z-Wave in their design, have to go through this process."
Technology wise, ZigBee provides a stronger data rate, but Z-Wave provides farther range. Depending on your application, you may prioritize one over the other. ZigBee also operates on the same frequency as Wi-Fi and Bluetooth and may be more susceptible to interference compared to Z-Wave.
Something else to consider is the topology that technologies like ZigBee and Z-Wave operate on. As Cobus Heukelman, an applications engineer at Symmetry noted on "Why My Money is on Bluetooth Mesh,"
Zigbee [and] Z-wave… [both] use a routed mesh network topology. In these networks a message is sent from source to destination going through a specific sequence of only certain devices. In other words, the message only takes one route to get to its destination. This is more efficient compared to flooding, because only a select few devices on the route have to retransmit messages. The down side is that more intelligence is needed to know the required path for each message.
It's therefore important to make sure your application will be able to account for the processing required for mesh networking.
Conclusion
ZigBee and Z-Wave are both great wireless solutions for home automation, smart energy, telecommunications, health care, remote control (RF4CE, or radio frequency for consumer electronics), building automation, and retail services.
It is not clear yet whether these two technologies will persist side by side, or if one will prevail over the other. They could also face a challenger from Bluetooth Low Energy, which also provides engineers with similar low power and mesh networking options.
Like any technology, it is best to ask an engineer specializing in wireless technology for more information on what would fit your application best.
Recommended Products
Silicon Labs offers a variety of high-quality ZigBee modules for your wireless application. Some of our recommended products include:
Flagships Products:
SiLabs: EFR32MG, MGM13P, MGM111, MGM12P
Digi: Digi XBee3 Zigbee 3.0, Digi XBee Gateway
Other Products to Check Out:
SiLabs: EM358x, EM359x, EM35x, EM34x, ETRX358x, ETRX357
Why partner with Symmetry Electronics? Symmetry's technical staff is specially trained by our suppliers to provide a comprehensive level of technical support. Our in-house Applications Engineers provide free design services to help customers early in the design cycle, providing solutions to save them time, money and frustration. Contact Symmetry for more information.