Experience Both Wi-Fi 6E and Bluetooth 5.4 in One Compact Package
The Sona™ IF573 Series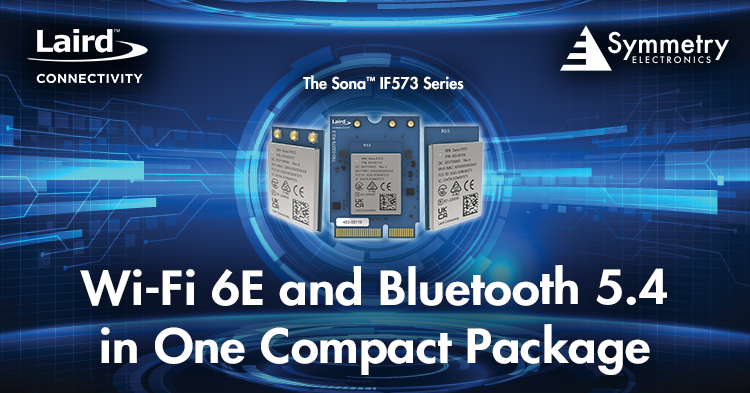 In a world driven by connectivity, the demand for reliable and high-performance wireless solutions has never been greater. As a leading provider of cutting-edge RF modules, system-on-modules, antennas, IoT devices, and customized wireless solutions, Laird Connectivity is dedicated to streamlining your wireless endeavors. Their newly released Sona™ IF573 is revolutionizing the world of low-power devices through tri-band Wi-Fi 6E support, dual mode Bluetooth, integrated design, and exceptional performance. Whether you're designing the next generation of IoT devices or pushing the boundaries of wearable technology, Laird Connectivity's Sona IF573 series is your gateway to cutting-edge wireless connectivity.
Introducing the Sona IF573 Series
The Sona IF573 series is a state-of-the-art lineup of wireless modules that are optimized for low-power mobile devices. Sona IF573 modules pack even more capabilities and enhancements to meet the demands of today's rapidly evolving wireless landscape.
Tri-Band Excellence with Wi-Fi 6E
At the heart of the Sona IF573 series lies its Tri-band Wi-Fi 6E capabilities. This module supports IEEE 802.11a/b/g/n/ac/ax WLAN, providing seamless connectivity across three bands: 2.4 GHz, 5 GHz, and 6 GHz. With 2x2 MIMO technology, users can experience lightning-fast data rates and superior performance.
Bluetooth® 5.4 Dual Mode
Alongside its Wi-Fi prowess, the Sona IF573 series also features Bluetooth® 5.4 Dual Mode functionality. This means you can connect to a wide range of devices, from traditional Bluetooth devices to low-energy Bluetooth devices. The dual mode capability enhances versatility and compatibility, making it an ideal choice for various applications.
All-in-One Integration for Simplicity and Customization
Another standout feature of the Sona IF573 series is its comprehensive integration. Laird Connectivity has seamlessly combined all WLAN and Bluetooth functionality into a single compact package to simplify implementation, minimize cost, and maximize convenience. Moreover, this integration offers flexibility for platform-specific customization, ensuring that the module meets the unique requirements of your project.
Advanced RF Path and Power Management
This wireless module takes care of all the intricate details, from transmit/receive RF paths with bandpass filters to power management units (PMU). The Sona IF573 series features three integrated MHF4 connectors—two for WLAN and one dedicated to Bluetooth. This meticulous design guarantees optimal signal quality and reliability. The result is a wireless module that not only performs exceptionally but also simplifies the design process. Additionally, Laird Connectivity offers an RF pin version that allows customers to integrate their own antenna directly into their board.
Impressive Data Rates and Power Efficiency
The Sona IF573 doesn't just excel in connectivity; it's also a powerhouse when it comes to data rates and power efficiency. With support for IEEE 802.11ax tri-band (2.4/5/6 GHz) 2x2 MIMO, you can achieve data rates of up to MCS11 (287 Mbps PHY data rate for the 2.4 GHz band and 1.2 Gbps PHY data rate for the 5/6 GHz bands).
Its low power consumption, sophisticated radio architecture, and proprietary power-saving technologies ensure extended battery life. Whether you're building IoT devices, wearables, or other low-power mobile applications, the Sona IF573 series delivers exceptional performance while preserving precious battery life.
Advanced Baseband and Protocol Processing
Behind the scenes, the Sona IF573 series wireless module boasts full digital MAC and baseband engines. These engines handle all 802.11 CCK/OFDM/OFDMA® 2.4/5/6 GHz and Bluetooth 5.4 (Basic Rate, Enhanced Data Rate, and Bluetooth Low Energy) baseband and protocol processing. This means you can rely on the module for robust and efficient wireless communication.
Sona IF573 Series Key Features and Benefits
The Sona IF573 series is redefining wireless connectivity through advanced key features and benefits, including:
Wi-Fi 6E Enhancements

OFDMA
TWT
BSS Coloring
MU-MIMO
Long Guard Interval
DCM

Radio Front End

Integrates the complete transmit/receive RF paths including bandpass filter, diplexer, switches, reference crystal oscillator, and power manage unit (PMU)
Supports tri-band (2.4/5/6 GHz)
Supports 20/40/80 MHz channel bandwidth
Supports 2x2 WLAN antenna configuration with dedicated Bluetooth antenna port

Power Management

Two buck regulator, multiple LDO regulators, and a power management unit (PMU) are integrated into the IF573. All regulators are programmable via the PMU. These blocks simplify power supply design for Bluetooth and WLAN functions in embedded designs.

Pre-Calibration

RF system tested and calibrated in production

Sleep Clock An external sleep clock of 32.768 kHz is required.
Host Interface

The Sona IF573 M.2 card provides two interfaces for customers to choose:

1. SDIO/UART, Wi-Fi section provides support for SDIO v3.0 and also is backward compatible with SDIO v2.0. Bluetooth section supports a high-speed 4-wire UART interface.
2. PCIe/UART, Wi-Fi section provides support for PCIe Gen2 (3.0 Compliant). Bluetooth section supports a high-speed 4-wire UART interface.

Advanced WLAN

IEEE 802.11a/b/g/n/ac/ax compliant, tri-band capable (2.4/5/6 GHz)
2x2 MIMO providing up to 1.2 Gbps PHY data rate for 5/6 GHz (1024-QAM modulation)
2x2 MIMO providing up to 287 Mbps PHY data rate for 2.4 GHz (1024-QAM modulation)
Supports 20, 40, and 80 MHz channels with optional SGI (1024-QAM modulation)
Background channel availability check (CAC) scan for immediate switch to candidate DFS channel
On-chip power amplifiers and low-noise amplifiers for both bands
Support wide variety of WLAN encryption: WPA/WPA2/WPA3/TKIP/AES and IEEE 802.11i compatibility

Advanced Bluetooth

Bluetooth 5.4 (BDR + EDR + Bluetooth LE)
Dedicated Bluetooth RF path port
Bluetooth Class 1 or Class 2 transmitter operation
Support data rate: 1 Mbps (GFSK), 2 Mbps (π/4-DQPSK), 3 Mbps (8-DPSK), LE-1 Mbps, LE-2 Mbps, LE-LR-500K (S=2) and LE-LR-125K (S=8)
Supports extended synchronous connections (eSCO) for enhanced voice quality by allowing for retransmission of dropped packets
Adaptive frequency hopping (AFH) for reducing radio frequency interference
Host controller interface (HCI) using a high speed UART and PCM/I2S for audio data
Low power consumption improves battery life of IoT and embedded devices
Supports multiple simultaneous Advanced Audio Distribution Profiles (A2DP) for stereo sound
On-chip memory includes 512 KB SRAM and 2 MB ROM
Conclusion
Laird Connectivity's Sona IF573 is a game-changer in the wireless connectivity landscape. With its advanced features, high performance, and compact design, it is the ideal choice for a wide range of applications. Whether you are designing industrial Internet of Things (IIoT), IoT devices, or smart home appliances, this feature-rich solution empowers you to revolutionize connectivity in your products. Embrace the future of wireless technology with the Sona IF573 from Laird Connectivity.
Sona IF573 Modules
Sona IF573 Development Kits
Subscribe
Stay up to date with industry and supplier news!
Browse