Is Wi-Fi 6E the Next Big Thing? | Symmetry Blog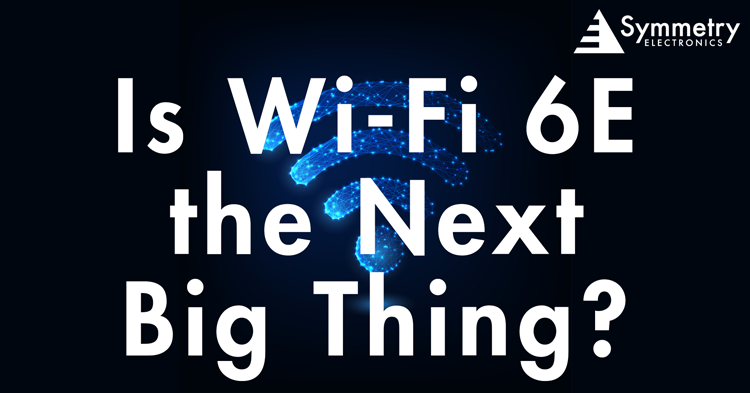 On September 16, 2019, the Wi-Fi Alliance (a global network of companies that promotes Wi-Fi technologies and interoperability) launched Wi-Fi 6–the latest generation of Wi-Fi that meets the demand for faster speeds and higher efficiency in our ever-evolving technological world.
The number of Wi-Fi enabled devices that are being utilized throughout the world is continuing to increase in both consumer and commercial applications. Additionally, the need for a speedy connection that supports high-bandwidth apps, games, and videos, has become increasingly necessary–which can prove to be especially challenging in highly populated or dense areas.
With an excess of devices demanding high-bandwidth support on a single network, comes a concern for data security and power efficiency. Fortunately, the release of Wi-Fi 6 addresses these concerns head on.
Wi-Fi 6 Offers Faster Internet Speeds
The Wi-Fi 6 standard is capable of offering a faster internet connection due to two main features: "multi-user, multiple input, multiple output" (MU-MIMO), and "orthogonal frequency division multiple access" (OFDMA). MU-MIMO allows a Wi-Fi 6 enabled router to communicate with up to eight devices at the same time. On the other hand, OFDMA enables the delivery of data to multiple devices at once via a single transmission. What sets Wi-Fi 6 apart from previous releases is its OFDMA feature. While previous standards were capable of communicating with multiple devices simultaneously, they were not able to transfer data to multiple devices via a single transmission–now allowing for a much more efficient delivery.
Target Wake Time Improves Battery Life
Wi-Fi 6 offers a Target Wake Time feature that allows low-power Wi-Fi devices such as smart home devices to check in with the router periodically for signals as opposed to remaining powered on continuously. This helps to avoid signal interferences between devices while conserving battery.
Wi-Fi 6 Addresses Security Concerns
Wi-Fi 6 utilizes the WPA3 security certification standard to protect data transmitted via a Wi-Fi network. This updated standard offers more robust authentication and encryption features along with a more secure and simplified connection.
Wi-Fi 6 Enables Interoperability
To fully benefit from the Wi-Fi 6 technology, both a Wi-Fi 6 certified router and device would be required. Fortunately, however, Wi-Fi 6 is backwards-compatible–allowing for devices with previous hardware to experience some benefits such as the ability to maintain a strong Wi-Fi connection while accessing a busy network. Conversely, a Wi-Fi 6 certified device would not reap the benefits of the Wi-Fi 6 technology if it is connecting to a router that utilizes a previous Wi-Fi generation such as Wi-Fi 5.
Wi-Fi 6E and the 6 GHz Band
Although Wi-Fi 6 was released in September 2019, the technology is rather new to the industry. Early adopters such as Apple, Samsung, LG, Netgear, Linksys, and TP-Link, are paving the way in the transition to Wi-Fi 6 enabled devices and routers. But as expected in the tech industry, there is always something new coming right around the corner. On April 23, 2020, the FCC approved Wi-Fi 6 access to the 6 GHz band. This advancement prompted the official introduction of Wi-Fi 6E–an extension of Wi-Fi 6 that will be made available for global interoperability certification in 2021. By gaining access to the 6 GHz band, Wi-Fi connections will benefit from even faster speeds and lower latency over a short distance without having to worry about interference from previous Wi-Fi generations that operate on other bands. Although Wi-Fi 6E seems to be right around the corner, we still have a ways to go with Wi-Fi 6 after its recent launch in late 2019.