Ultra-Wideband vs. Bluetooth Direction Finding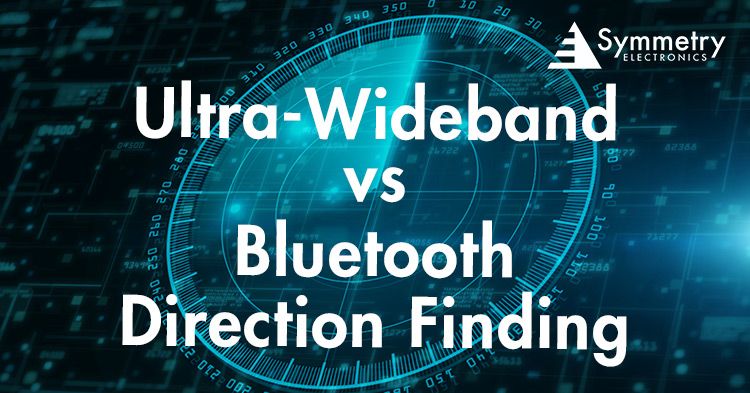 The fundamentals of asset tracking have been improved since the inception of GPS and other location systems. Real-Time Location Systems (RTLS), for example, were first implemented in the healthcare industry in the 1990s. Today, RTLS technology helps us track assets across a wide range of industries. Furthermore, there are many different types of technologies that provide RTLS solutions. Let's examine two of the most popular location tracking technologies; Ultra-wideband (UWB) and Bluetooth Direction Finding.
What is Ultra-Wideband?
UWB is a low-power, high bandwidth communications protocol. As a radio frequency (RF) technology, UWB can send large amounts of information over short periods of microseconds. UWB is generally used for short-range, indoor device-to-device communications. In the smartphone industry, Apple was the first company to introduce UWB capabilities through iPhone 11's AirDrop feature, and their patented iBeacon technology.
Key UWB Features
UWB-enabled devices operate at a low power level (0.5 mW / -41.3 dBm/MHz).
UWB's high bandwidth allows for large amounts of data to be collected and communicated (>500 MHz).
UWB's location tracking accuracy is unparalleled (within 10-30 cm accuracy).
UWB offers greater protection from multipath and interference than Bluetooth and Wi-Fi technologies.
UWB features a higher level of security than Bluetooth technology.
UWB uses less power than Bluetooth.
Common UWB Applications
Ultra-wideband is an effective communications protocol used in the consumer, industrial, and automotive industries. UWB's most common applications are data communications, radar/sensing, localization, and identification.
What is Bluetooth Direction Finding?
Bluetooth technology is paramount in an industrial setting. With Bluetooth direction technology, asset tracking is made convenient in warehouses by mounting low-power beacons to equipment and assets. Routers throughout warehouses serve as locators to track beacons. Bluetooth direction finding offers GPS-like positioning indoors.
Bluetooth 5.1
Released in 2019, Bluetooth 5.1 is the foundation of the now Bluetooth 5.2 and supports RTLS by using multiple antennas from a device's transmitter or receiver. In conjunction with Bluetooth Low Energy (BLE), Bluetooth 5.1 utilizes Angle-of-Arrival (AoA) and Angle-of-Departure (AoD) techniques to measure a signal's phase and amplitude. Essentially, these methods allow transmitters and receivers to pinpoint their position in relation to each other to a precise degree.
Bluetooth 5.2
While BLE capabilities were introduced in Bluetooth 4 technology, Bluetooth 5.2 is advanced in its low-power control capabilities, especially for audio steaming applications. Utilizing the LC3 Codec, Bluetooth 5.2 makes it possible to transmit larger amounts of high-quality audio data while using less power and bandwidth. Its Enhanced Attribute Protocol and Isochronous Channels also allow for multiple Bluetooth connections to a single source.
Key Bluetooth 5.2 Features
Bluetooth technology is compatible with Android & iOS. Bluetooth capabilities are a part of the majority of smartphone infrastructure, unlike UWB.
Bluetooth technology is cost-efficient and low energy.
Bluetooth has low power consumption.
Bluetooth 5.2's LC3 Codec allows for high quality audio to be transmitted over a lower bandwidth.
Supports frequency range of 2.4 GHz to 2.483 GHz.
Bluetooth utilizes a lower bandwidth than UWB.
Common Bluetooth Applications
Widespread adoption of Bluetooth technology proves that there are many applicable uses for it. Bluetooth is used in devices like:
Laptops, notebooks, and smartphones
Printers
Wireless headsets and headphones
Wireless PANs and LANs
Data transfer and logging equipment
Wireless keyboards
Wearables
A MarketsAndMarket's 2019 report stated that the "Bluetooth smart and smart ready market was valued at USD 4.55 billion in 2016 and is expected to reach USD 5.34 billion by 2023." A similar report on UWB positioning systems also conducted by MarketsandMarkets forecasted that the market for UWB will increase to 2.7 billion by 2025. The steady financial growth of both technologies shows that they are an accessible design solution. Whether design engineers should choose one over the other is dependent on a device's intended use.
Subscribe
Stay up to date with industry and supplier news!
Browse