Top 3 Most Innovative Products of 2021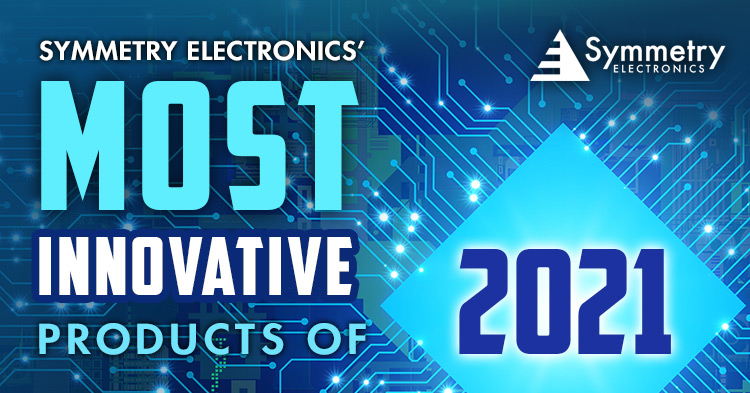 With the new year on the horizon, all of us at Symmetry Electronics are reflecting back on the progress made in the electronic component industry in 2021. Despite facing global shortages, our industry still saw a significant amount of growth, along with some exciting innovations surrounding LoRa, 5G, Wi-Fi 6, and more. We surveyed our knowledgeable Applications Engineers to determine the top three most innovative technologies of 2021* that come from our expansive product portfolio. Be sure to keep an eye on these products as we move into 2022.
Semtech's GS12170 SDI/HDMI Bridge
An industry first, Semtech's SDI/HDMI GS12170 Bridge has made it into Symmetry's top three most innovative products list. Offering a compact design measuring at 12mm x 12mm, this bridge ASIC allows users to seamlessly convert broadcast quality SDI signal to/from HDMI signal with audio. GS21270 offers three conversion modes:
SDI to HDMI Bridge Mode
HDMI to SDI Bridge Mode
SDI to SDI Gearbox Mode
The GS12170 allows users to transmit large amounts of metadata between HDMI and SDI without the need for an FPGA. Its efficient design is also conservative in its power use. The GS12170 is a cost-effective option for users looking to streamline connectivity for the latest 4K/8K video applications.
The GS12170 boasts the following key features and specifications:
Conversion of HDMI to SDI, SDI to HDMI, or SDI to SDI (gearbox) in a single chip
Full support for video formats compatible with SDI from HD-SDI to 12G UHD-SDI, including both single-link and multi-link connections
Support for formats up to 4Kp60 4:2:2 YCbCr 10-bit (UHDTV-1)
Support for RGB, 4:4:4, and 12-bit interfaces
Automatic HDMI and SDI audio embedding and de-embedding
Dedicated I2S audio pins for up to 16-channels of audio at 48 kHz sampling frequency; 8-channels of audio at 96 kHz sampling frequency
Automatic handling and conversion between SMPTE ST 352 Stream ID and CTA 861 Info frames
Dedicated high-speed ancillary data interface for handling large meta-data payloads
Dedicated SMPTE Timecode generation and insertion
Pairing the GS12170 with technologies like Semtech's 12G UHD-SDI relocking cable drivers and equalizers allows design engineers to convert HDMI-centric Integrated Signal Processors (ISP) to reliable, wide-range SDI connections. Pairings like these simplify design complexity and expedite time-to-market. Some optimal product pairings enable the GS12170 to reach over 100m over a UHD-rated coaxial cable. The GS12170 can be implemented in a variety of applications like 4K monitors, camcorders, HDMI extenders and converters, and any type of system that requires an internal video interface connection between HDMI/SDI components.
Sensirion's SCD4x CO2 Sensor
Sensirion's SCD4x offers an efficient design in terms of size, weight, power, and cost. In comparison to its predecessor, the SCD30, the SCD4x is a fraction of the size, measuring at 10.1 x 10.1 x 6.5 mm3. The SCD4x's compact nature is due to its unique Photoacoustic Sensing Principle (CO2 measurement principle) that requires fewer integrated components. The Photoacoustic Sensing Principle is based on sound, and unlike many other CO2 sensors on the market, the sensitivity of the sensor is independent of the optical cavity. This varying attribute is what allows the SCD4x to scale back its size without compromising on performance.
Key features of the SCD4x include an integrated temperature and humidity sensor for measurement compensation in unpredictable ambient environments. The compact form factor of the SCD4x also allows for a much more price-efficient BOM; particularly for high-volume, size-constrained applications. If your application is a high-volume design that demands accurate CO2 measurements along with strict cost and space savings, the SCD4x is the ideal option for you.
The SCD4x sensor family encompasses two different variants: SCD40 and SCD41. The SCD40 provides base accuracy of ±(50 ppm + 5 % of reading) for the range of 400 ppm to 2000 ppm. The SCD41 is the higher-end variant, offering improved measurement accuracy of ±(40 ppm + 5 % of reading) for an extended range of 400 ppm to 5000 ppm.
Common markets and applications for the SCD4x include:
Demand Controlled Ventilation
Agriculture/Green Housing
IoT/Smart Home
Industrial
Telit's WE310F5 Evaluation Board
Next on our Application Engineers' list of top innovative products of 2021 is Telit's WE310F5 Evaluation Board (EVB). This EVB was specifically designed to aid programmers, engineers, and developers in rapidly prototyping Wi-Fi and Bluetooth Low Energy (BLE) IoT applications. The WE310F5 EVB offers a complete development environment. Its embedded IoT software and firmware drastically reduces development time from weeks all the way down to hours.
Two types of EVB variants provide flexibility in large and small applications. The WE310F5-I comes equipped with a built-in antenna, making it capable of supporting size, power, and cost-constrained IoT devices. The WE310F5-P features an SMA connector for an external antenna. The use of an external antenna can provide more precise range and sensitivity, as they are typically ground plane independent.
Key features of the WE310F5 include:
Wi-Fi (802.11 b/g/n) and Bluetooth Low Energy (BLE5) connectivity
Low-cost, high-speed serial-to-wireless connection to an MCB over UART, SPI and SDIO interface
Built-in 2.4 GHz antenna (WE310F5-I)
SMA connector for external antenna (WE310F5-P)
Comprehensive software features (Amazon AWS IoT & Microsoft Azure)
Power efficiency
Firmware Over-the-Air (FOTA) upgrades
Industrial-grade temperature range (-40 oC to +85 oC)
Advanced security features (WPA3 protocol)
The key features of the WE310F5 EVB prove that it is an adaptable solution for a variety of IoT applications. Industrially, the WE310F5 can be used in applications like automation, sensor gateways, condition-based monitoring (oil analysis, temperature tracking, vibration, monitoring, etc.), security panels, inspection cameras, energy management, data loggers, and more. In a smart home environment, The WE310F5 can be utilized in applications like thermostats, air purifiers and conditioners, security/monitoring cameras, and pet food dispensers.
*Top 3 most innovative products of 2021 listed in alphabetical order by supplier.
Semtech, LoRa and the LoRa logo are registered trademarks or service marks, and LoRa Basics, LoRa Cloud and LoRa Edge are trademarks of service marks, of Semtech Corporation or its affiliates.