The Ultimate Smart Home Compatibility Solution | Symmetry Blog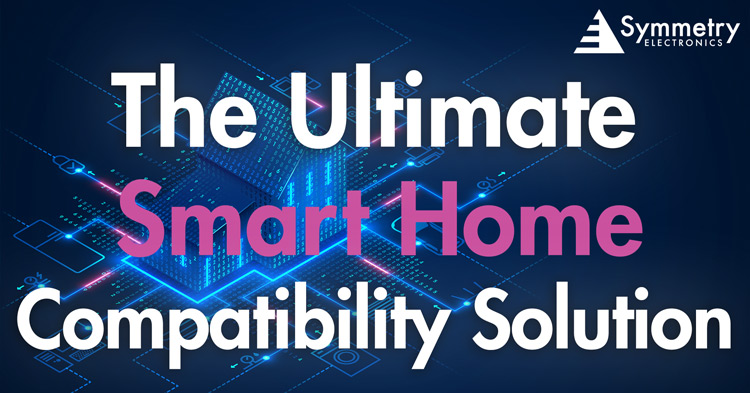 Smart home market leaders, Amazon, Apple, Google and the ZigBee Alliance have joined forces to develop a new Working Group called "Project Connected Home over IP", that aims to offer a unified connectivity protocol that will support secure and cross-compatible smart home devices for consumers. Together, their mission is to offer an open source approach, building upon Internet Protocol (IP), to allow for seamless communication between smart home devices, mobile apps, and Cloud services.
Market-tested smart home technologies from Amazon, Apple, Google, the ZigBee Alliance, and more will be used to accelerate the development of the protocol. These advancements will also make it easier for manufacturers to develop devices that are compatible with popular smart home and voice services like Amazon's Alexa, Apple's Siri, and Google's Assistant.
Incompatible Wireless Standards
Currently, smart home devices are being deployed using various incompatible wireless standards such as ZigBee, Z-Wave, Wi-Fi, and Bluetooth. While each of these standards have their own unique advantages, they also have limitations. For example, smart home Wi-Fi devices are easy to deploy and offer instantaneous IP connectivity while compromising on power consumption. On the other hand, ZigBee and Z-Wave are power efficient, but require a hub to connect to smartphones. Additionally, although these technologies operate within the same frequency spectrum, 2.4 GHz, they are still not compatible with one another.
The Solution
The Project Connected Home over IP intends to target the issue of incompatibility by building upon Internet Protocol. The main advantage offered by IP is that it is widely deployed in homes and offices. Therefore, its data should be able to flow seamlessly across different kinds of networks. Some of the technologies supported are Wi-Fi, Thread, and IP implementations over BLE. It is also likely to support Ethernet, cellular and broadband. The preliminary specification is expected to launch in late 2020.