SigGate Long Range Gateway for Industrial IoT Applications | Symmetry Blog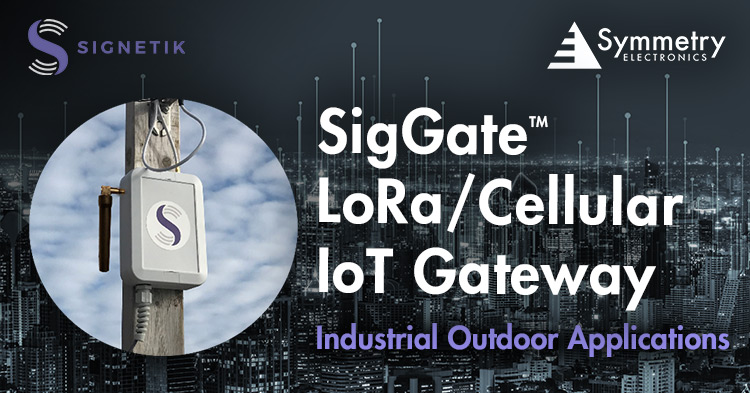 Based on Texas Instruments' AM3352 SitaraTM processor, Signetik's SigGateTM Gateway (GW-LRNx-ODC) comes equipped with Ethernet, along with LoRa® and Cellular modules. Offering LoRaWAN® gateway functionality in either 4 (GW-LRN4-ODC) or 8 (GW-LRN8-ODC) channel variants, the IP67 SigGate is powered by 12V and is optimal for use in harsh outdoor environments.
The SigGate industrial-grade LoRa gateway supports scalable private and public LoRa networks and is interoperable with the LoRa ecosystem of devices and Application Servers. Remote management tools and Over-the-Air (OTA) updates ensure easy operation and maintenance.
SigGate Gateway Key Features
8 or 4 channel LoRaWAN
Cat M-1 Cellular
Ethernet
Firmware OTA updates
RGB LED
IP67
SigGate Gateway Key Benefits
Plug and play deployment into existing network or create new network.
Store and forward architecture to help with minor interruptions to backhaul.
Option for Network Server on the Gateway, without the need for a cloud-based Network Server.
Powerful CPU and a robust BSD or Linux OS enable Edge Computing applications that seek to provide highly-responsive local intelligence.
Signetik provides reliable support channels to help during installation and network management.


Get Started with the SigGate Long Range IoT Gateway
---
SigGate Gateway Resources
---
About Signetik
Founded in 2006, Signetik, LLC, is a Nebraska-based IoT product design and manufacturing firm that specializes in LoRaWAN, Cellular, Bluetooth, Wi-Fi, Sensing and Gateways. Signetik is committed to delivering quality products and unmatched customer service–offering an experienced team of engineers; and hardware, firmware and application software that helps engineers accelerate time-to-market. Signetik is currently servicing customers in the commercial, industrial, agriculture and medical segments. For more information visit www.signetik.com.
Subscribe
Stay up to date with industry and supplier news!
Browse