LoRa Technologies at Symmetry Electronics | Symmetry Blog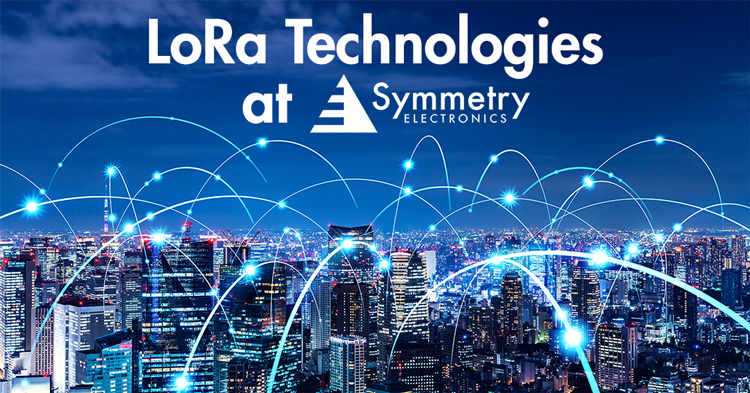 LoRa, short for long range, is a wireless radio frequency technology developed by Semtech–a leading supplier of high-performance analog and mixed-signal semiconductors and advanced algorithms. The LoRa technology was developed to offer a low power and long-range solution for battery powered IoT products. LoRa operates in an expansive global network and works to solve some of the world's biggest problems, including energy management, natural resource reduction, pollution control, infrastructure efficiency, disaster prevention and more.
Key Features
Long Range – Connects devices up to 30 miles apart in rural areas with the ability to penetrate dense urban or deep indoor environments.
Low Power – Battery life capacity up to 10 years.
Advanced Security – End-to-end AES128 encryption, mutual authentication, integrity protection and confidentiality.
Simple Integration – Highly-compatible with existing infrastructures with access to expansive global LoRaWAN networks.
Geolocation – Compatible with GPS-free tracking applications, offering low power benefits.
Mobile – Maintains communication with devices in motion without strain on power consumption.
High Capacity – Supports millions of messages per base station to meet the demand of public network operators serving large markets.
Low Cost – Simple integration, long battery life and operational efficiencies provide for cost savings.
Unmatched Bandwidth and Range
LoRa offers the ideal bandwidth and range for sensors, actuators and tags to enable smart cities, smart homes and buildings, smart agriculture, smart metering, and smart supply chains and logistics. Wi-Fi, Bluetooth LE and Cellular are unable to support systems at this scale due to the requirement of either high bandwidth or high power, range limitations, or the inability to penetrate deep indoor environments. Similarly, 5G does not offer the same long-range capabilities as LoRa, nor is it capable of penetrating physical structures.
LoRaWAN In Action
The LoRa wide area network (LoRaWAN) allows for the seamless interoperability of IoT products to deliver groundbreaking outcomes across the globe. For example, farmers can leverage the LoRa technology to monitor fluctuations in the environment and the health of their livestock to unlock efficiencies, maximize yield, and reduce costs. According to Semtech's LoRa Application Brief regarding Smart Irrigation Solutions, a vineyard reported a 50% savings in irrigation water usage by leveraging actionable insights delivered by the LoRa technology.
LoRa is being used in the healthcare industry to monitor patient vitals and location. Doctors can address high-priority patients in an efficient manner and ensure patients with diseases such as Alzheimer's or dementia are remaining safe. With more critical cases, doctors can remotely monitor quarantined or isolated patients and only address them physically when necessary.
LoRa is ideal for use in the supply chain and logistics industry for tracking valuable assets in transit. IoT sensors access the LoRa technology to communicate key insights, such as the location, status, temperature and speed of cargo, vehicles or other assets. LoRa offers a much more affordable, low power and long-range solution than cellular or satellite, which were previously the main methods used for asset tracking.
Production-Ready Solutions
Symmetry has partnered with the world's leading electronic component suppliers to offer innovative LoRa products that support convenient application deployment. Browse our list of product offerings and supporting documents to determine which technology best suits your needs.