MultiTech's Ready-to-integrate SocketModem® Cell 4G-LTE Embedded Cellular Modems and Dev Kits Allow Developers to Add Wireless Communication With Minimum Development Time
The MultiTech SocketModem® Cell cellular modem is a complete, ready-to-integrate communications device that offers 4G-LTE, as well as 2G or 3G, GSM or CDMA data performance. These quick-to-market communications devices allow developers to add wireless communication to products with a minimum of development time and expense. The SocketModem Cell cellular modems are based on industry-standard open interfaces and use MultiTech's Universal Socket design.
The Universal Socket Developer's Kit allows you to plug in the communications device and use it for testing, programming and evaluation. Contact your local MultiTech distributor or sales representative for complete details.
KEY BENEFITS
Interchangeable communications devices
Carrier-approved as an end device
Quick-to-market
Easy migration to future networks
FEATURES
Short Message Services (SMS)
UFL antenna connector(s) and SIM socket (SIM on H5, H3, G2 and G3)
Two-year warranty
The SocketModem and Dragonfly Developer Kit (MTUDK2-ST-CELL) is designed to work with all versions of MultiTech cellular SocketModems as well as the MultiConnect® Dragonfly™ family of cellular SOMs. It allows you to plug in the communications device and use it for testing, programming and evaluation. The kit includes a development board and all the necessary accessories to get you up and running right out of the box.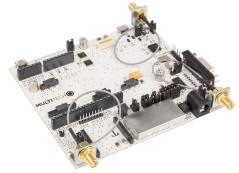 LTE SocketModem & Dragonfly Developer Kit
For additional MultiTech product information, samples or technical support, contact Symmetry Electronics, an authorized distributor of industry leading wireless, audio/video and embedded chips, modules and dev/eval tools. www.symmetryelectronics.com/contact or call (877) 466-9722.
Why partner with Symmetry Electronics? Symmetry's technical staff is specially trained by our suppliers to provide a comprehensive level of technical support. Our in-house Applications Engineers provide free design services to help customers early in the design cycle, providing solutions to save them time, money and frustration. Contact Symmetry for more information.