Multi-Tech
Multi-Tech Systems has been delivering industry-leading M2M communications solutions since 1970. With carrier-approved external and embedded modems and gateways, Multi-Tech makes it easy and fast to connect your devices to networks anywhere in the world. We work with clients in almost every market to efficiently enable cellular, analog, Wi-Fi®, Bluetooth® and GPS capabilities into their M2M solution. If we don't have it, we will develop it. Multi-Tech established its reputation for innovative designs by obtaining 80+ patents as well as certifications from more than 30 carriers in over 80 countries. Multi-Tech has made M2M simplified for thousands of customers worldwide.
Multi-Tech has taken another step forward in addressing environmental concerns by implementing lead-free electronics manufacturing in compliance with the RoHS directive. Multi-Tech is committed to being an industry leader in environmental performance and will continue to work at minimizing the environmental impact of our design, manufacturing and operational practices.
BSI Registered
WBENC Certification
Multi-Tech products are tested and are certified by 30+ carriers and 80+ countries to streamline the process for enabling an M2M solution for customers. As a certified Women's Business Enterprise WBENC, Multi-Tech recognizes the commitment to supplier diversity that is embraced by corporations and government agencies today, and is focused on assisting corporate decision-makers achieve their diversity objectives. Multi-Tech is also C-TPAT (Customs-Trade Partnership Against Terrorism) certified.
Universal Design & Development
Get to market quickly with Multi-Tech's pre-approved and ready-to-integrate embedded device networking solutions with Universal Socket connectivity and Universal IP®. Once deployed, your initial design and host application can quickly adjust to new technologies, essentially future-proofing your solution.
Universal Socket Connectivity
Multi-Tech's Universal Socket is a flexible, comm-port architecture that allows you to utilize one system design and populate it with your connectivity module of choice.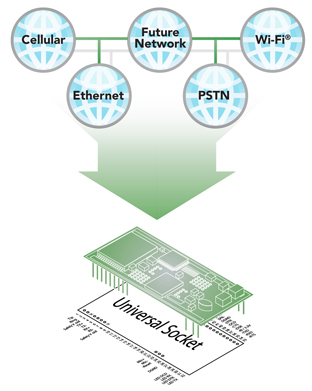 SocketModem Communication Options
Interchangeable socket devices
Provides cellular, Ethernet, PSTN or Wi-Fi® network access
Quick-to-market
Global approvals
Easy migration to future networks - Simply upgrade your connectivity module and keep your product current and design intact
Universal IP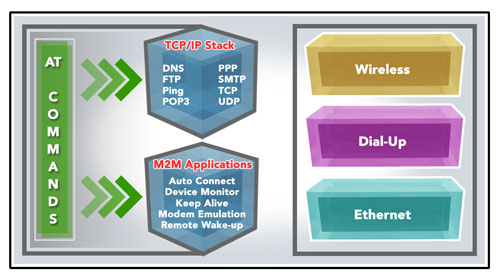 A consistent development interface
SocketModem Communication Options
Designed for applications where enhanced M2M communications connectivity is required
Future-proofs applications as new technologies are introduced
Allows developers to write a unique host application with freedom to select from a growing number of Universal Socket communication devices
Device Networking - Analog, Cellular and Network connectivity solutions for mainstream implementation.
Open Communications - Gateways - Device Cellular Modems, SMS Servers, Wireless Converter, Analog Modems, Global Modems
Embedded Device Networking - Analog, Cellular and Network connectivity solutions for equipment manufacturers.
Open Communications Gateways - Embedded, Embedded Cellular Modems, Embedded Modems, Embedded Device Servers
Unified Communications - Products to interconnect your business communication devices over the Internet.
Fax Servers Gateways
Voice-over-IP
Read More

My Recently Viewed Products
Technical Engineering Support
We're standing by to help you with any questions you may have.
866-506-8829
Contact Us