MultiTech Introduces Access Point for Indoor, High-Density LoRaWANTM Networks
Multi-Tech Systems, Inc., a leading global manufacturer of M2M and IoT devices, today announced the availability of MultiConnect® Conduit™ AP access point for LoRa® technology. The new cost-optimized gateway connects thousands of IoT assets to the cloud utilizing the power of LoRaWAN™, a Low Power Wide Area Network (LPWAN) specification deployed for wireless battery operated Things in regional, national and global networks.
Based on the award-winning MultiConnect Conduit gateway, it is designed specifically to extend end-point density and provide coverage in difficult to reach areas cell tower or rooftop deployments may not penetrate.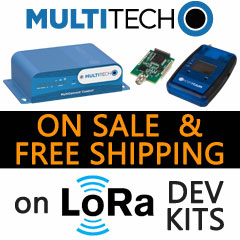 For IoT assets clustered in commercial buildings like hotels, convention centers, offices and retail facilities, the easy-to-deploy access point with integrated antenna can be mounted on walls or ceilings to extend LoRa connectivity and enhance Service Level Agreements.
"The new MultiConnect Conduit AP access point for LoRa technology removes barriers to enabling a wide range of IoT use cases," said Derek Wallace, Director of Product Management at MultiTech. "MultiTech remains committed to providing the best possible IoT solutions at an affordable price point. The cost-effective access point not only addresses challenging ROI requirements, but expands deployment options to optimize performance for subterranean penetration or deep in-building sites."
Quick and easy to deploy, the Conduit AP supports eight uplink and one downlink LoRa channel capable of supporting thousands of LoRaWAN end points, including the MultiTech MultiConnect® mDot™ & xDot™ Certified LoRaWAN modules, connected to remote sensors or appliances. The access point boasts a choice of wired Ethernet or cellular IP connectivity to provide packet forwarding control and user data between LoRa end points and a Network Server centrally located either in the cloud, an enterprises data center or a public operators core network.
BENEFITS
Wide range and deep in-building penetration with LoRa® technology
Cost-effectiveConnect any LoRaWAN asset to your preferred data management platform
Simple setup wizard on power-up for quick and easy installation
Configurable Ethernet and 4G-LTE cellular interfaces for Primary or Secondary WAN failover
FEATURES
Consumes less than 7W sustained power
Embedded Linux BSP OSEthernet RJ-45 10/100 Base-T for wired IP backhaul
LoRa Omni-Directional internal antenna with +2 dBi gain for 863 – 870 MHz ISM band
4G-LTE with 2x2 MiMo (3G-HSPA+ includingDiversity /2G-GPRS fallback) cellular module
MultiTech designs, develops and manufactures communications equipment for the industrial internet of things – connecting physical assets to business processes to deliver enhanced value. Our commitment to quality and service excellence means you can count on MultiTech products and people to address your needs, while our history of innovation ensures you can stay ahead of the latest technology with a partner who will be there for the life of your solution.
For additional Multi-Tech product information or technical support, contact Symmetry Electronics, an authorized distributor of industry leading wireless, audio/video and embedded chips, modules and dev/eval tools, call (877) 466-9722.
Subscribe
Stay up to date with industry and supplier news!
Browse