LoRa access point offers Yocto or Node-RED Linux development options - From MultiTech
MultiTech has launched a rugged, Linux-driven "MultiConnect Conduit AP" LoRa access point with 8x LoRa uplinks, LTE, and optional mDot and xDot end points.

MultiTech's MultiConnect Conduit AP supports the increasingly popular, long distance, low-power LoRA RF technology and LoRaWAN Low Power Wide Area Network (LPWAN) specification. The Linux-powered Conduit AP is designed to be mounted on walls or ceilings to extend LoRaWAN connectivity in IoT networks within "commercial buildings like hotels, convention centers, offices and retail facilities," says MultiTech.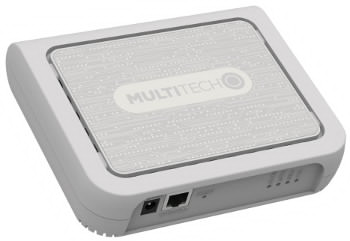 MultiConnect Conduit AP

With its support for 8x uplink and one downlink LoRa channels, the Conduit AP is capable of supporting thousands of LoRaWAN end points, says MultiTech. (See farther below for more on MultiTech's own mDot and xDot end-point modules.) The device provides 27 dBm maximum output power (before antenna), and supports 902 to 928MHz ISM LoRa in North America and 863 to 870MHz ISM in Europe.
The internal, omnidirectional antenna features a +2 dBi gain, and supports both LoRa and 4G LTE with 2×2 MiMo. The LTE capability, which provides the device's backhaul along with a 10/100 Ethernet port, is enabled via a pair of mini-SIM slots.
The North American model supports Verizon and AT&T networks, both of which provide dual-mode CAT-1 LTE with 10Mbps peak down and 5Mbps peak uplink on bands 2, 5, and 12 (AT&T) or 4 and 13 (Verizon). Only AT&T offers 3G fallback. The European version runs CAT-3 LTE at 100Mbps peak downlink and 50-Mbps peak uplink on bands B3, B7, and B20, with HSPA+ and 42/GPRS fallback.
The 165 x 133 x 32mm, 1.36 Kilogram Conduit AP runs on an unnamed, 400MHz ARM9 processor, and ships with 256MB DDR3 RAM and 256MB flash. The device consumes less than 7W sustained power from its 100-240VAC 50/60Hz to 5VDC external adapter, says MultiTech.
The Conduit AP supports -10 to 60°C temperatures, and offers MIL-STD-810G and SAE J1455 compliant vibration and drop resistance. It also provides FCC and EN3x compliance for EMC and radio, as well as network approvals from AT&T and Verizon.
Two Linux-based development environments are available. There's an open source, Yocto-based "mLinux" BSP, which "integrates directly to a cloud-based LoRaWAN Network Server, enterprise data center or public operator's core network," says MultiTech. The BSP includes toolchain, firewall, Lighttpd web server, router functionality, and support for major programming languages.
There's also a closed source AEP Linux distribution that integrates the IBM version of Node-RED, enabling a graphical, drag-and-drop interface. This setup also includes a LoRa Network Server "to connect locally clustered assets on a private LoRaWAN network directly to your choice of IoT data platforms," says MultiTech. The LoRa Network Server provides analytics on incoming data, as well as "more actionable outgoing data to our Cloud service partners like IBM Watson and Senet Network," says the company.


mDot and xDot LoRa end-point modules
The Conduit AP is compatible with MultiTech's own, ARM Mbed controlled, -40 to 85°C resistant MultiConnect mDot and smaller xDot LoRaWAN 1.0.1 end-point modules. Both support up to 16 kilometers (10 miles) bidirectional line-of-sight communications and about 2km into buildings at LoRaWAN data rates from 293bps to 20Kbps, or at up to 300Kbps with frequency-shift keying (FSK). They both offer up to 14 dBm (Europe) or 19 dBm (North America) maximum transmitter power with 130 dBm (Mdot) and 137 dBm (XDot) max. receiver sensitivity.
mDot module (left) and MTUDK2-ST-MDOT dev kit

The 37.3 x 25.5mm mDot runs on a 100MHz, Cortex-M0 based STM32F411RET MCU with 128KB RAM and 512KB flash. The device supports up to 21x digital I/O and up to 11x analog inputs, as well as SPI, I2C, and UART interfaces. There's also an MTUDK2-ST-MDOT development kit with antennas, USB cable, RSMA cable. Alternatively, you can choose a USB dongle form factor MTMDK-MDOT development kit with integrated LoRa antenna.
xDot module (left) and MTMDK-XDOT dev kit

The smaller, 23.6 x 23.6 mm xDot runs on a Cortex-M3-based, 32MHz ST32L151CCU6 MCU with 32KB RAM and 256KB flash. It supports up to 19x digital I/O and 11x analog Inputs, as well as 2x DAC outputs, I2C, SPI, wake pin, reset pin, UART, and MBED programming interfaces. The xDot provides optional security features, and is available with an MTMDK-XDOT development kit similar to the MTMDK-MDOT.
Other LoRa solutions we've covered include Arduino's LoRa Gateway Kit and Dragino's OpenWrt Linux-ready LoRa Gateways. Recently, Gumstix launched some Linux-ready development boards featuring RisingHF's RHF0M301 LoRa gateway module, which are customizable with the Gumstix Geppetto online design service.


Further information
The MultiConnect Conduit AP is available now at an undisclosed price. More information may be found on MultiTech's MultiConnect Conduit AP product page.
Source: http://linuxgizmos.com/lora-access-point-offers-yocto-or-node-red-linux-development-options/
Subscribe
Stay up to date with industry and supplier news!
Browse