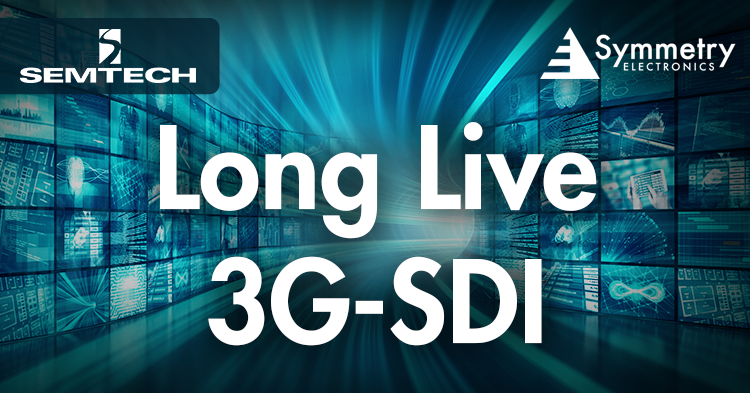 Serial Digital Interface (SDI) is a series of digital video interfaces standardized by the Society of Motion Picture and Television Engineers (SMPTE). The first standard of SD-SDI was introduced in 1989 with the SMPTE-259M and addressed the need for transmitting digitized NTSC (480i) /PAL (576i) video. The SD-SDI provided a throughput of up to 270Mbit/s throughput in video production and broadcast control systems. Demand for high-definition digital video has accelerated since the transition from analog to digital.
The first high-definition standard (HD-SDI) was released in 1998 with the SMPTE-292M. The HD-SDI was the first standard capable of transmitting video in 720P, 1080i HD format with a frame rate of 24/25/30 Hz, and color-coding 4:2:2. Later, dual-link HD-SDI became available to further improve the throughput from 1.486Gbit/s to 2.97Gbit/s in order to carry full HD, 1080P video, over dual links.
Single-link 3G-SDI quickly followed with its release in 2006 with the SMPTE 424M. Single-link 3G-SDI solved the issue of dual-link HD-SDI, which you must run two parallel cables in order to cater 1080P60Hz/50Hz, 4:4:4 or deep color with extended 12-bit depth. The latest standard, 12G-SDI, is developed for 4K video. The next standard of 24G-SDI, targeting 8K video, is not far off.
Regardless of SDI advancements, many 3G-SDI video products still exist and are being developed today. 3G-SDI is mainly used in video equipment found in broadcasting, aviation, transportation, medical, security, and digital signage as developers seek cost-effective and robust solutions for their products.
Compared to the latest 12G-SDI compatible devices, full HD video is more than an adequate solution in terms of cost and design-in efforts for many 3G-SDI applications. However, many first-generation 3G-SDI devices have been in the field for more than a decade and manufacturers are beginning to see the issue of designed-in SDI components nearing end of life. Despite concerns to procure long-term supply, the enhancements of longer cable reach, lower power, and compatibility of 12G-SDI equipment demands may be limited by first-generation 3G-SDI devices that incorporate older technologies.
The 4 main types of SDI components used in 3G-SDI products are cable equalizers, receivers, cable drivers, and transmitters. Extended product types include Configurable EQ/CD in single devices as bi-directional and standalone Re-clockers. It is essential to ensure that the current 3G-SDI devices are compatible with 12G-SDI to allow for simple navigation though the latest 12G-SDI infrastructure.
Semtech, a leading SDI technology provider, provides comprehensive solutions in their expansive portfolio of advanced SDI components. Semtech recently introduced a new generation of 3G-SDI solutions that will meet industry standards for the next 10 years.
Recommended Articles:
Semtech, LoRa and the LoRa logo are registered trademarks or service marks, and LoRa Basics, LoRa Cloud and LoRa Edge are trademarks of service marks, of Semtech Corporation or its affiliates.