Exploring Common HDMI/SDI Bridge Applications | Symmetry Blog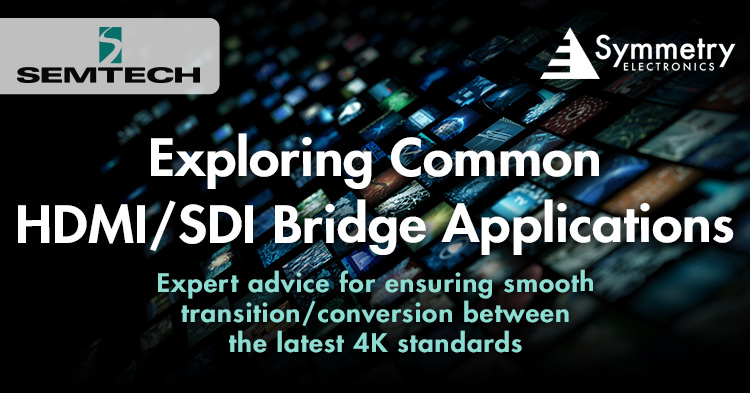 HDMI is a consumer-driven technology that implements audio and video (A/V) standards set by EIA/CEA-861. Comparatively, SDI, standardized by SMPTE has dominated the professional audio-video space for many years. However, due to the following benefits, HDMI has made its way into the professional space for applications like broadcasting, and medical and industrial:
Large scale adoption
Lower cost
Unprecedented image quality
Available audio-video bandwidth
Bi-directional communication
Despite its benefits, HDMI does not provide the extended reach, secure connection (physical lock mechanism and connector), or ability to sustain in heavy-duty applications that the SDI interface has to offer. Ideally, combining the benefits of both the HDMI and SDI interfaces provides for the ultimate professional audio-video configuration. However, combining the two has been challenging for A/V engineers regardless of utilizing a sophisticated A/V distribution/switching box, display units, or a simple cable extender/converter. Additionally, upgrading to 4K video makes it even more challenging to combine the two technologies, as high-speed differential signals become a physical link to carry the high-speed data–total of 12Gbps throughput is specified to support 4K UHD-SDI transmission, and 18Gbps for the latest HDMI 2.0a specification. To enable smooth transition/conversion between the latest 4K standards of the two interfaces, Semtech has introduced, the industry's first ASSP single-chip solution–the GS12170, a HDMI/SDI bridge to connect the best of both worlds.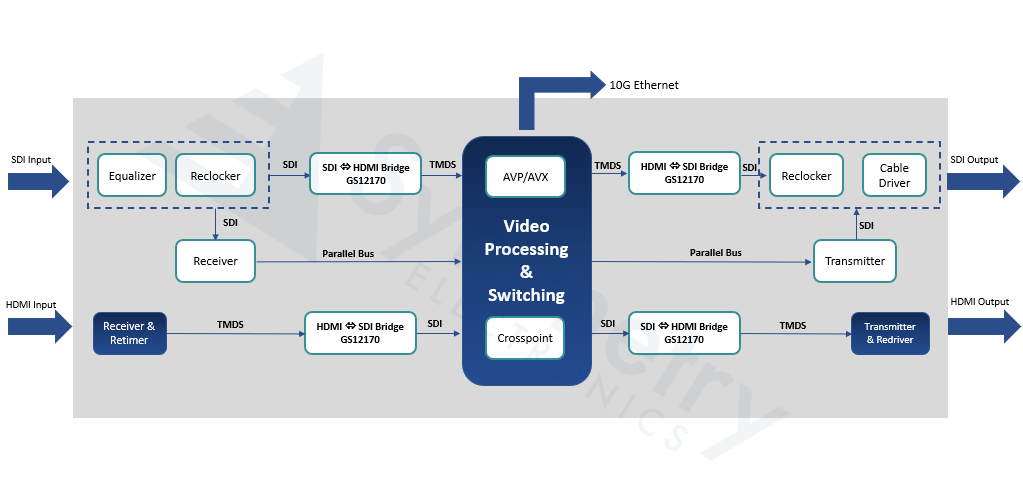 Figure 1: Common HDMI/SDI bridge applications block diagram, featuring Semtech's GS12170 bridge ASIC that supports three bridging modes up to 12G in UHD-SDI and 18G in HDMI 2.0 formats. (See full block diagram guide for more information)
Case 1: 4K SDI Monitor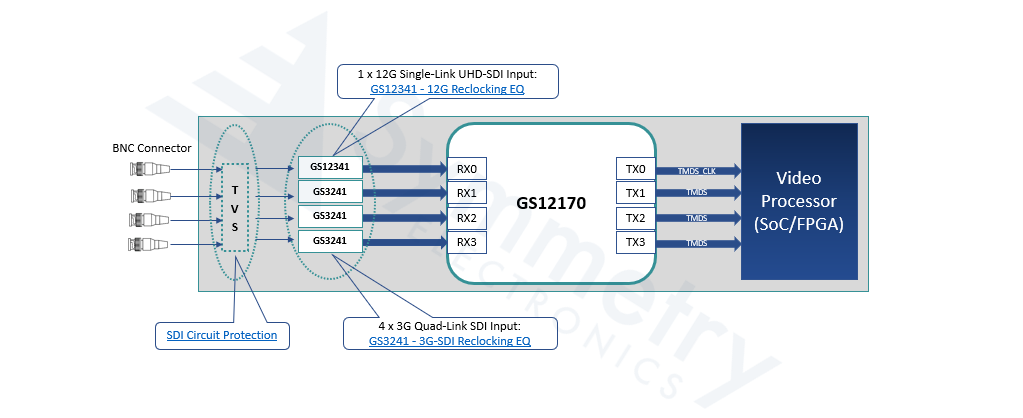 Figure 2: Case 1 - 4K SDI monitor application engineering block diagram. (See full block diagram guide for more information)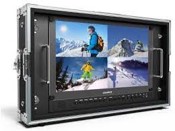 Most of today's image processors, display controllers, or multimedia SoCs target the latest 4K monitors, with most of them featuring an embedded HDMI transceiver that utilizes TMDS as a standard video link for capturing video/audio data from source devices. Design requirements for these applications include bridging the SDI input with the HDMI receiver interface of the core processor (Image SoC or FPGA) in the 4K SDI Monitor. In this case, the GS12170 could be paired with the GS12341 12G UHD-SDI Cable Equalizer to realize single-link SDI input, or with the GS3241 4 of 3G-SDI Cable Equalizer, which is backward compatible with legacy Quad-link 4K SDI inputs. The GS12170 also converts the 4K SDI stream into 4-lane TMDS and offers 3 x data and 1 x clock pair differential signals for further processing. The GS12170 would be configured in SDI-to-HDMI mode in this use case. Additionally, ESD protection would be recommended for use in harsh operating environments.
Case 2: 4K SDI Camera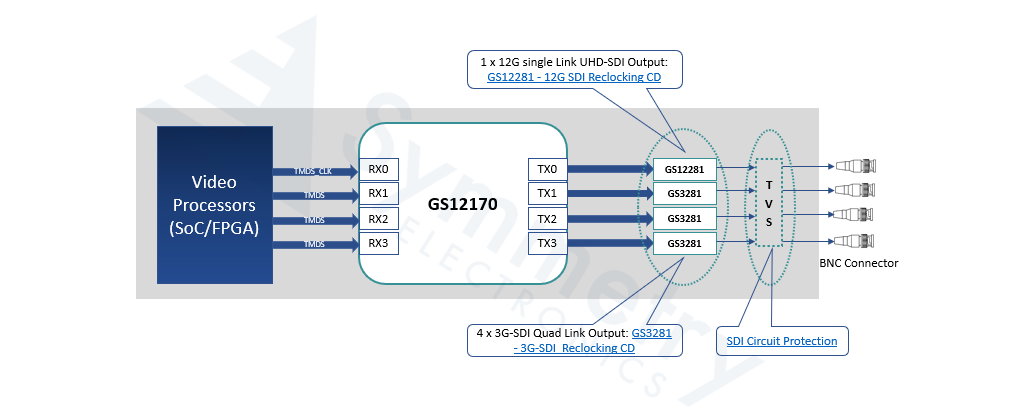 Figure 3: Case 2 - 4K SDI camera application engineering block diagram. (See full block diagram guide for more information)

Most ISP or camera SoC manufacturers would assume HDMI to be the standard video output interface for their users, however, SDI is still the designated interface for industrial cameras. With GS12170, users can easily convert HDMI output into SDI in single-link 12G SDI or quad-link at 3G format at the transmitting port (configured in HDMI to SDI operation mode in this case). The GS12281, is a multi-rate re-timing cable driver that supports up to 12G UHD-SDI, to help recover the clock and re-time video data from GS12170 to enable transmitting over 75 ohm coaxial cables and BNC connector. The GS3281 3G-SDI Cable driver is recommended to support Quad-Link 3G SDI outputs when needed. To prevent malfunction or breakdown of such camera equipment, ESD protection is recommended.
Case 3: HDMI/SDI Converter/Extender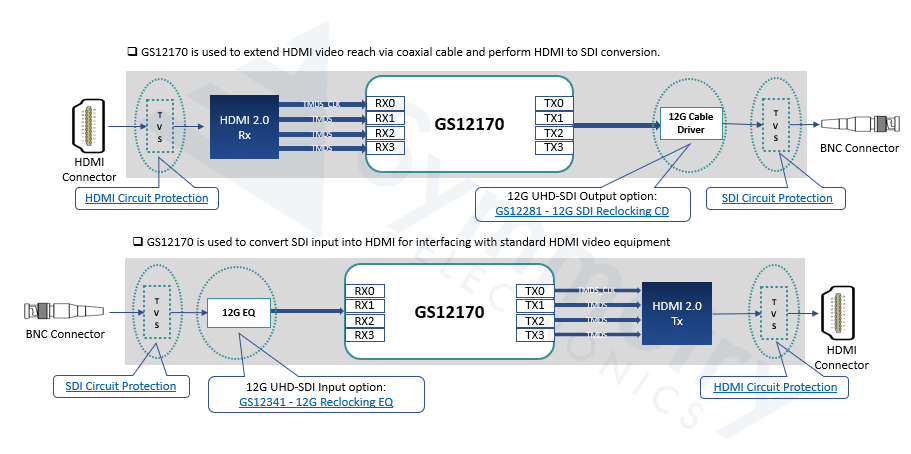 Figure 4: Case 3 - HDMI-SDI converter and extender application engineering block diagram. (See full block diagram guide for more information)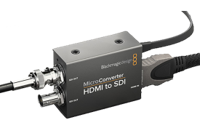 Adding a simple converter or extender device might be the easiest solution to make use of both HDMI and SDI equipment without the need to redesign or purchase new equipment. SDI can be utilized to extend the reach of HDMI video in the Extender application–where GS12170 can receive the TMDS data pairs through an HDMI Retimer and convert to SDI to allow the GS12281 12G UHD-SDI Cable driver to facilitate HDMI video extension via a single 75+ ohm coaxial cable. When pairing GS12170 with the GS12341 12G UHD-SDI Cable Equalizer and a HDMI Tx, the combination becomes a simple converter design to support mix use of SDI and HDMI equipment.
Get Started with Semtech's GS12170 HDMI/SDI Bridge

---
Featured Resources
Subscribe
Stay up to date with industry and supplier news!
Browse