[Infographic] What is LPWAN, and How Does It Compare?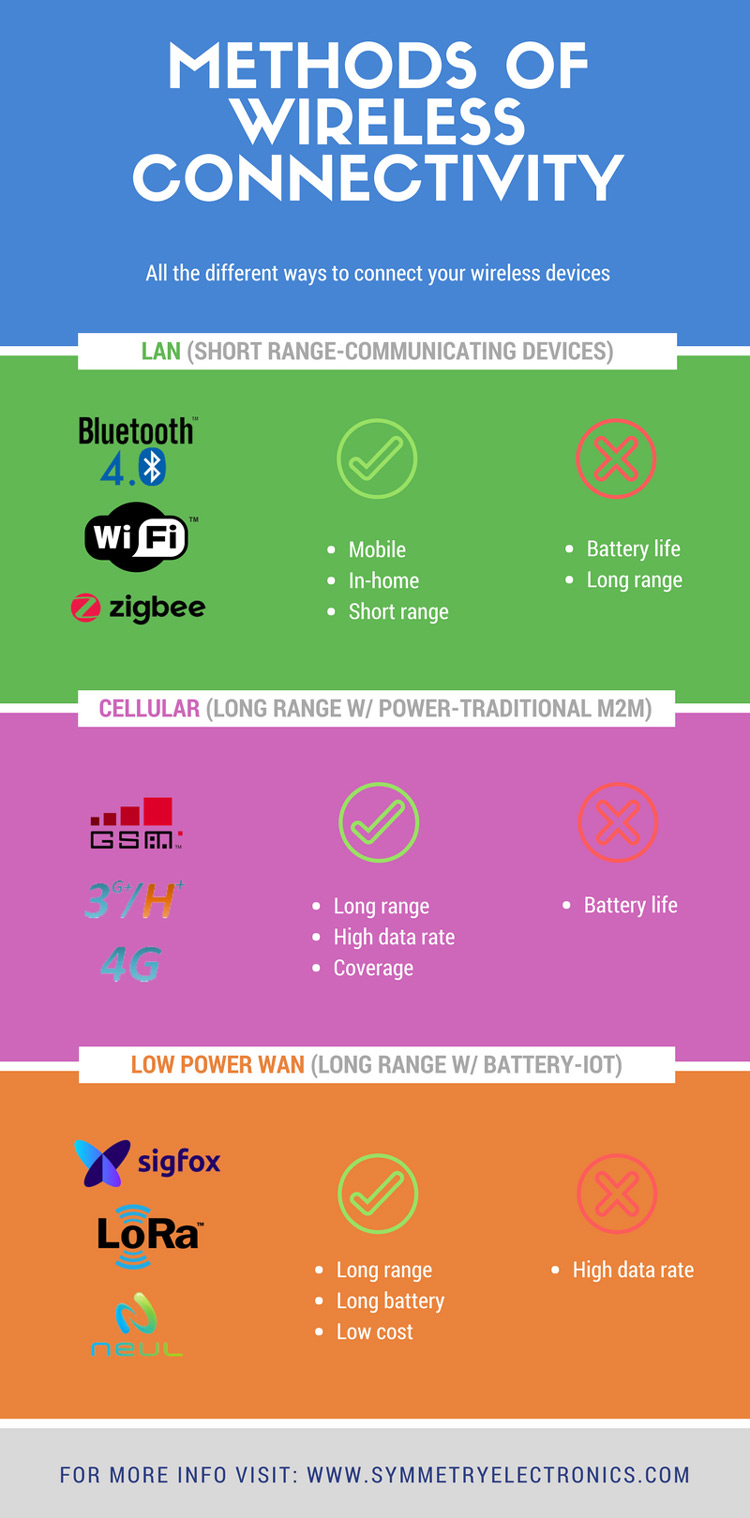 The options available for wireless IoT connectivity continue to grow. Popular connectivity methods like Wi-Fi and Bluetooth are accompanied by more specialized technologies that make push the limits of what is possible. One such technology is a fairly new type of networking called LPWAN.
LPWAN, short for Low Powered Wide-Area Network, is unique in providing wireless connectivity that is both long range and low power. LPWAN is not a singular technology, but rather a term used to describe any wireless technology that achieves a long operating range while maintaining low power requirements. LPWAN platforms are usually created with IoT applications in mind. Some of the most popular LPWAN technologies include LoRa, Sigfox, RPMA, and Weightless.
While other types of wireless connections like Wi-Fi, Bluetooth, and Cellular are very popular choices among IoT OEMs, most of them lack an adequately long range of coverage or they require too much power input to operate on a consistent basis. This is where LPWAN shines, filling the gap between long range coverage and low power requirements that other wireless technologies cannot maintain.
Continue reading to find out how LPWAN differs from LAN and Cellular technologies.
LAN vs. Cellular vs. LPWAN: A Comparison of Three Types of Wireless Connectivity in IoT Devices
LAN (Local Area Network)
Includes WiFi, Bluetooth, Zigbee
Well established standards
Short Range
Good for mobile and in-home devices
Poor Battery Life
Not good for long range applications
Cellular
Includes GSM, 3G, 4G, LTE
Well Established Standards
Long Range
High Data rates
Good Coverage
LPWAN (Low Power Wide-Area Network)
Includes LoRa, Sigfox, RPMA, Neul
Emerging PHY Standards
Long Range
Long Battery Life
Low Bandwidth
Low Cost
Not Good for applications requiring high data rates
Watch our video below for more information about LoRa development:
Multi-Tech offers excellent LoRa development kits to help you get started with your LPWAN IoT application. View the Multi-Tech products page for more information.