Faster Speed & Lower Latency with PCIe BGA SSD | Symmetry Blog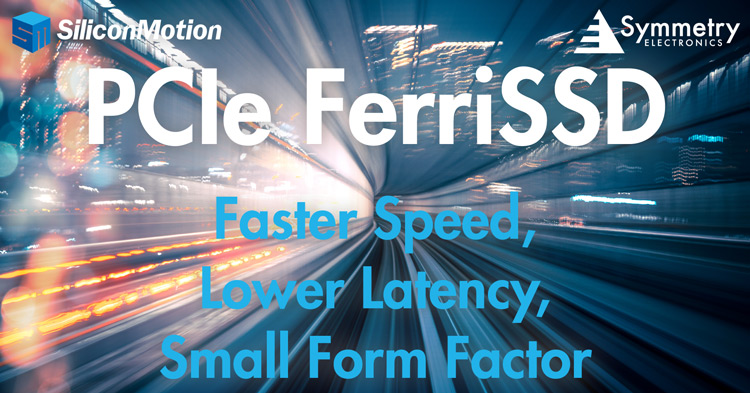 Ball Grid Array connections are becoming increasingly popular with integrated circuits, and the many advantages offered by BGA packages are hard to ignore.
As applications become more compact, the number of pins used in ICs have grown in excess of 100 pins. With this large level of integration, conventional packages had very thin and closely spaced pins, which created a liability due to being easily damaged and requiring a highly controlled soldering process. This made these conventional packages less robust and more prone to issues. Design engineers are especially burdened by these limitations.
While BGA packages has been gaining traction for many different electronic circuits, one type of component that hasn't been seen in BGA form was small-form PCIe SSD – at least until now.
Silicon Motion brings cutting edge technology into the SSD memory market by announcing the new FerriSSD single-chip SSDs in BGA package.
FerriSSD comes in two varieties, the SM689 series supporting PCIe Gen 3x4 interface and the SM681 series supporting PCI Gen 3x2 interface - exhibiting sequential read speed of up to 1.45GB/s and sequential write speed of up to 650MB/s. Both products can support multiple capacity configurations ranging from 16GB to 256GB and include enterprise-grade advanced data integrity and reliability capabilities using Silicon Motion's proprietary end-to-end data protection, ECC and data caching technologies.
FerriSSD single-chip SSDs are customizable via firmware and offer enhanced reliability and robust data integrity features that are essential for the extreme operating environments of these applications.
"The FerriSSD storage solutions are popular with automotive and industrial designers, allowing them to replace a hard disk drive with reliable solid-state alternatives," said Nelson Duann, Senior Vice President of Marketing and OEM Business at Silicon Motion. "The addition of PCIe NVMe interface will enable significantly better performance for applications such as AI and autonomous driving."