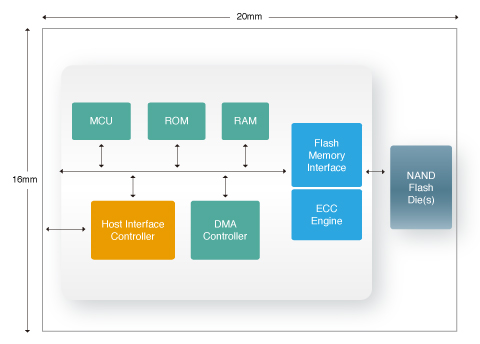 Easy to use
Plug & Play only requires format/fdisk prior to use
Small footprint for space-limited design
Lower total cost of ownership
Rugged & Reliable (no moving parts)
Eliminate requalification cost from NAND generation change
Cost saving with low density FerriSSD, HDD are typically >160GB capacity
Eliminate down time
Supports self-monitoring, analysis and reporting technology commands (S.M.A.R.T.)
Support End-to-end data path protection with recovery algorithms such as IntelligentScan with DataRefresh
Equipped with 4th generation LDPC ECC engine with SMI Group Page RAID
Field programmable firmware available
Meet the SM689 & SM681 Series
The SM689 and SM681 of the PCIe NVMe FerriSSD family are optimally designed for high-performance mission critical applications.
The SM689 supports embedded DRAM with Data Redundancy using the PCIe Gen3 x4 interface, exhibiting sequential read speeds of up to 1.45GB/s and sequential write speeds of up to 650MB/s.
The SM681 DRAM-Less series supports the PCIe Gen3 x2 interface and features the best balance of saving/performance and cost-savings from eliminating DRAM while maintaining DRAM-like performance via HMB (Host Memory Buffer).
Both available in 3D TLC/MLC/SLC modes, supporting capacity configurations ranging from 4GB to 256GB and includes enterprise-grade advanced data integrity and reliability, using Silicon Motion's proprietary end-to-end data protection, ECC and data caching technologies.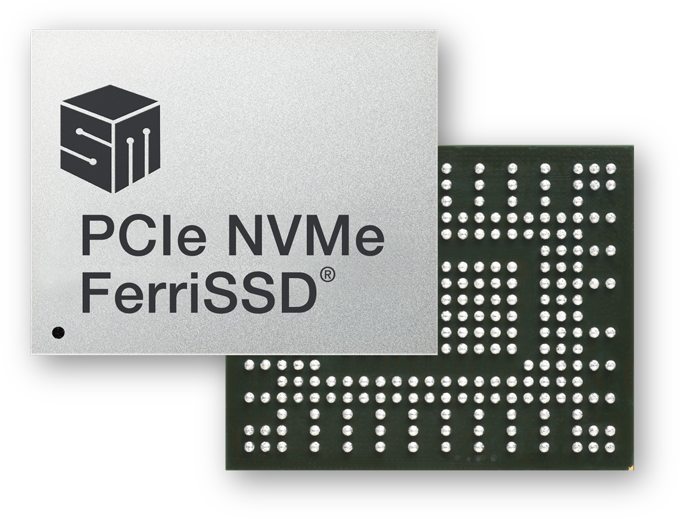 ---

Silicon Motion Technology Corporation (NasdaqGS: SIMO) is a global leader and pioneer in developing microcontroller ICs for NAND flash storage devices and specialty RF ICs for mobile devices.
Silicon Motion products are widely used in many of the leading smartphones and other mobile devices in the market today. More NAND flash products, especially next generation flash, whether produced by Samsung, SanDisk, Toshiba, Micron, Intel or SK Hynix, are supported by Silicon Motion controllers than any other company. Silicon Motion leads the industry in supplying innovative controllers for managing the most advanced process geometry NAND flash and the latest generation TLC (3-bits per cell) flash. Silicon Motion is a leader in eMMC controllers for smartphones and tablets and in memory card and USB flash drive controllers, and increasingly they are focused on client SSD controllers for notebook PCs and other applications. Also, Silicon Motion is a dedicated provider of 4G LTE transceivers for Samsung's smartphones and tablets and is a leading provider of mobile TV SoCs. They market their embedded storage, removable storage and embedded graphics products under the "SMI" brand, and specialty RF ICs under the "FCI" brand.
Silicon Motion was founded in 1995 in San Jose, California and is now headquartered in Taiwan, with design centers and sales offices in Taiwan, Korea, China, Japan and the US.