Cue the Inventory Superheroes | Symmetry Blog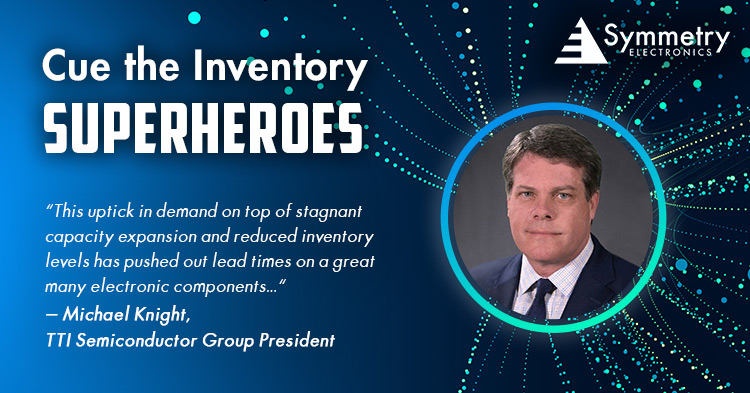 The COVID-19 pandemic has shifted consumer demand and business priorities across the globe. From mass layoffs and work-from-home orders, to distanced learning and virtual entertainment, the demand for PCs, gaming consoles, and other consumer electronics continues to skyrocket. Meanwhile, the demand for ventilators and other medical equipment continues to remain at an all-time high for COVID-19 treatment and prevention. With these massive surges in demand, the electronics industry continues to struggle to keep up with the supply. Panic buying, silicon wafer shortages, and unforeseen disruptions with suppliers will continue to affect the electronic component supply chain throughout 2021.
To help combat inflated lead times, specialty distributors such as Symmetry Electronics act to fill the gaps in supplier operations by proactively stocking inventory of critical components. Additionally, specialty distributors maintain intimate relationships with suppliers and function as an extended sales team and technical consulting resource. Despite the unfortunate factors brought on by COVID-19, Symmetry Electronics remained functionally resilient and grew its business from 2019 to 2020. Symmetry is not afraid to carry inventory for its customers, and this largely drove the growth in an otherwise down year for the industry. Additionally, Symmetry took strides to keep warehouse workers safe while maintaining consistent operations by teaming up with other members of the TTI Semiconductor Group (TSG) (including TTI, Inc., Mouser Electronics, and Connected Development) to develop an open source touchless temperature sensor that was deployed at the TTI warehouse.
"This uptick in demand on top of stagnant capacity expansion and reduced inventory levels has pushed out lead times on a great many electronic components; including core semiconductor product families ranging from MOSFETs and memory, to microprocessors", said Michael Knight, TTI Semiconductor Group President. "As usually happens in these situations, end users quickly transitioned from being cautious buyers to aggressive buyers, thus further inflating lead times. As a result of solid end market demand and some hedge buying, I expect things to be tight in the component supply chain straight through the first half of 2021 and possibly beyond".
Interested in finding out where the electronics industry is headed in 2021? Check out our Top 5 Predictions of the 2021 Electronics Market blog, written by TSG President, Michael Knight.
Subscribe
Stay up to date with industry and supplier news!
Browse