Create, Connect, and Communicate with MultiTech IoT | Symmetry Blog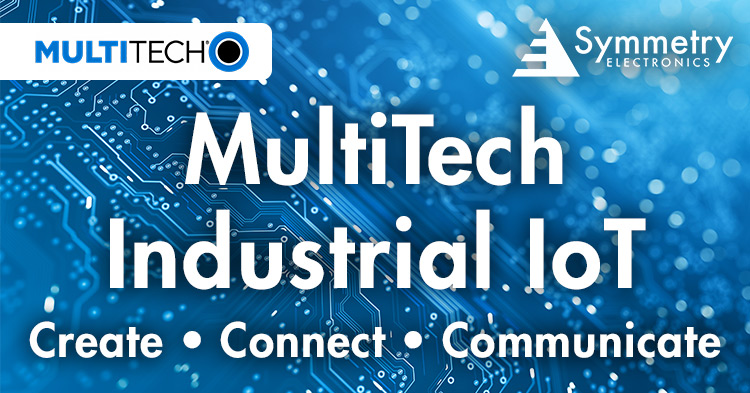 Established in 1970, MultiTech is a leading global supplier of industrial IoT communications devices and services. From producing some of the first analog systems; to fueling today's innovative industrial IoT applications; to offering the latest in low-power wireless technologies–MultiTech has been a pioneer in the industry for 50 years and counting.
Connecting Physical Assets to Business Processes
Offering first-to-market innovations in low power, wireless access and broadband, low-latency communication technologies, machine protocols, integrated sensors, and mobile applications–MultiTech is focused on enabling solutions for monitoring and managing smart assets, durables, and industrial consumables.
Over 25 Million MultiTech Devices Sold Globally
Priding themselves in offering U.S.-based services and support–MultiTech is headquartered in Mounds View, MN, with an additional design and engineering organization in Toronto; sales offices in Chicago, London, Tokyo, and Munich; and expended manufacturing capabilities in North America and Southeast Asia. With involvement in verticals such as energy, healthcare, enterprise, and agriculture, MultiTech has sold over 25 million devices globally.
A Pioneer in the World of LoRa® and Wireless
MultiTech offers a series of products that support edge intelligence, LPWA, private LTE and 5G. A founding member of the LoRa Alliance®, MultiTech is now offering the world's first commercially deployable LoRa-based suite of communications devices.
Featured MultiTech LoRaWAN® Products
MultiTech LoRa End Nodes:
MultiTech xDot®: The MultiTech xDot is a secure, end-certified, Arm® MbedTM programmable, low-power RF module, that offers long-range, low bit rate M2M data connectivity to sensors, industrial equipment and remote appliances.


MultiTech mDotTM: The MultiTech mDot is a secure, CE/FCC/RCM/GITEKI certified Arm® MbedTM programmable, low-power RF module, that offers long-range, low bit rate M2M data connectivity to sensors, industrial equipment and remote appliances.
MultiTech LoRa Gateways:
MultiTech Conduit®: The MultiTech Conduit is a highly configurable, manageable, and scalable cellular communications gateway for industrial IoT applications. The Conduit features Wi-Fi, Bluetooth, Bluetooth Low Energy (BLE), GNSS, and two accessory card slots that enable users to plug in MultiTech mCardTM accessory cards supporting their preferred wired or wireless interface to connect a wide range of assets locally to the gateway.


MultiTech Conduit® AP: The easily deployable and cost-effective MultiTech Conduit AP leverages the LoRaWAN protocol to provide in-building penetration and connectivity to thousands of IoT assets in commercial environments such as hotels, convention centers, offices, and retail.


MultiTech Conduit® IP67 Base Station: The MultiTech Conduit IP67 Base Station is a dual mode IoT gateway solution designed for use in outdoor LoRa public or private network deployments. In standard mode, the Conduit IP67 operates as a 16-channel, full duplex gateway, supporting both packet-forwarder and build-in network server modes. In geolocation mode, the Conduit IP67 utilizes the LoRaWAN protocol to perform Time Difference of Arrival (TDoA) calculations to deliver end-node location information in conjunction with a v2.1 LoRa Network Server.
>> Interested in integrating MultiTech into your design? Browse MultiTech's products available at Symmetry Electronics. <<
Subscribe
Stay up to date with industry and supplier news!
Browse