Bluetooth® Mesh vs. Zigbee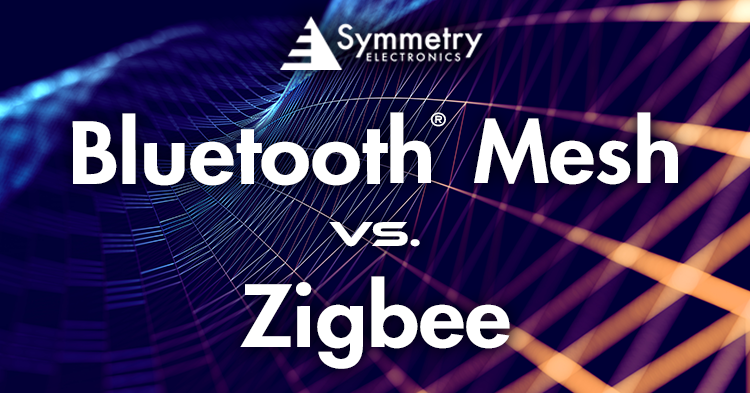 What Are Mesh Networks?
While the concept of mesh networking has been around since the 1980's, the expense and scarcity of available radio spectrum kept the technology from gaining traction until 2015. Mesh network connections are comprised of multiple interdependent nodes that share the same connection over a large area. Acting in the same manner as a wireless router, each node of a mesh network is a small transmitter capable of self-discovery. As opposed to star network topology (Figure 1), mesh networks are decentralized in nature. Mesh networking allows nodes within the same network can communicate with multiple nodes at one time. Signals can reconfigure routing paths based on the network structure and provide network stability in the event of single node failure.

Figure 1: Mesh network topology vs. Star Network topology
Source: Silicon Labs
Bluetooth Mesh Networking
Bluetooth mesh networking provides users with the convenience of native smartphone connectivity without a gateway and has added benefit of location services capability using Bluetooth Low energy (BLE) beacons. Bluetooth mesh-enabled devices are advantageous in smart home technology as they are an ideally suited solution in networks with a limited number of nodes. Devices that incorporate Bluetooth mesh networking are power-efficient as they operate on BLE. Bluetooth mesh-enabled devices feature a longer battery life because the low-power signals they transmit repeat themselves, instead of sending one constant signal.
Using a flood message relay approach, Bluetooth mesh networking communication is peer-to-peer based. Nodes transmit signals directly with each other. The lack of a centralized node eliminates the challenge of single-point failure.
The Bluetooth Special Interest Group (Bluetooth SIG) guarantees that security has been a priority from Bluetooth mesh's initial development in their article, Bluetooth Mesh Security Overview. Bluetooth mesh networking technology features customizable, multi-layer security features that protect your IoT devices from threats like replay and man-in-the-middle attacks.
Zigbee Mesh Networks
Widely considered as an alternative for Wi-Fi and Bluetooth devices, Zigbee is a routing mesh based on IEEE 802.15.4. Zigbee is ideal for low-power devices that require small-scale bandwidth. Zigbee mesh networking supports up to 65,000 nodes on a single network. As an open global standard, Zigbee additionally operates on unlicensed bands of 2.4 GHz, 900 MHz, and 868 MHz.
The Zigbee Alliance is comprised of over 300 companies and implemented Zigbee 3.0 protocol to provide a convenient wireless data solution that is characterized by reliable and secure wireless network architecture. Zigbee's 3.0 protocol is designed to ensure compatibility between different product manufacturers. If a device utilizes Zigbee 3.0 Protocol, it will communicate with other Zigbee 3.0 certified devices regardless of the brand.
Major Differences Between Zigbee and Bluetooth Mesh:
When it comes to deciding between which standard is most suited for your device design, consider the following:
The size of area transmission
Speed and reliability required
Budget
Zigbee is optimal for short-range connectivity, like smart home environments. It's simple to install and battery life is preserved through its inherent low-power usage. However, Zigbee's security protocols are not as advanced as Bluetooth mesh's robust multi-layer security measures. Zigbee networking can be incorporated in applications involving home and building automation, wireless sensor networks, data collection, industrial control systems, embedded sensing, and more. Bluetooth mesh is mostly used in lighting and home automation applications. As a flood message network, Bluetooth mesh is reliable, but speed/efficiency may be influenced as transmissions must navigate the entire mesh network to successfully relay signals.