Apple's Nearby Interaction Framework 2022 Update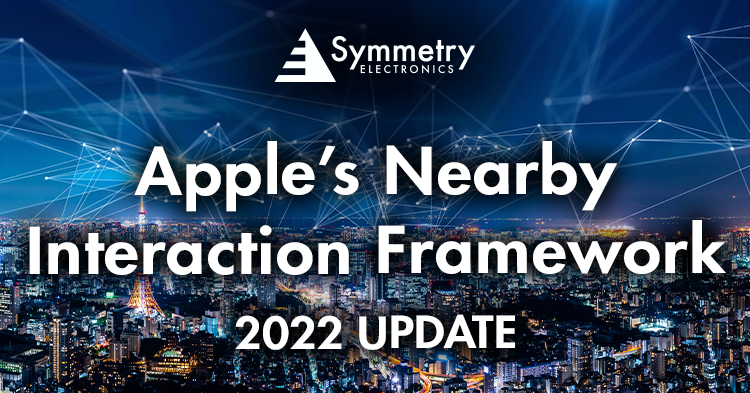 During the Worldwide Developer Conference (WWDC) 2022, Apple released an exciting update to their Nearby Interaction (NI) Framework that enables background interaction for a truly hands-free experience. Previously, NI provided users with precise measurements of the distance between two devices and the relative direction from one to the other through an "NI session." Conveniently, NI sessions will now be active even when transitioned to the background.
Nearby Interaction Background Sessions
NI background sessions are supported in iOS 16. Like any other Bluetooth accessory, once connected, user interaction or foreground running is no longer required to keep the application running. It provides a pleasant user experience in location or proximity-based applications. You can walk through a door, turn on a light while you enter the room, or trigger many other real-time actions without pulling out your phone. Applications that require spatial awareness and trigger actions would benefit from the update.
Apple also demonstrated a new use case in the WWDC 2022 update video: an exhibition in a museum using Augmented Reality Developer Toolkit (ARKit) Enhanced NI to guide people through exhibitions. The enhancement allows NI to include a camera-assisted mode that connects the app with the physical world and view tangible objects of interest. The visual-spatial awareness of ARKit further improves NI precision to locate objects in mixed reality (MR).
Developing with Apple's Nearby Interaction Protocol
For accessory manufacturers, who are interested in developing UWB to support the NI protocol, the integration of an MFi-certified UWB chipset is a must. Qorvo, one of the leading suppliers of RF solutions, has recently announced the DW3110. The DW3110 is an Impulse radio UWB transceiver IC that has completed the MFi certification. Additionally, its hardware is FiRaTM, PHY, & MAC compliant for interoperability with other FiRa-compliant devices.
Qorvo is a sponsor member of the FiRa Consortium, a non-profit organization responsible for promoting and standardizing UWB technologies. Qorvo is the sole component provider in the elite group of FiRa sponsor members. Qorvo's comprehensive UWB product portfolio includes ICs, modules, and development kits. To help developers simplify UWB implementation and avoid costly RF development at the chip level, Qorvo also offers the DWM3001C. The DWM3001C is an FCC, SRRC, and ETSI certified module aligned FiRaTM , PHY, & MAC specifications. Based on the DW3110 IC, the DWM3001C incorporates the BLE SoC nRF52833 for host function and OOB (out-of-band) BLE connectivity.
For those looking to add UWB to their existing system or have their own preferred application processor, the DWM3000 transceiver-only module is another option to consider. Available from The App Store, the "Qorvo Nearby Interaction" app allows users easily to evaluate NI protocol and performance with DW3xxx family evaluation kits. The app can interact with multiple development kits simultaneously while providing distance and direction information through UWB ranging sessions. Qorvo's DW3xxx family of ICs and modules are compatible with Apple's NI protocol.
In addition to consumer products like mobile phone accessories, DW3xxx family products are also ideal solutions for Internet of Things (IoT) applications like RTLS in industrial automation environments where location intelligence would help improve operational efficiencies in factory and warehouse environments by tracking important assets.