Defining Immersive Technologies:
What You Need to Know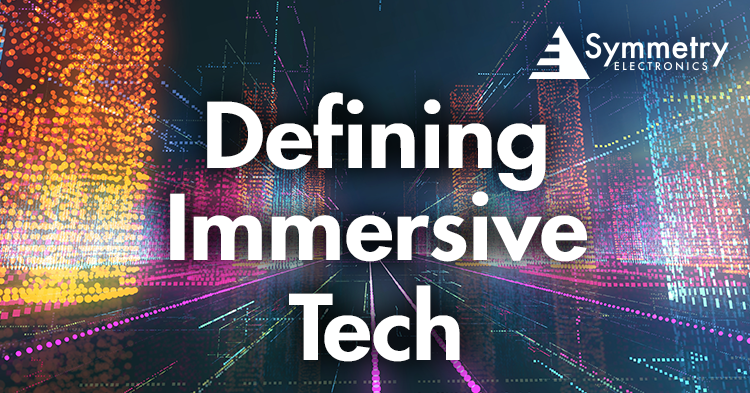 Immersive technologies refer to virtual environments that create a sense of reality but do not actually exist in a tangible space. Also known as extended reality (XR), Immersive technology is made up of Augmented reality (AR), mixed reality (MR), and virtual reality (VR) experiences. XR technology requires powerful computing to operate, and Symmetry Electronics has everything developers need to provide users with a comprehensive VR system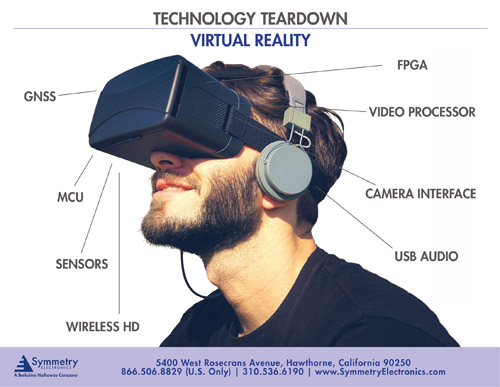 What is Virtual Reality?
In a VR experience, users can see, hear, and interact with virtual technology. While VR does not allow users to physically touch, VR creates a feeling of physically being within the experience. There are four main types of VR technology.
Fully Immersive Virtual Reality
Fully immersive VR is the most encompassing virtual experience. Users are made to feel like they are physically transported into the virtual environment. Fully immersive experiences process data that is collected through sensor-embedded body connectors, helmets, and gloves. Fully immersive VR can be used in gaming zones where users can move their body to interact with the gaming environment.
Non-Immersive Virtual Reality
In comparison to a fully immersive virtual experience, non-immersive VR doesn't directly interact with its user. Users can control characters or activities but are not the center of the environment. Most gaming consoles provide non-immersive experiences.
Semi-Immersive Virtual Reality
Semi-immersive VR is a blend of fully immersive and non-immersive virtual environments. Semi-immersive virtual experiences include a 3D space or room where users can move around through a VR box, headset, or computer but not through actual physical activity. As the most commonly used VR experience, semi-immersive VR creates realistic surroundings that can be device or web-based. Semi-immersive VR is used in hotels, real estate offices, restaurants, venues, schools, and more to provide 3D virtual tours to promote locations.
Collaborative Virtual Reality
A collaborative VR experience provides a common space for users from different locations to interact in 3D or character form through chatting, headsets, and microphones.

Figure 1: Mixed Reality Spectrum
Source: Microsoft
What is Augmented Reality?
Often debated as its own unique type of technology in the VR community, augmented reality differs from other types of VR (Figure 1) in that it interacts with real-world environments. Augmented reality is capable of viewing the space around a user to project a virtual entity into it. While the entity is not physically present, users can interact with it through the device that is projecting the entity.
Marker Based Augmented Reality
Marker-based AR requires a visual marker, like a QR code, to operate. Apps like Snapchat use this type of AR to help users add to their contacts.
Markerless Augmented Reality
Markerless AR utilizes GPS, digital compasses, velocity meters, and accelerometers to operate. Apps like Google Maps run off of this type of AR.
Projection Based Augmented Reality
Projection-based AR utilizes artificial light to operate. Light can be in the form of lasers, mirrors, or cameras to create a projection with which users can interact.
What is Mixed Reality?
While mixed reality (MR) sounds similar to AR, MR allows users to blend real and virtual elements. In comparison to AR and VR (Figure 2), MR allows users to further integrate elements of the real-world and virtual space. In an MR experience, users can react with 3D entities the same way they would in the real-world. As the newest form of immersive technology, companies are working to adopt MR experiences. It's thought that MR technology can modernize design, modeling, and prototyping in a virtual environment.

Figure 2: Comparison of virtual reality, augmented reality, and mixed reality.
Source: Trimble SiteVision
The Future of Immersive Technologies:
The future of immersive technologies is bright. Marketwatch reported that "The Global Immersive Technologies Market is expected to grow at a significant CAGR of 38% by 2028." Besides gaming and decorating, extended realities have can serve to benefit companies and societies in altruistic ways:
Healthcare – XR experiences can enhance surgical simulations
Virtual travel – XR technology can bring remote destinations to a user's living room. Virtual travel will for more integration of culture, art, and understanding into society.
Military and Defense – Like healthcare, XR technology in military and defense industries can help save lives by enhancing training simulations.
Recommended Blogs: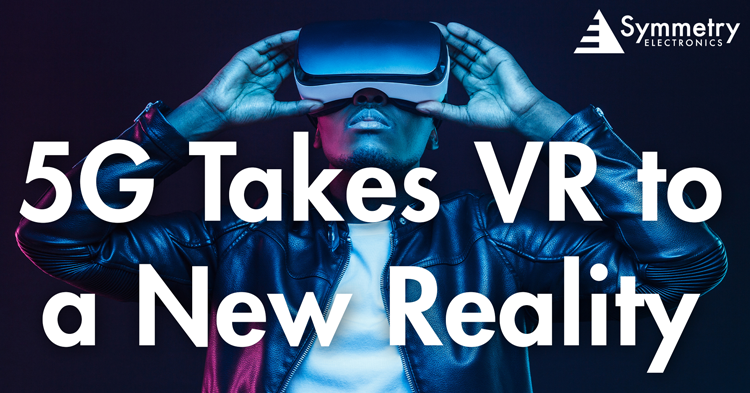 5G Takes VR to a New Reality
Through 5G, engineers have been able to create a powerful wireless experience that allows for faster speeds, while utilizing less bandwidth and low power, with the ability to stream data from the cloud.
Read more
Subscribe
Stay up to date with industry and supplier news!
Browse