A Symmetry Engineer's Technical Recap of ESC Silicon Valley 2015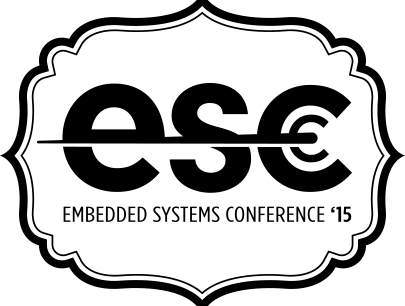 ESC Silicon Valley Technical Conference 2015 has officially wrapped up for the year.
Symmetry Electronics was a Diamond sponsor this year, which gave us the ability to showcase some of our partners at the show. There was never a time when the Symmetry pods were empty. The turnout and interest created a buzz in the air that could be felt as soon as you walked through the door.
At the main Symmetry Electronics pod we showcased two products. The first was the IdeaBoxx from Fujitsu Semiconductor. The IdeaBoxx is designed to enable an engineer to very quickly develop graphics on a computer and port them over to the hardware for real world testing. The version shown used the Jade Graphics Display Controller running a demo of a smart home on a vibrant touch screen. The second demo on the main Symmetry Electronics booth was the Wireless Add-on Board (WAB) board. This is a board that was designed in-house by one of our Engineers with the purpose of highlighting the Telit Cellular and Silicon Labs Bluetooth products, specifically the DKBLE from Silicon Labs and the Telit EVK2. The WAB was designed to enable a simple and useful interface between the two wireless technologies. With this board, a developer can quickly setup a demo that will alert someone via SMS text message when certain parameters are met such as a temp sensor, proximity and so on. There are options that cover Verizon LTE, AT&T LTE as well as 3G making this a very flexible option for anyone looking to connect a BLE network to the Cellular network.
There were seven other Symmetry Electronics pods, each with a different partner highlighting their technologies.
Lantronix – In this booth, Lantronix featured a cross section of their serial to wireless products varying from the PremierWave XC, PremierWave EN, xPico and xPico SMT. These products set new standards for customers by enabling IoT and M2M communications in a very easy to use form factor. All of these come with a full IP stack and web server.
Telit – Telit is a cellular and GPS module manufacturer that incorporates connectivity and platform services that will enable customers to quickly go to market with their M2M designs. The showcase of this booth was several modules as well as the powerful services Telit has to offer customers including product families tailored to varying levels of integration depending on the needs of the customer. All products in a single family have uniform connectors, software interface and physical shape and size, making interchangeability effortless and opening up a wide range of features to the market.
Lattice Semiconductor – The Lattice Semiconductor booth featured their FPGA products and their abilities related to video processing, including converting video sources to HDMI, VGA or SDI up to 1080p. A customer can feed a bit stream into a Lattice Semiconductor FPGA and with a much automated software/hardware combination, it is displayed beautifully on the screen. Lastly, there was a comparison of 2 HDR images separated, with one having a longer exposure time and the other having a shorter exposure time. The Lattice FPGA has the ability to combine them to a high resolution image and display it to a screen.
Silvertel – This booth had a generous offering of Silvertel products focusing on the POE products, which interface very nicely into the IoT market by powering the end devices such as cameras, fingerprint readers, wireless access points and lighting control systems, to name just a few. These modules can provide up to a whopping 200w of power, which opens up an almost endless list of possibilities. Silvertel also had a demo of their wireless charging demonstration. This demo is Qi compatible and can deliver up to 5 watts of power.
MultiTech – This booth featured the MultiTech Conduit LORA products. These products work great at long range and provide excellent penetration in buildings at low data rates making them ideal for sensor monitoring and the IoT market. To demonstrate this, MultiTech had a fan controller running while getting information from the Conduit, which was fed by a temperature monitoring sensor mDot. When the temperature went above or below the set point, the fan was turned on or off. This technology enables a quick time to market for IoT projects because of the ease of integration and flexibility of the products for either an embedded Linux or the Node Red version.
Silicon Motion – The Silicon Motion booth featured a wide offering of controllers for managing storage devices including SSDs and MMCs. Silicon Motion is a global pioneer and leader in the control of NAND flash storage. The highlight was the Osprey Visual IoT controller. For this product, Silicon Motion partnered with the Intel CPU to produce a platform for connected display devices such as digital signage, Kiosk and POS terminals. The power of this product is increased by the Intel Quark SoC X1000 on board which enables the graphics processing side of the offering.
RF Digital – This booth seemed to cause quite a stir at the show and I was almost not able to get through the constant crowd to see the demo first hand. RF Digital was of course showing their Simblee product. This product is unlike anything else I've seen. It has the ability to push applications from the unit to a mobile device. In this way, the application does not reside on the phone, so no downloads are required. It's the easy of development and deployment that makes this product shine.
Overall, the show was a success with what looked like a large crowd of guests admiring the offerings of many sponsors. Having manned a pod myself for a few hours on Tuesday, I can say that the amount of interested people and great questions showed the level of interest in the crowd. I also noticed the level of attention that the IoT market is getting. Most every pod at the show was highlighting how the products on display will enable the IoT market and enable developers to more quickly and efficiently realize the potential of this market and where it's taking our society.
If you're interested in getting started with your own IoT design, call Symmetry at (310) 536-6190, or contact us online.