4 Must Have Sensors Used in IoT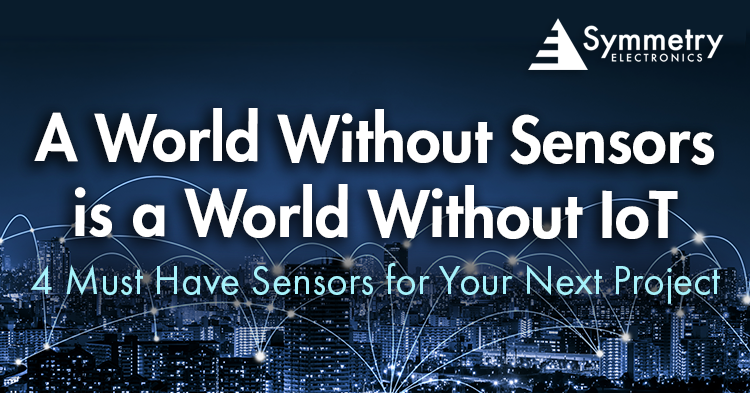 Thanks to advances in cellular IoT and low power wide area networking (LPWAN), Internet of Things (IoT) devices are becoming increasingly interdependent with sensor technology. Sensors are devices that can detect, respond to, and measure changes in their surroundings. Sensors are pivotal backbones in much of the technology we use daily in our homes, workplaces, smartphones, and more. There are many varieties of IoT sensors with an endless array of use cases and applications. Symmetry Electronics is bringing you four types of sensors that will take your IoT device to the next level.
Temperature Sensors
Ideal for mobile and battery driven applications, Sensirion's SHT40 measures relative humidity and temperature at different accuracy classes. Sensirion's SHT40 features:
Relative humidity accuracy: up to ±1.0 %RH
Temperature accuracy: up to ±0.1 °C
Supply voltage: 1.08 V … 3.6 V
I2C interface
Ultra-low-power
Suitable for surface mount technology (SMT)
Operates at three heating levels
Operates in harsh environments
Accelerometers and Gyroscopes – Motion Tracking Sensors
Accelerometers and gyroscopes are useful motion tracking sensors that provide precise measurements of an object's movements. Oftentimes mistaken for one another, accelerometers and gyroscopes have nuanced differences. Accelerometers sense linear movement and gyroscopes measure the angular velocity of an object around an axis (speed and rotation). Gyroscopes and accelerometers can be seen in motion control applications like anti-theft, lift-gate motion detectors, telematics, insurance vehicle tracking etc.
TDK InvenSense's ICM-42688-P combines a 3-axis gyroscope and a 3-axis accelerometer that is optimal for applications in alternate reality (AR), virtual reality (VR), head-mounted displays, wearables, sports, robotics, etc. The ICM-42688-P features:
A 2 kB first in, first out (FIFO)
Minimized power consumption through two programmable interrupts with ultra-low-power, wake-on motion support
User-programmable digital filters for gyroscopes, accelerometers, and temperature sensors
Supports I3C℠, I²C, and SPI serial communication
Reduced system-level sensitivity error with support of external clock input
Proximity Sensors
Used as a no-contact form of object detection, proximity sensors measure their surroundings through electromagnetic fields or infrared beam emission. Proximity sensors are used in parking lots, retail environments, and assembly lines.
TDK InvenSense's CH201 is a compact, power-efficient, ultrasonic Time-of-Flight (ToF) range sensor. Utilizing Chirp's patented MEMS technology, the CH201 provides accurate range measurements to targets at distances up to 5m. With applications supporting user presence in home/building automation and personal electronics, obstacle avoidance, robotics and drones, AR & VR gaming, gesture control, and inventory monitoring, the CH201 features:
Fast, accurate range-finding
Operating range from 20cm to 5m
Customizable field of view (FoV) up to 180°
Multi-object detection
Easy integration
Dedicated programmable range interrupt pin
Miniature integrated packages
3.5 mmx 3.5mm x 1.26mm, 8-pin LGA package
Ultra-low supply current
Gas Sensors
With the ability to monitor and detect changes in air quality, gas sensors can measure toxic, combustible, and hazardous gases. Mining, oil and gas, chemical research, and manufacturing industries utilize gas sensors to ensure workplace safety.
Built on the photoacoustic sensing principle, Sensirion's SCD40 CO2 sensor detects Carbon Dioxide levels in its surrounding environment with precise accuracy. Enabling energy efficient smart ventilations systems, the SCD40 helps maintain low CO2 concentration for a healthy, productive environment. The SCD40 features:
Photoacoustic sensor technology PASens®
Smallest form factor: 10.1 x 10.1 x 6.5 mm3
High accuracy: ±(40 ppm + 5 %)
Integrated temperature and humidity sensor
Low power operation down to < 0.4 mA avg. @ 5 V, 1 meas. / 5 minutes
Subscribe
Stay up to date with industry and supplier news!
Browse