Industry-Leading Accuracy with the 6-Axis MEMS MotionTracking Device | Symmetry Blog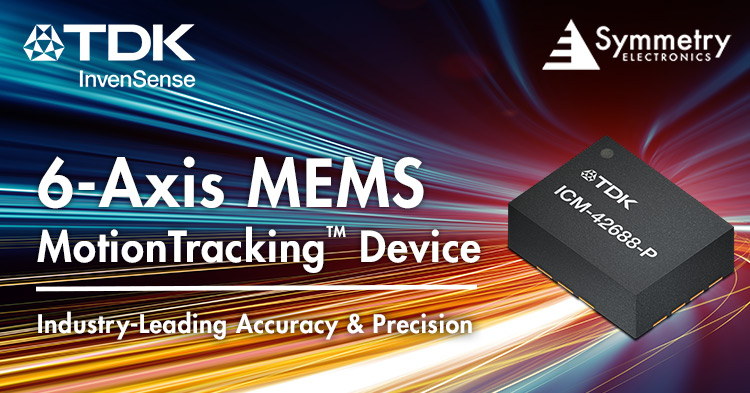 1. What type of motion sensor is the ICM-42688-P?
The ICM-42688-P is TDK InvenSense's highest precision 6-axis MEMS motion sensor (IMU). It consists of a 3-axis accelerometer and 3-axis gyroscope with optimal noise performance, low sensitivity error, low sensor offset, and stable performance across temperature operating ranges.
2. What are the key performance parameters of the ICM-42688-P sensor?
See Figure 1 below for the key specs of the motion sensor's integrated accelerometer and gyroscope.
Figure 1: ICM-42688-P sensor key parameters.
Source: TDK InvenSense


3. What makes the ICM-42688-P a high-precision motion sensor?
Most motion sensors only support 16-bit data values per axis direction. However, the ICM-42688-P has the option to support higher data resolutions–18-bits of accelerometer data and 19-bits of gyroscope data. This is made possible by the integrated FIFO that enables 20-bits of data format support for high-data resolution.
The ICM-42688-P motion sensor also has support for RTC (real time clock), which allows designers to integrate a high precision external clock to capture accurate motion data samples. The integration of the RTC also improves the sensor's sensitivity error performance and gyroscope's orientation measurements, while reducing the output data rate's temperature sensitivity.
4. How does the ICM-42688-P account for drift offsets due to temperature?
The ICM-42688-P has an embedded temperature sensor–not for measuring ambient temperature but for the temperature inside the sensor die. This sensor has the option to be disabled depending on the designer's requirements. The temperature sensor readings are used to perform temperature compensation to make sure the device has stable performance over the temperature operating ranges (-40o to 85oC). The temperature sensor's digital data can also be outputted to an external application processor for any additional temperature processing. For further specs on the embedded temperature sensor, refer to the ICM-42688-P Datasheet.
5. What does TDK InvenSense's on-chip APEX Motion Processing engine do?
The APEX motion engine is the ICM-42688-P's embedded motion processor that offloads motion processing from the host processor. The APEX is what enables key motion functions such as:
Wake-on-motion
Significant motion detection (SMD)
Tilt detection
Tap detection
Pedometer (step counter)
Raise-to-Wake


6. What are common target applications for the ICM-42688-P?
The ICM-42688-P sensor is ideal for any motion-based device, but especially for designs that require industry-leading accuracy and precision. Common applications include:
Artificial Reality/Virtual Reality (AR/VR) Controllers –If motion sensor in controller cannot handle fast motion, it may negatively impact game experience.
Head Mounted Displays (HMD) – Accurate motion sensing results in HMD being accurately aligned with user movements.
Sports – Swing analysis for golf, baseball, tennis, etc.
Robotics
Internet of Things (IoT) Applications – Multi-sensor wireless modules (i.e. TDK InvenSense SmartBug)
Subscribe
Stay up to date with industry and supplier news!
Browse