[VIDEO] How to get started with Hall Wiring for BLDC and PMSM Motors from Trinamic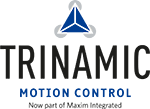 In this Trinamic created video, Enrico explains and demonstrates how to connect the hall wires of your BLDC motor correctly to Trinamic servo controller boards and how the TMCL-IDE helps you with this.
Check out Trinamic Dev Kits and Eval Boards - click here!
About TRINAMIC
Based in Hamburg, Germany, TRINAMIC provides integrated Circuits and Modules for Motor and Motion Control to customers all over the world, most of them leaders in their Industry.
The use of small motors is increasing rapidly in many different types of products. In leading-edge industries such as biotechnology, lab automation, semiconductor handling equipment, CCTV and factory automation, TRINAMIC products control all kinds of embedded motion control systems.
TRINAMIC's application-driven approach and deep application understanding means that customers do not need in-depth knowledge of motors, nor of control circuitry. Consequently, the design phase is simplified, resulting in significant labor and cost savings in development as well as a reduction in the total cost of ownership.
For additional product information or technical support, contact Symmetry Electronics, an authorized distributor of industry leading wireless, audio/video and embedded chips, modules and dev/eval tools. www.symmetryelectroncis.com/contact-us or call (877) 466-9722.
About Michael Venezia
(866) 506-8829
Subscribe
Stay up to date with industry and supplier news!
Browse