Symmetry Supplier AMD Powers Innovation and Inspires Embedded Innovation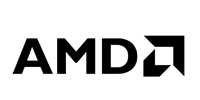 AMD embedded solutions are everywhere – powering, protecting, automating and simplifying industry. No matter what your business, from industrial automation to casino gaming to communications to digital signage and beyond, AMD's embedded solutions offer innovative, advanced, scalable features designed to boost performance and capabilities while helping to reduce development, solution and operating costs.

AMD Accelerated Processing Units (APU)
AMD has combined the performance of multicore processors and the power of AMD Radeon™ graphics on a single chip for a new level of immersion and interactivity

AMD DAS: Simplify your embedded system management
Simplify embedded system and mixed-environment management with open-source AMD DAS (DASH, AMD Virtualization [AMD-V™] Technology and Security).

HyperTransport™ technology
Helps reduce bottlenecks and enable today's faster microprocessors to help use system memory more efficiently

Resources for AMD Embedded Solutions
Explore AMD's wide range of Embedded Solutions offerings - click here, or contact a Symmetry technical support engineer.
For additional product information or technical support, contact Symmetry Electronics, an authorized distributor of industry leading wireless, audio/video and embedded chips, modules and dev/eval tools. www.symmetryelectroncis.com/contact-us or call (877) 466-9722.
About Symmetry Electronics Team
Established in 1998, Symmetry Electronics is a focused global distributor of wireless connectivity solutions, sensors, and audio-video technologies. Offering comprehensive design support and available-to-ship inventory, Symmetry is committed to helping engineers accelerate time to market, reduce costs, and offer modern solutions for their IoT designs. Acquired by the Berkshire Hathaway company TTI, Inc. in 2017, Symmetry Electronics is headquartered in Los Angeles with international offices in Mexico, Canada, and China. For more information or support, contact us: www.symmetryelectronics.com
Subscribe
Stay up to date with industry and supplier news!
Browse