Your Guide to the Best Internet of Things Development Services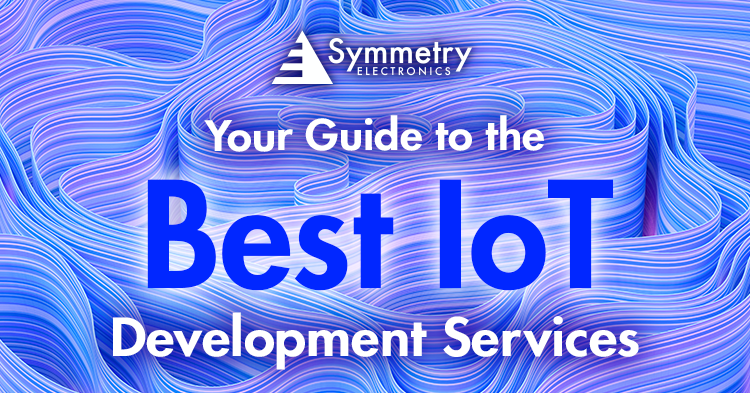 The Internet of Things (IoT) is continuously enabling connection with an ever-growing number of devices and systems. Markets and Markets valued the global IoT market size at $300.3 billion in 2021 and anticipates an increase to $650.5 billion by 2026 at a CAGR of 16.7%. As the market for IoT devices increases, so does the demand for comprehensive IoT development services. As experts in IoT, industrial IoT (IIoT), and wireless, Symmetry Electronics is uniquely positioned to help you navigate the complex world of connected systems. Use our comprehensive guide below to determine the ideal IoT development service for your project.
What Are IoT Development Services?
IoT development services help businesses and organizations capitalize on connected technology. IoT development services refer to the range of software and hardware services that are involved in designing, building, and deploying IoT solutions. These services typically include the development of custom software applications, firmware, and hardware components that enable devices to connect to the internet and communicate with each other.
IoT development services may involve creating sensors, gateways, and other devices that collect and transmit data to a central hub or cloud-based platform. They may also involve developing software applications that allow users to monitor and control IoT devices remotely, as well as implementing security measures to protect sensitive data and prevent unauthorized access.
How to Find the Ideal IoT Development Service for Your Project
Choosing the right IoT development service can mean the difference between a successful project or one that fails to meet expectations. An ideal IoT development service can provide you with the expertise, resources, and guidance needed to bring your IoT project to life, while also helping to ensure that it is scalable, secure, and future-proof. With so many options available, it's essential to carefully consider your options and choose an IoT development service that can meet your unique needs and help you achieve your goals.
When selecting an IoT development service for your design, there are a number of key features an organization should provide to ensure they are well-suited for your project. Consider the following when selecting an IoT development service:
Expertise & experience. Designers should look for a development service that has expertise and experience in IoT development. They should look for a service that has worked on similar projects in the past, and that has a track record of delivering high-quality results.
Technology stack. Designers should ensure that the IoT development service they choose has experience working with the technology stack they plan to use for their project. This includes both hardware and software components, as well as communication protocols and cloud platforms.
Scalability. It's important to choose an IoT development service that can scale their solution as the project grows. This includes ensuring that the solution can handle large amounts of data, as well as being able to add new devices and features as needed.
Security. IoT solutions are often connected to sensitive data, and as such, security is a critical consideration. Designers should look for an IoT development service that has experience implementing security measures, such as data encryption and secure communication protocols.
Support & Maintenance. IoT solutions require ongoing support and maintenance, and designers should look for an IoT development service that offers these services. This includes ensuring that the service offers ongoing updates and bug fixes, as well as providing technical support when issues arise.
Does Symmetry Electronics Offer IoT Development Services?
At Symmetry Electronics, we are proud to offer a broad portfolio of components from industry-leading suppliers on our e-commerce site, with global shipping available. In addition to components, we also offer development kits for rapid development and occasionally provide product samples to help you find an ideal solution for your project. Our suppliers now offer turnkey engineering solutions that include pre-certification, built-in security, cloud-based analytics, remote device management, and more.
Additionally, our site delivers users with next-generation engineering resources like datasheets, product briefs, getting-started guides, application information, BOMs, technology-focused blogs, and demo videos. Our in-house Applications Engineers offer unparalleled support through the entirety of the design cycle, ensuring that your project is a success from start to finish.
Established in 1998, Symmetry Electronics is a focused global distributor of wireless connectivity solutions, sensors, and audio-video technologies. We are part of the Exponential Technology Group (XTG) family of specialists, and our patrons benefit from the support of this formidable ecosystem. Specializing in the IoT, automotive, wireless communications, and RF and microwave markets, XTG is a supergroup of leading electronic component distributors and engineering design services firms offering a comprehensive product engineering support solution with the goal to accelerate the growth of the electronics industry. XTG is comprised of the following organizations:

Symmetry Electronics
Offering comprehensive design support and available-to-ship inventory, Symmetry is committed to helping engineers accelerate time to market, reduce costs, and offer modern solutions for their IoT designs. Acquired by the Berkshire Hathaway company TTI, Inc. in 2017, Symmetry Electronics is part of the Exponential Technology Group (XTG) – a supergroup of electronic component distributors and engineering design services firms working together to accelerate the growth of the electronics industry.

RFMW
Founded in 2003, RFMW is a specialty electronics distribution company headquartered in Silicon Valley that focuses exclusively on serving customers that require radio frequency, microwave components, semiconductors, and component engineering support. RFMW continues to expand its portfolio from select suppliers with RF/microwave expertise. They deploy a highly experienced, technically skilled team to assist customers with component selection and fulfillment.

CHANGNAM
Established as Comel Korea Ltd. In 1983, CHANGNAM is a specialized distributor of semiconductor technology. They strive to support their customer base with their best-in-market positioning and by providing the latest technical information, highly trained software and hardware design engineers, custom design services in firmware and hardware, and application research.

BGM Electronic Services
BGM Electronic Services was founded in 2017 by a team with over three decades of experience in the industrial, medical, IoT, and automotive electronics industries. With a successful track record of executing complex projects and a prestigious client base, the company has earned a reputation for excellence. In response to the COVID-19 pandemic, General Motors enlisted the company's expertise to oversee the procurement and manufacturing of electronic components for the GM/Ventec/US Government Ventilator Project. BGM delivered an impressive 390,000 electronic assemblies for 30,000 ventilators within a mere 150 days. This outstanding achievement led to BGM being awarded the 2020 Supplier of the Year - Over Drive Achievement Award by GM. From Fortune 100 companies to startups, BGM provides end-to-end product development services and production solutions that are completed within deadlines and budgets, ensuring a successful market launch.

Paragon Innovations
Paragon Innovations is a renowned provider of engineering and product development services, catering to several markets such as medical devices, portable wireless devices, video displays, and more. The company was established in 1990 and has since collaborated with several Fortune 500 companies, including 3M, B.Braun, Halliburton, Hitachi, MedTronic MiniMed, Motorola, and Siemens, as well as startups. Paragon Innovations offers comprehensive electrical, mechanical, and industrial design engineering services that range from conceptualization to market launch.
Connected Development
Led by a team of well-known and respected experts in wireless, M2M, and IoT, Connected Development provides a comprehensive range of services that enable the swift and seamless transformation of product concepts into reality. They have an extensive network of partners that cover every facet of the wireless industry. This network allows them to position customer solutions for success right from the outset.

Braemac
Braemac is a leading distributor Headquartered in Australia, with 17 offices worldwide. Braemac supplies semiconductors, electronic components, interface products, systems, and services related to the end-product design, manufacture, and technical support for products, including single-board computers, displays, power supplies, cable assemblies, as well as value-added product assembly, and turnkey products.
XTG Engineering Resources
XTG's network of comprehensive engineering design services include Connected Development, Paragon Innovations, and BGM Electronic Services. Together, they offer the following services:
Electrical & mechanical engineering
Software & Firmware engineering
Turnkey engineering solutions
Custom embedded systems
Wireless connectivity/communications
Volume manufacturing support
Certification & Validation
In-house anechoic chamber & extensive
testing equipment
End-to-end engineering support
Design
Prototyping
Development
Testing
Documentation
Manufacturing management/transfer to manufacturing
XTG Key Markets
XTG has a wide range of expertise and services that cater to several key markets. Their offerings span across industries such as:
Medical
Agriculture
Wearables
Power & Utilities
Robotics
Transportation
Industrial IoT
Smart Home
Smart City
Video
Defense
Aerospace
Whether it's developing innovative solutions for medical equipment or incorporating the latest advancements in IoT and robotics for industrial applications, XTG is well-equipped to deliver cutting-edge solutions that meet the needs of each market they serve.
Conclusion
Overall, IoT development services play a critical role in enabling businesses and organizations to harness the power of the Internet of Things to improve operational efficiency, enhance customer experiences, and drive innovation. Symmetry Electronics has the expertise, experience, support, and cutting-edge technology for your IoT project. Our team of experts is equipped to handle all aspects of IoT development, from design to deployment, and everything in between. For more information on how you can achieve your goals with our IoT development services, contact Symmetry Electronics today!