xPico Wi-Fi Device Monitoring with Easy Provisioning
Tuesday, May 5, 2015
Embedded Wi-Fi® Device Monitoring with Easy Provisioning
Challenge:
The customer is a leading manufacturer of white goods. The application is to monitor energy usage and other parameters of commercial clothes dryers for business intelligence and preventative maintenance.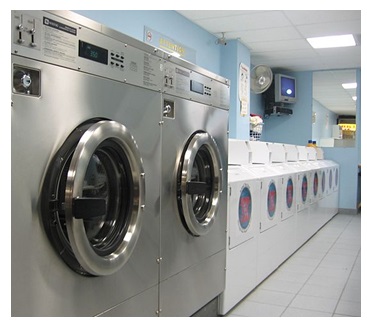 Key Requirements:
Connect via Wi-Fi to an existing infrastructure network
Offer simplicity and ease of configuration at the end customer site
Small footprint for embedding into existing chassis
The Solution:
The Lantronix® xPico® Wi-Fi® Embedded Device Server
The Lantronix xPico Wi-Fi is an embedded serial to Wi-Fi module that can connect the microcontroller in the dryer to the network. As one of the smallest embedded device servers in the world, it can easily be integrated into the appliance.
The end user was able to simply provision the details of their Wi-Fi network infrastructure by using a mobile application with the Lantronix xPico Wi-Fi WebAPI protocol. In addition, the xPico Wi-Fi reduced deployment costs by removing the need to mobilize a technician to configure the end device. In basic terms, the xPico Wi-Fi easily created a connection between the microcontroller in the dryer and the customer's servers by using the existing Wi-Fi infrastructure to send and receive data.
Results:
Ability to easily deploy into existing infrastructure by the end user with a mobile app
Reduction in downtime of equipment by monitoring the health status and enabling preventative maintenance
About the Lantronix xPico Wi-Fi
The most flexible, mobile-ready, Wi-Fi solution for M2M and IoT applications.
Reduce your development costs, shorten your time to market, and leverage mobile solutions with xPico Wi-Fi, one of the world's smallest and most flexible Wi-Fi device servers. xPico Wi-Fi is a pin and form factor compatible state-of-the-art member of the xPico family, providing low power, Soft AP and simultaneous client mode, full IP and WLAN stacks. The xPico Wi-Fi is a complete device server suitable for mobile M2M applications and includes industry best 5-year warranty.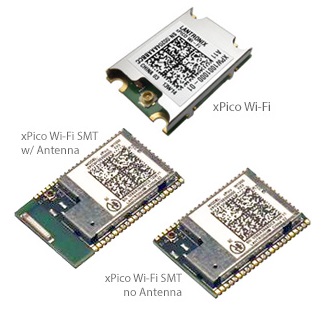 xPico Wi-Fi Key Benefits:
Easy to deploy and use: No need for software development or to write a single line of code.
Simultaneous Soft AP and Client mode: Allowing for easy points of access while maintaining a secure network without the need for special clients.
Innovative form factor: Compact footprint: 24mm x 16.5mm.
Mobile-ready: Enables direct access to device data via smartphones, tablets and connected PCs.
Robust: Device server application suite hardened by Lantronix over the last decade.
Secure: 256-bit AES Encryption
Industrial-ready: Operating environment at extended temperatures: -40° to +85° C.
Standards-based: Conforms to latest WLAN and IP internetworking standards ensuring interoperability with a broad range of deployed equipment.
Customizable: Designed with customizable capabilities for rapid OEM adoption.
Power: Low-power profile optimized for battery-powered devices.