WiseConn's acclaimed DropControl helps farmers maximize their harvests and optimize their irrigation use by carefully and precisely monitoring soil moisture, wells, valves, weather stations, and more. WiseConn relies on Digi XBee-PRO® radios in a mesh network configuration to capture data from low-power sensors and transmit it back to the farmer's control station for complete, optimal irrigation control.


BUSINESS CHALLENGE
In virtually every segment of large-scale agriculture, margins are thin, which means farmers must carefully balance the need to control their water consumption while also preventing crop spoilage through under- or over-watering. But when you're farming across hundreds of acres, it can be almost impossible to achieve tight control of every field. Unable to feasibly monitor every field, many farmers are woefully short of facts and data and must irrigate their crops based solely on reckoning, experience, and judgment.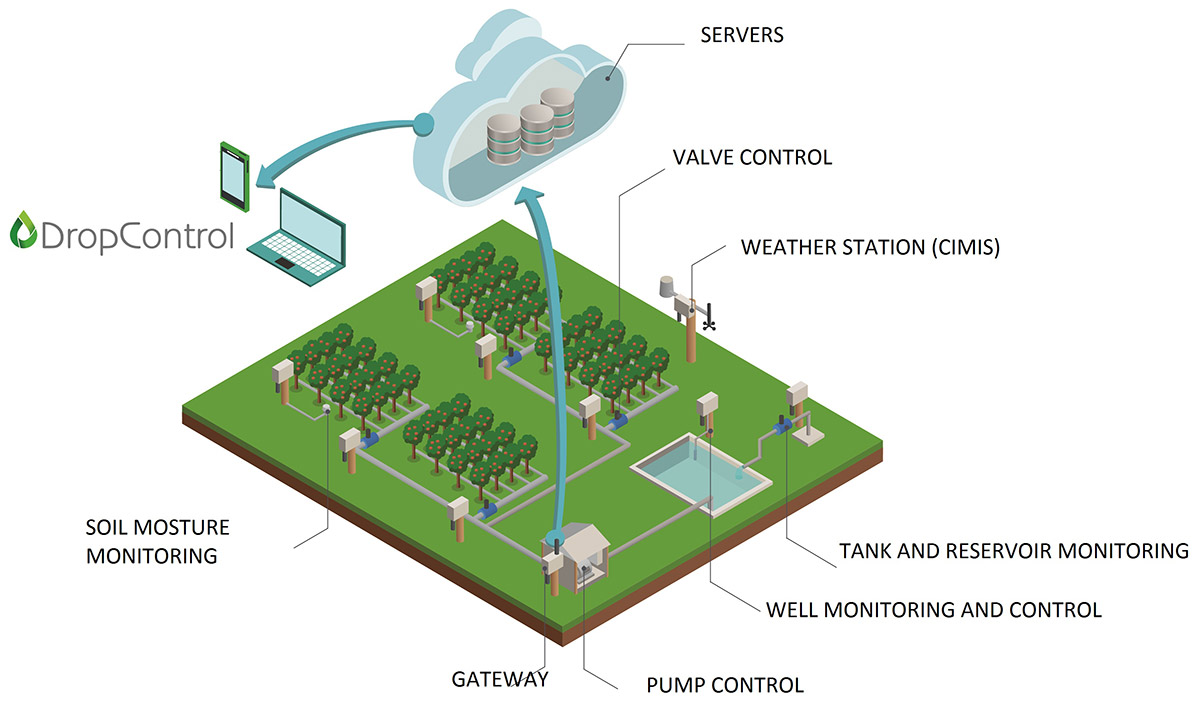 Unfortunately, the "one-irrigation-fits-all" approach means that many fields are over-watered and many fields don't get enough. As a result, farmers and agri-businesses must endure variable harvests, sub-optimal yields, and an unnecessary waste of precious water resources. Recognizing that sensors and remote instrumentation of irrigation equipment could bring new levels of intelligence and efficiency to the process, WiseConn designed DropControl, a networked hardware/software system for irrigation management.
DropControl consists of a wireless network for monitoring and control as well as a centralized web application. The network nodes are connected to sensors and actuators for monitoring weather conditions, soil moisture, and historical irrigation data, and to activate, deactivate, and calibrate the irrigation system's pumps, valves, and other components. The nodes communicate with one another to send information to the central DropControl Gateway, which connects the network with a web server.


SOLUTION
According to Jose Ulloa, chief technical officer of WiseConn, the company's initial implementations relied on open-source software stacks for connectivity. "That approach worked," he said, "but it required a lot of effort to maintain. We wanted a solution that offered lower power consumption, greater network flexibility, and longer range. When we tested the Digi XBee-PRO radios, we found a solution that provided a lot of value to us and our customers."
WiseConn upgraded its DropControl solution to feature the Digi XBee-PRO® 900HP embedded modules that provide best-in-class wireless range and use the DigiMesh® networking protocol with dense network operation, support for sleeping routers, and a proprietary point-to-multipoint configuration. Supporting RF line-of-sight ranges up to 28 miles (with high-gain antennas), and data rates of up to 200 Kbps, the Digi XBee-PRO is ideal for WiseConn's extended-range application.
"They keys to us were Digi's low power consumption, ISM compatibility, and the long range," Ulloa said. "Just as important, we are able to use Digi's peer-to-peer mesh network. Irrigation and long-range flow control need robust P2P communications that don't rely on a constantly-connected central coordinator. We had a lot of confidence in Digi. Thanks to the Digi mesh protocol, we were able to focus our resources on irrigation functionality – and not worry about networking intricacies. We also liked Digi's long product lifecycles as well. We've had, essentially, the same pin layout and firmware for the past five years."


RESULTS
With DropControl, farmers can determine and control the optimal volume, frequency, and application rate of irrigation water in a planned, efficient manner – all based on the latest soil moisture, weather conditions, and forecasts. The company has deployed DropControl at 1,500 sites (50,000 acres) for 300 farming operations in Chile, Peru, and California. Data from each site is captured every 15 minutes by every local sensor (typically four wireless sensors per node). Those sites might have up to 60 nodes each, all communicating in peer-to-peer mode over the mesh topology.
"This configuration is ideal for giving us distributed control," said Ulloa. "Each node can signal hydraulic states such as pump on/off and level-down – and these are crucial for effective irrigation. Ultimately, with Digi XBee-PRO embedded in our solution, our customers are achieving better yields, improving the quality of the crops they grow, and saving up to 30 percent on their water consumption."
Source: https://www.digi.com/customersuccesses/wiseconn-brings-new-efficiencies-to-agriculture
Contact Symmetry Electronics at 866-506-8829, email us or start a live chat and we'll be glad to help you with your projects!