Why AMD Embedded - Part 9 of 9 in a Series Presented by Symmetry Electronics and SemiconductorStore.com
Thursday, April 4, 2013
Why Choose AMD For Your Next Embedded Application?
AMD recently transitioned from owning fabs to operating as a fab-less semiconductor company, in fact, AMD is now the third largest fab-less semiconductor company in the world. This has enabled AMD to focus more energy on technology and product innovation including high value embedded products, rather than just trying to keep a fab at full capacity with low margin PC processors. AMD is the only company in the world that designs and produces industry-standard x86 microprocessors in volume and also designs and delivers leading-edge graphics technology enabling you to deliver innovative and differentiated products to your customers. AMD is committed to the long term success of their customers that serve the embedded market and demonstrates this commitment on a daily basis by offering a unique combination of technology, products, services, and support that enable customers to quickly bring to market competitive and cost-effective platforms across a broad spectrum of applications.


Delivered through:
Ensuring that embedded application requirements are fully "baked in" to the overall product planning and development processes within AMD. Building in embedded requirements in a centralized planning process allows the resulting embedded products to take advantage of current state-of-the-art high performance / low power CPU and GPU cores, chipsets, and other I/O modules as they are developed for other markets. AMD currently offers a broad portfolio of products for the embedded market ranging from the very low power AMD Geode™ LX processors, 64-bit embedded CPUs, new AMD Fusion APUs, and high-end discrete AMD Radeon™ graphics processors.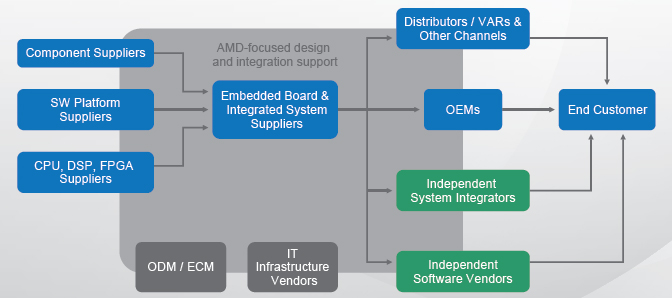 Ensuring long term availability of our embedded products by working with our global foundry partners to fabricate our products in mature, high volume, and cost-optimized processes. AMD has a planned 7 years availability for embedded products on our roadmap and works with customers and development partners to ensure that the entire ecosystem including boards, SW, systems, and platforms also support extended availability.
Driving up performance while driving down power consumption through innovative architectures, high levels of integration, and leveraging cost-effective process technologies optimized for high performance and low power such as Silicon On Insulator (SOI).
Standard commercially available PC platforms are a tempting alternative to embedded platforms in high performance, high-volume embedded applications. The embedded technology landscape is changing dramatically and today's high performance, low power embedded platforms, like those being enabled by AMD, offer low risk, and superior TCO for long-lifecycle applications.