What is CHIRP? | Symmetry Blog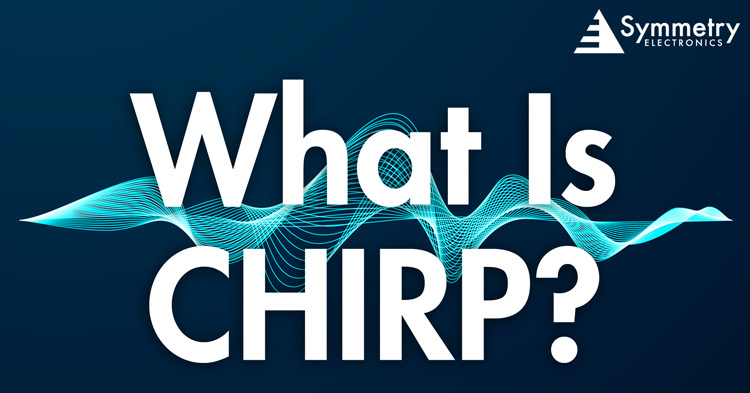 Ultrasonic sensing can be utilized in a plethora of applications from presence detection, 2D and 3D position tracking, gesture recognition and range finding. Before CHIRP, all ultrasonic rangefinders included many discrete electronics and the physical size of the transducer and accompanying PCB were too large for many consumer applications.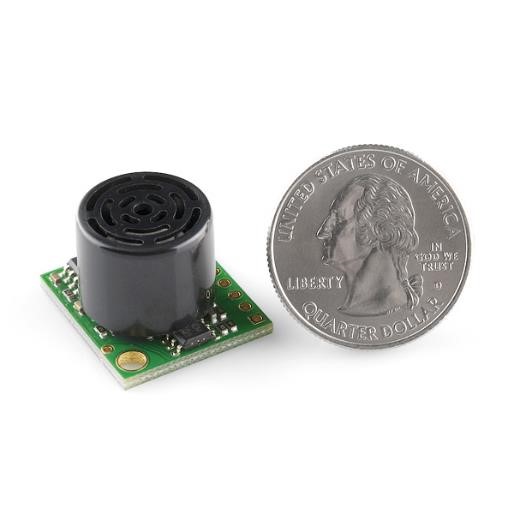 However, CHIRP can be utilized almost anywhere due to its millimeter-sized sensor that is ~1,000x smaller while still encompassing the same great range-finding performance. With an integrated DSP chip that consumes ~100x lower power than previous ultrasonic sensors, it truly is "sonar on a chip."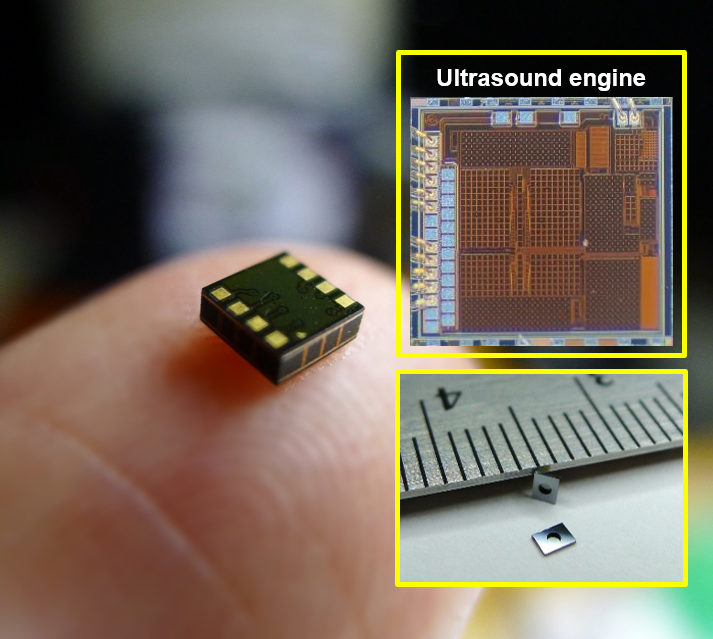 Ultrasonic Applications:
Presence: Presence detection is possible with always-on sensing to lock/unlock and power on/off notebooks, tablets, white goods, etc.
Motion: Chirp offers an easy-to-use ultrasonic software library (USL) that provides 2D and 3D position tracking which is great for obstacle avoidance applications. The ultrawide field-of-view means that the ultrasound-based systems do not suffer from occlusion problems that plague optical tracking systems. The library provides fast update rates using a low-cost sensor hub.
Gesture: Chirp has developed proprietary and patent-pending gesture classification library (GCL) based on machine learning and neural network algorithms. Together with our ultrasonic sensing platform, this software library enables intuitive, natural gesture-based user interfaces for all your smart IoT devices.
Range Finding: Chirp's ultrasonic sensing solution provides millimeter-accurate range information. Unlike optical solutions, ultrasonic range finding works in any lighting conditions, including full sunlight, and can detect any color and materials, including optically transparent targets like glass windows. Solutions available today for mobile, robotics, and home automation.
Chirp Microsystems' ultrasonic Time-of-Flight (ToF) sensors utilize a tiny ultrasonic transducer chip to send out an ultrasonic pulse, and then listen for echoes returning from targets in the sensor's 180° field-of-view.
These TDK-InvenSense sensors have a multitude of uses in a wide array of applications such as consumer electronics, AR/VR, robotics, drones, IoT, automotive and industrial market segments.
Available CHIRP Products:
CH-101: This is the bare Chirp sensor in a tiny (3.5 x 3.5 x 1.26) mm package. Based on Chirp's patented MEMS technology, the CH-101 is a system-in-package that integrates a piezoelectric micromachined ultrasonic transducer (PMUT) together with an ultra-low power system on chip (SoC) in a tiny, reflowable package. The SoC within this sensor runs Chirp's advanced ultrasonic DSP algorithms then spits out precise digital range readings via I2C.
MOD_CH101: A module designed for rapid integration of Chirp's CH-101 sensor. It is intended to be used for prototyping small-scale production applications that are not extremely space constrained and can be connected to a design via standard 8-pin flat flex cable (FFC) connector. This module also includes acoustic housing that determines the CH-101 sensor's field-of-view
DK-CH101: A comprehensive development platform for the MOD-CH101 ultrasonic transceiver. The development board itself is designed around Atmel's SAMG55 MCU. Using this board in conjunction with the SmartSonic software platform, developers can rapidly evaluate and develop MOD_CH101 based solutions. The development kit comes with all necessary software including SonicLink, a GUI based development tool with embedded drivers for the MOD_CH101.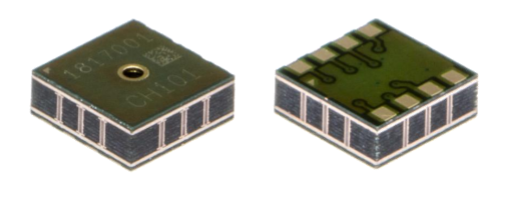 Advantages of Ultrasonic ToF Sensors vs. Infrared ToF Sensors:
The CHIRP sensor is ~100x lower noise than competing infrared time-of-flight sensors. In addition to this, it has no sensitivity to lighting- meaning range and accuracy are not affected by ambient light or sunlight and can sense any color target, windows, mirrors and liquids. CHIRP consumes up to 500x lower power consumption than IR ToF sensors and features up to 5x wider field of view. The FoV is also customizable per customer requirement with different omnidirectional housing placed on top of the sensor. Finally, CHIRP has only a single opening per sensor, whereas IR ToF sensors have two: one IR laser (VCSEL) to transmit photons and one photon sensor to detect the photons reflected from a target.
CHIRP CH-101 features and benefits:
Range + Proximity + Gesture sensor in one
Low always-on power
High accuracy
Programmable operating range
Fast response time
Wide and customizable FOV per customer requirements
Insensitive to ambient light or color of objects
Accurate range measurement regardless of target size
Immunity to ambient noise
Works under any lighting condition
CHIRP Specifications:
| Specification | Unit | CH-101 |
| --- | --- | --- |
| Dimensions | [mm] | 3.5 x 3.5 x 1.25 |
| Max. operating range | [m] | ≤ 1.2 |
| Min. distance for range measurement | [cm] | ~4 |
| Voltage | [V] | 1.8 |
| Interface | | I2C |
| Power@ 1 sample/sec & max. range | [μA] | 15 |
| Power @ 30 samples/sec & max. range | [μA] | 130 |
| Sample rate | [samples/s] | ≤ 100 @ 1 meter |
| FoV | [°] | ≤ 180 |
| Range noise | [mmRMS] | 1 @ 30 cm |