Video: Silicon Motion SM 750 Dual Display Graphics Chip
Tuesday, February 10, 2015
The Silicon Motion SM750 Dual Display Graphics Chip is a PCI Express 2D multimedia mobile display controller device providing video and 2D capability to the embedded industry in a 265-pin BGA package. It supports a wide variety of I/O, including analog RGB and digital LCD Panel interfaces, two Zoom Video interfaces, and Pulse Width Modulation (PWM). Additional GPIO bits can be used to interface to external devices as well. The SM750 is available in 16MB C-Temp and 16MB I-Temp.
The SM750's 2D engine includes a front-end color space conversion with 4:1 and 1:8 scaling support. The video engine supports two different video outputs (Dual Monitor) at 8-bit, 16-bit, or 32-bit per pixel, and a 3-color hardware cursor per video output. The LCD panel video pipe supports a back-end YUV color space conversion with 4:1 and 1:212 scaling. A Zoom Video (ZV) port is also included to interface to external circuitry for MPEG decode or TV input.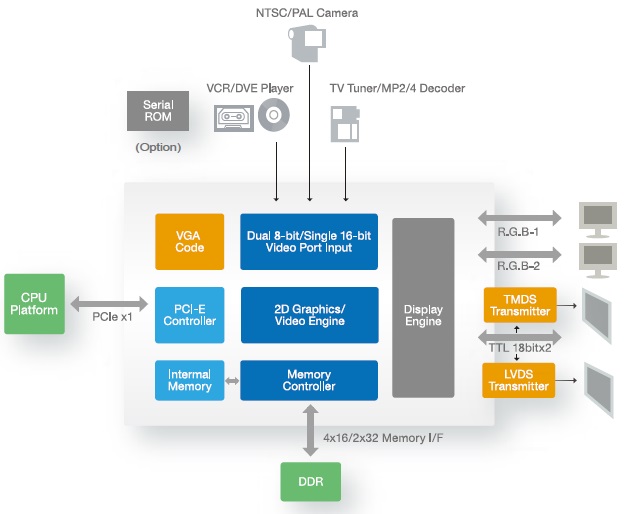 Features
PCIe, PCI 33/66 MHz & 32bit host bus support
Embedded memory (MCM package), memory size varying with product.
Low-cost, low-power 2D graphics processor
Up to 1920x1200 resolution with programmable PLL
Up to 32 bit STN/TFT panel interface support
Dual display for mirror mode or extended mode
Hardware assist video playback
Proprietary hardware screen rotation
16-bit ITU601/656 ZV port input (YUV, digital RGB), Scaling, CSC
Secondary adapter support
Software Support: WinCE, WinXP, Win7, Win2003 (32-bit/64-bit), Win2008 (32-bit/64-bit), Linux Enterprise (32-bit/64-bit)
CPU Platform Support: Intel, AMD, ZFMicro, Freescale PPC, AMCC, STMicro, Marvell, Loongson and other PCI and PCIe
Operation Temperature: C-Temp & I-Temp

Applications

• Thin Client
• Server
• IPC / POS / MFP / DVR
• Factory Automation (HMI)
• Medical Device
• Handheld / Portable Device
• Gaming Machine
• Test Instrument
• Digital Signage
• All Other Embedded Graphics Applications


For more information or to order the Silicon Motion SM750, call Symmetry Electronics at (310) 536-6190, or contact us online.