Upcoming Symmetry Supplier Events | June 22, 2020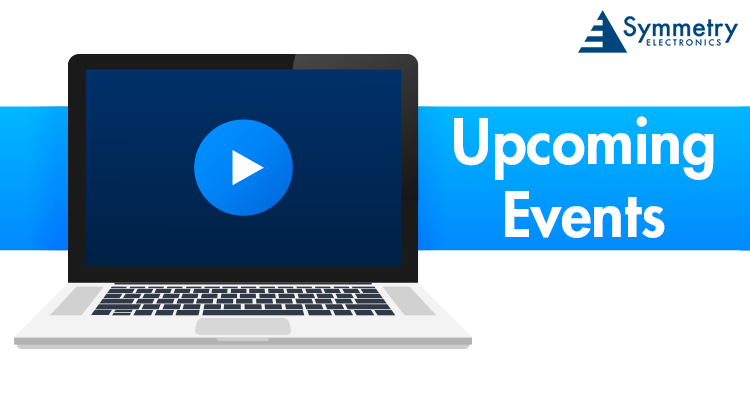 Register for the most current webinars hosted by the world's leading electronic component suppliers.
[June 22, Trinamic] Common Pitfalls in Implementing Field-Oriented Control for Stepper and BLDC Motors
[June 23, Semtech] BlueRiver ASIC: Enabling a New Class of SDVoE Products
[June 23, Silicon Labs] Low Power Wireless to the Next Level: Energy Friendly PMIC + Energy Friendly Radio BG22
[June 25, Digi International] Choosing the Right Cellular Solution for Your Application
[June 25, NimbeLink] AI / ML (Machine Learning)
[June 25, Semtech] Deploying Smart IoT Solutions for Workplace Safety in the Age of COVID-19
[June 25, Semtech] LoRaWAN Solutions for Smart Water Management
[June 25, Silicon Labs] Talk with an Alexa: Using Zigbee to Connect with an Echo Plus
[June 29, Nordic Semiconductor] nRF9160: Optimized for Ultra Low Power and Small Cellular IoT Applications
[June 30, Silicon Labs] Z-Wave Software Structure: Learn About Command Classes and Reference Code
[June 30, Telit] Telit Security: Secure Device Onboarding in IoT Deployments Part I
[July 2, NimbeLink] Cellular IoT
[July 2, Silicon Labs] Building a Proper Mesh Test Environment: How This Was Solved in Boston
[July 7, Telit] Telit Security: Secure Device Onboarding in IoT Deployments Part II
[July 9, NimbeLink] Certification Processes & Types
[July 9, Semtech] Enabling COVID-19 Health & Safety Compliance with LoRa Devices
[July 16, NimbeLink] Power Budget
[July 16, Telit] Global First Responders: FirstNet, ESN, Elsight and the COVID-19 Implications on IoT
[July 23, NimbeLink] Software & Protocols
[July 28, Telit] Managing Your Global IoT Devices and Connections at Scale
[July 30, NimbeLink] SIM Cards & Data Plans
[August 6, NimbeLink] How to Work with Test Labs
[August 13, Digi International] Deploy, Manage and Scale Your IoT Communications Network
[August 13, NimbeLink] SAR Testing for Wearables
[August 20, NimbeLink] Next Steps - Quantities - What's Coming Next?
Why partner with Symmetry Electronics? Symmetry's technical staff is specially trained by our suppliers to provide a comprehensive level of technical support. Our in-house Applications Engineers provide free design services to help customers early in the design cycle, providing solutions to save them time, money and frustration. Contact Symmetry for more information.