Unveiling the Latest IoT Trends for a Connected Future
Ask the Expert at Symmetry Electronics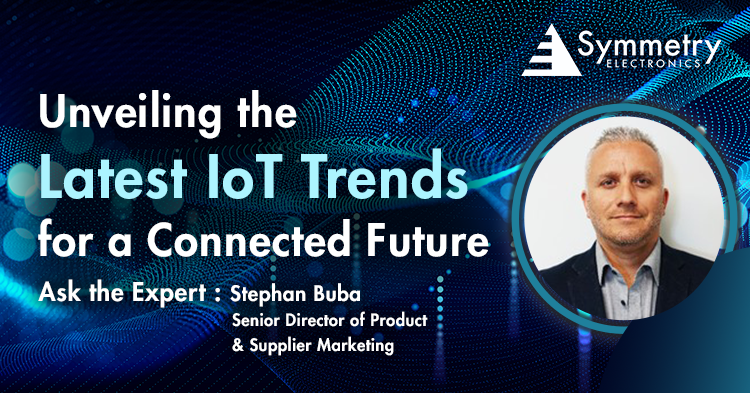 As industry leaders in internet of things (IoT) solutions, Symmetry Electronics is dedicated to providing you with the latest information on the exciting world of connected devices and systems. As evolves, IoT continues to transform how we interact with our environment and change the way businesses operate. We have asked our very own Senior Director of Product and Supplier Marketing, Stephan Buba, to provide his own insight and feedback regarding the latest IoT trends, challenges, and opportunities.
1. How has the Internet of Things impacted businesses?
IoT devices and connected systems have had a major impact in the way businesses operate through features like:
Increased operational efficiency
Enhanced customer experience
New business models and revenue streams
Improved safety and security
Advanced decision-making through data analytics
However, the advanced features of IoT adoption are not remiss of challenges. Businesses also face obstacles related to data privacy, security, and interoperability when integrating IoT solutions.
2. How are big data and the Internet of Things connected?
IoT devices contribute to the collection of big data through their ability to generate vast amounts of data in real-time, from diverse sources, and in various formats. The combined volume, velocity, variety, and real-time nature of IoT-generated data presents challenges and opportunities for businesses to harness the power of big data analytics for insights, decision-making, and value creation.
3. Where do you think the IoT market is headed in the future? Any key trends you can predict?
The IoT market is poised for continued growth. The future of IoT continues to be shaped by increased connectivity, edge computing, AI integration, industry-specific solutions, security and privacy enhancements, and standardization. Various factors like technological advancements, regulatory changes, market demands, ethical considerations, and societal dynamics will impact its trajectory.
4. How does 5G technology enhance the Internet of Things?
In terms of connectivity, the benefits that 5G cellular networks have for IoT devices include:
Faster data transfer rates
Lower latency
Higher device density
Enhanced network reliability
Increased energy efficiency
Enhanced security
Scalability and flexibility
5G networks offer significant advantages for IoT deployments, making them ideal for various industries and applications. With 5G connection, IoT devices can enable real-time or near real-time communication, support mission-critical applications, improve device performance, extend battery life, enhance security, and enable efficient deployment and management of IoT devices at scale.
5. How can engineers get involved in IoT?
There are a wide range of opportunities for engineers to get involved in IoT development. A good starting point is by learning about IoT concepts, protocols, networking, embedded systems, data analytics, cloud computing, and security through online courses and certifications. Engineers can additionally get involved in IoT by acquiring necessary education and skills, participating in IoT projects, joining professional organizations, collaborating with cross-disciplinary teams, staying updated with IoT trends, and exploring entrepreneurial opportunities.
Actively engaging in IoT projects allows engineers to gain hands-on experience by building prototypes, developing applications or integrating devices into existing systems. Joining professional organizations and communities provides opportunities for networking, knowledge sharing, and collaboration with other IoT professionals. Collaborating with cross-disciplinary teams helps leverage technical expertise in developing innovative IoT solutions. Staying updated with IoT trends and technologies through industry news, research papers, conferences, and communities is essential in this rapidly evolving field. Exploring entrepreneurial opportunities, such as starting a venture or collaborating with startups or established companies, can provide engineers with unique opportunities to apply their skills, innovate, and make a significant impact in the IoT domain. Active engagement, continuous learning, and entrepreneurial endeavors are key for engineers to get involved and thrive in the dynamic world of IoT.
Are you an engineer that interested in learning more about next generation connection in your design? As experts in IoT, IIoT, and wireless, our expert Applications Engineers are prepared to assist you in finding your ideal connectivity solution. Consultation is free and available throughout your design cycle. Contact Symmetry Electronics today!
Subscribe
Stay up to date with industry and supplier news!
Browse