Subscribe to the ULP Wireless Quarter: Nordic's quarterly news and technology magazine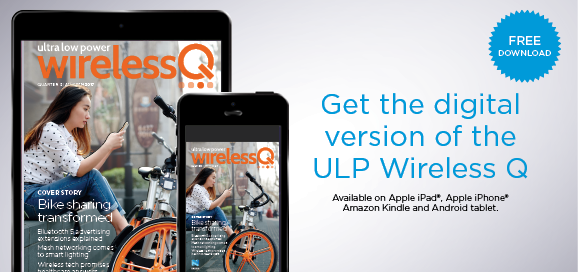 Download the ULP Wireless Q app on your Apple iPad, Apple iPhone, Amazon Kindle or Android tablet. Click here to download the PDF of the latest issue.

The latest 24-page digital edition of Nordic Semiconductor's quarterly technology magazine - ULP Wireless Quarter (Q) - is now available. ULP Wireless Q is intended to keep readers up-to-date on what's happening with Bluetooth low energy, ANT+, RF proprietary wireless technology, and Nordic low power cellular IoT.
Table of contents:
Opinion – Mesh networking marks major Bluetooth advance, by Alf Helge Omre, Business Development Manager – Bluetooth Low Energy
News – Smart case for allergic reaction auto-injectors offers peace of mind
News – SIM card powers Bluetooth Low Energy solutions for POS firms
News – 'World-first' smart watch for vision-impaired displays smartphone functions in Braille
News – Directed illumination smart pendant lamp is a 'world first'
ULP Wireless Trends – Smart glove gesture recognition can translate sign language into text
News Extra – Nordic first to launch Bluetooth mesh Software Development Kit
Business Briefing – New dockless bike-sharing systems are a snap to use
Technical Briefing – Mesh strengthens Bluetooth wireless' IoT credentials, by Pär Håkansson, Product Marketing Manager
ULP Product Selection Guide – Latest 'at-a-glance' summary of Nordic's entire Bluetooth Low Energy, ANT+, IEEE 802.15.4, and RF proprietary wireless technology
Business Perspective – An apple a day: technology transforms healthcare
Business Perspective – Listen out for the voice-activated remote control revolution, by Caroline Hayes
Technical Perspective – Bridging the smart-home connectivity divide
Case Study – Smart pendant lamp directs 'perfect light' on any situation, by Kalon Huett
Technical Briefing – Bluetooth 5's advertising extensions
Nordic Inside – Humon Hex Muscle Monitor
People & Places – Patrick Noordhoek: Flying high at work and at home
Source: https://www.nordicsemi.com/eng/News/ULP-Wireless-Quarter
Subscribe
Stay up to date with industry and supplier news!
Browse