Trinamic TMCM-1636: 1000W Integrated FOC Servo Driver | Symmetry Blog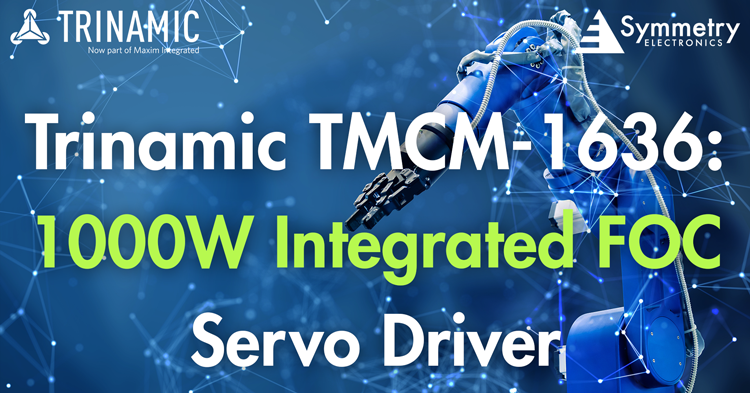 Symmetry Electronics is now offering design and technical support for Trinamic's compact TMCM-1636 single-axis servo driver, designed for 3-phase BLDC motors and DC motors up to 1000W at 24V or 48V. The powerful TMCM-1636 module offers an integrated FOC for quicker time-to-market and cost savings, with the ability to efficiently and effectively set up and tune designs using Trinamic's free TMCL-IDE programming environment.
Key Features
Servo drive for BLDC and DC motor, offered for +24V and +48V supply
Up to 30A RMS (24V) / 20A RMS (48V) continuous and 60A RMS peak current
CAN & UART interface
Support for various feedback systems, including 2x incremental encoder, digital HALL sensor, and analog encoder option
Absolute SPI & SSI-based encoder support
Various GPIOs
Motor brake control and overvoltage protection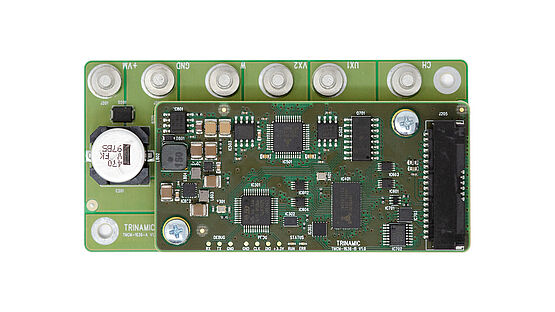 Trinamic's TMCM-1636 utilizes either the TMCL or CANopen protocol for communication, with a compact stacked board offering various position feedback and customization options.
Common Applications
Robotics
Laboratory Automation
Manufacturing
Factory Automation
Servo Drives
Motorized Tables and Chairs
Industrial BLDC & DC Motor Drives


>> Get started with Trinamic's powerful TMCM-1636 single-axis servo driver <<
Looking to integrate Trinamic products with your design? Our Applications Engineers offer free design and technical help for your latest designs. Contact us today!