Trinamic's Dynamic Driver Supports Many Applications | Symmetry Blog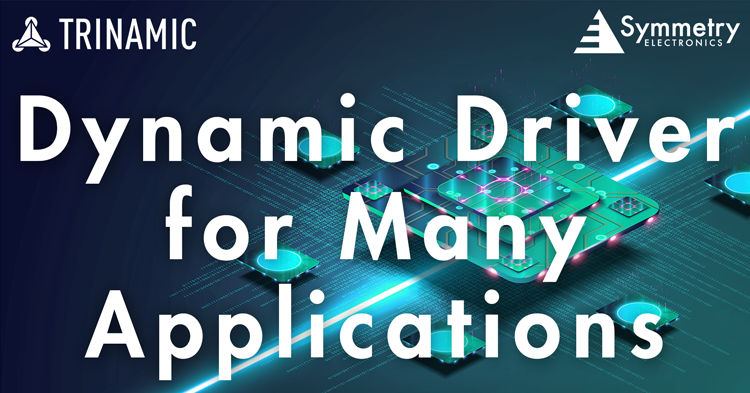 Symmetry Electronics is now offering design and technical support for Trinamic's highly efficient TMC6300 driver for 3-phase BLDC/PMSM motors and battery-powered devices. The TMC6300 is ideal for designs that typically require a single Li-Ion cell or dual AA batteries and can support a wide variety of applications due to its optimal power density, integrated power MOSFETs and high efficiency.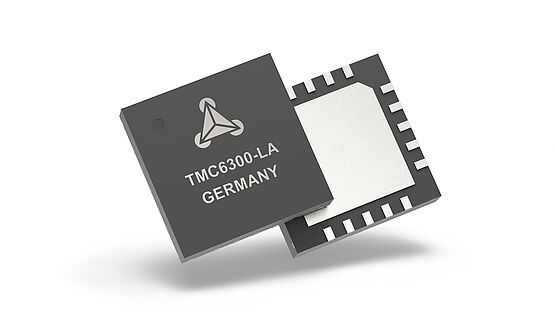 Key Features
Voltage Range: 1.8V ~ 11V DC*
Battery Operation: 2 AA batteries/NiMh cells or 1-2 Li-Ion cells
3-Phase: Motors up to 2A (peak)
Direct Bridge: Operates BLDC/PMSM with block or sine-commutation using 6-line control from a CPU
Standby: <50nA typ. current draw
Low RDSon: Separate LS 170MΩ and HS 170MΩ (typ.) control signals
Compact 3x3 QFN Package: With 20 pins - Ideal for space/size-sensitive designs
*1.8V to 5V IO supply voltage for all digital pins. IC goes to standby mode and resets, when this pin is pulled to GND.
Trinamic's TMC6300 offers an ultra-low standby current that ensures high-efficiency and prolonged battery life, even with low voltage supply.
Common Applications
IoT and Handheld Devices
Battery Operated Motors
Printers, POS
Toys
Office and Home Automation
CCTV, Security
HVAC
Mobile Medical Devices
Why partner with Symmetry Electronics? Symmetry's technical staff is specially trained by our suppliers to provide a comprehensive level of technical support. Our in-house Applications Engineers provide free design services to help customers early in the design cycle, providing solutions to save them time, money and frustration. Contact Symmetry for more information.